Creaform 3D Scanning: Say Hello to the Creaform MetraSCAN 3D
Say Hello to the Creaform MetraSCAN 3D
The MetraSCAN 3D from Creaform is the most complete 3D scanning solution for metrology-grade measurements and inspection engineered for shop floor conditions.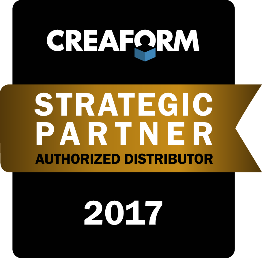 Benefits:
Metrology-grade measurements: accuracy of up to 0.030 mm (0.0012 in.), resolution of up to 0.050 mm (0.0020 in.), high repeatability and traceable certificate
Dynamic referencing: optical reflectors are used to create a reference system that is "locked" to the part, so users can move the object any way they want during the measurement process
Volumetric accuracy of 0.064 mm (0.0025 in.)
Accurate measurement of parts ranging from 0.2 to 10 meters (0.7 to 33 feet) in size
No accuracy drift over time with the easy-to-perform field calibration procedure
No rigid setup required: the part and the system can be moved freely at any time during measurement
Versatile 3D scanning: can scan any type of color and material, even black, multicolored and shiny surfaces
Greater and easily extendable measurement volume
Automatic alignment: optical reflectors allows for repetitive inspections without re-alignment
Optional probing capabilities by adding the HandyPROBE Next
Multi-function buttons for easier interaction with the software
Short learning curve and intuitive operation
Fastest 3D scanner on the market: 12 times faster than the previous generation
Highest measurement rate among all laser scanners: 480,000 measurements/s
Automatic mesh output: ready-to-use files, right as you complete acquisition
Quick workflow integration: fastest path from physical objects to your design or inspection workflow
Optimized for use on the shop floor
Lightweight: weights under 1.38 kg (3.0 lbs)
Portable Coordinate Measuring Machines: the system can be easily brought wherever the part is
Arm-free optical scanning system
By significantly increasing the reliability, speed, and versatility of the measurement process, it outperforms traditional portable CMMs on the shop floor. The MetraSCAN 3D is the best solution for geometrical and freeform surface inspection on parts up to 33 ft in size regardless of the type of material, color, or reflectiveness.
Jim TeDesco
Director, Marketing
Computer Aided Technology