The SOLIDWORKS Power Select command is one of those "hidden" commands that not many people know about. We don't talk about it in any training class and unless you accidentally stumbled on to it, you have probably never used it. BUT, it can be a great time saving way to select things in a part file.
Here is how you access it…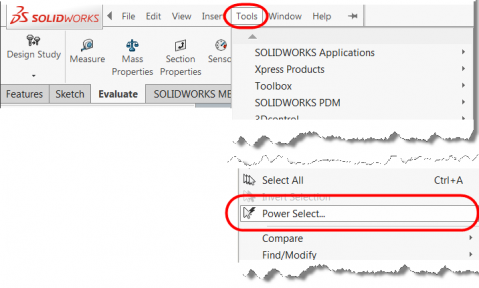 And as you can see it gives you many filters/combinations to select different items in your part that may have been too tedious to do by hand from the tree or graphics screen!

Some of the better ones are the ability to select all cuts, all extrudes, and then even drill in to specific types of those like just the revolved cuts, etc.
With imported models, the select by color can also be very nice. Also a great tool for selecting edges and/or faces that meet at a certain angle.
After you have used the tool to do the selection, then you can hide, show, delete, supress, etc. to get to what you wanted in the model.
Give it a try next time you find yourself picking and picking from the tree or screen. Probably will save you some time!
Let us know other ways you have used this tool and other great ways to select things in SOLIDWORKS in the comments below.