How To Install SOLIDWORKS CAM 2023
We talked all about What's New in SOLIDWORKS CAM last month. So now that you know what's new, let's talk about how to install SOLIDWORKS CAM 2023. The SOLIDWORKS CAM installation can be broken down into 2 sections (CAM Standard, CAM Standard TBM) and (CAM Professional).
CAM Standard & CAM Standard TBM
The installation process is simple with CAM. All you have to do is run the 2023 SOLIDWORKS installation manager and CAM is one of the features you can automatically include by default.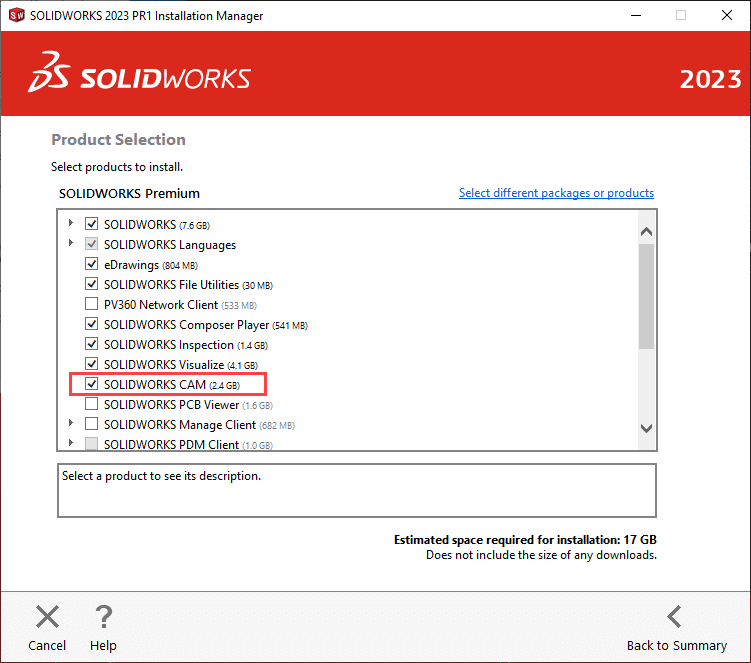 After the installation is complete, open SOLIDWORKS and activate the SOLIDWORK CAM add-in. Make sure you note that you can activate it for either the current session (left check) or to automatically load at startup (right check).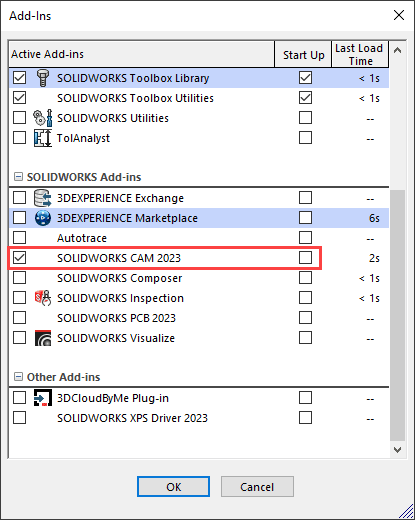 Once you activate the add-in, right-click on the Command Manager, then go to Tabs, and select SOLIDWORKS CAM and SOLIDWORKS CAM TBM to them to the Command Manager.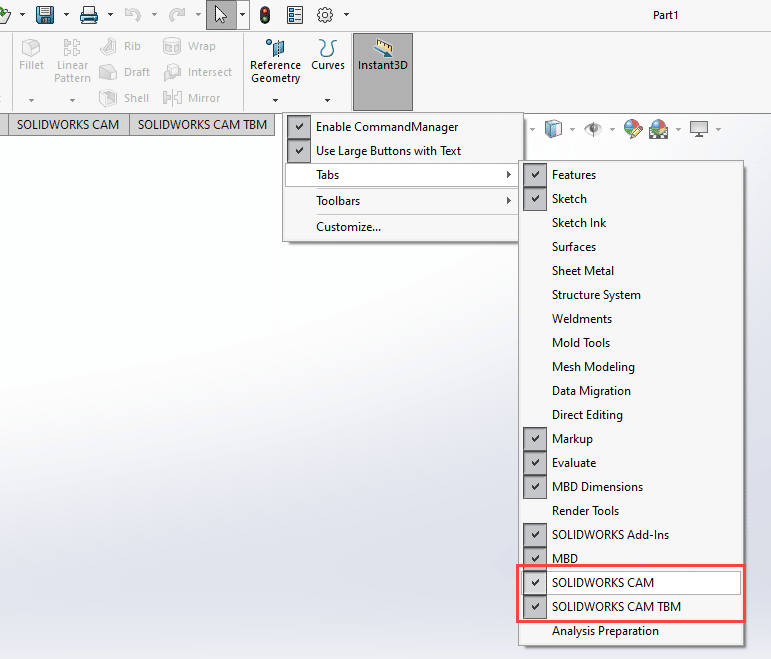 Current SOLIDWORKS CAM Users
To set up an existing Machine Post and Tech DB, you can copy the database to C:\ProgramData\SolidWorks\SOLIDWORKS CAM 2023. If you don't have the database stored in the default location, you can link it from within the Tech DB
Note: You may have the ProgramData folder set to hidden. To show hidden files and folders, open Windows Explorer, select the View tab, and check the box for Hidden Items.

To manage your database(s) and Tech DB, open SOLIDWORKS and go to the SOLIDWORKS CAM tab. Next, click on the Technology Database button.

Once the Technology Database loads, please close SOLIDWORKS.
In the Tech DB, select Settings from the tabs on the left.
If you have a current database select the Import Database tab and click Browse to link it.
To manage or add additional databases, select the Manage Database tab.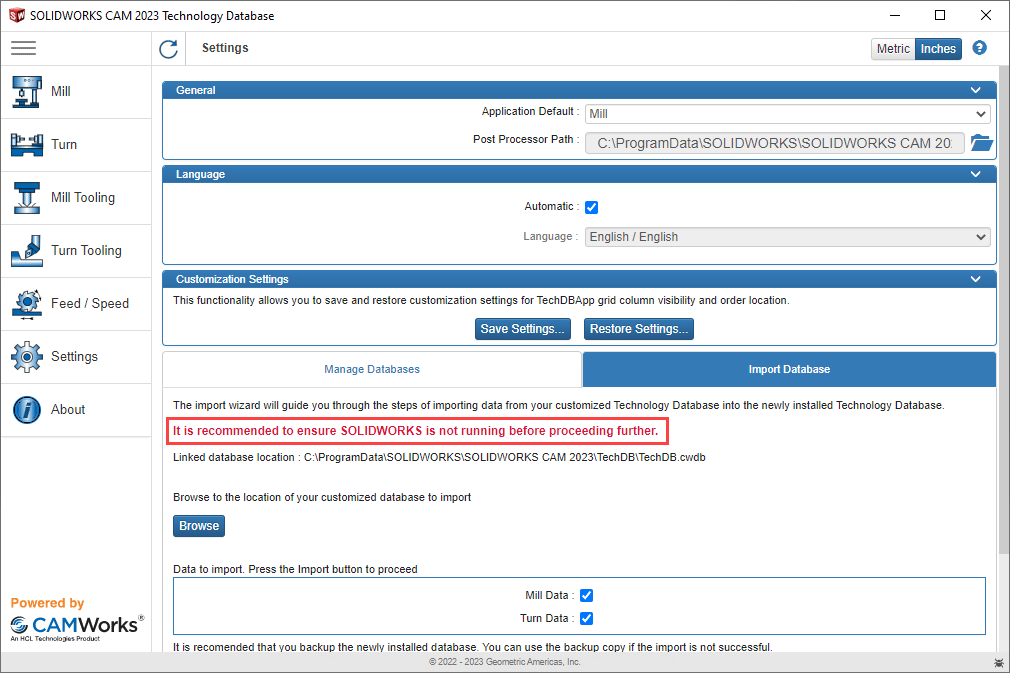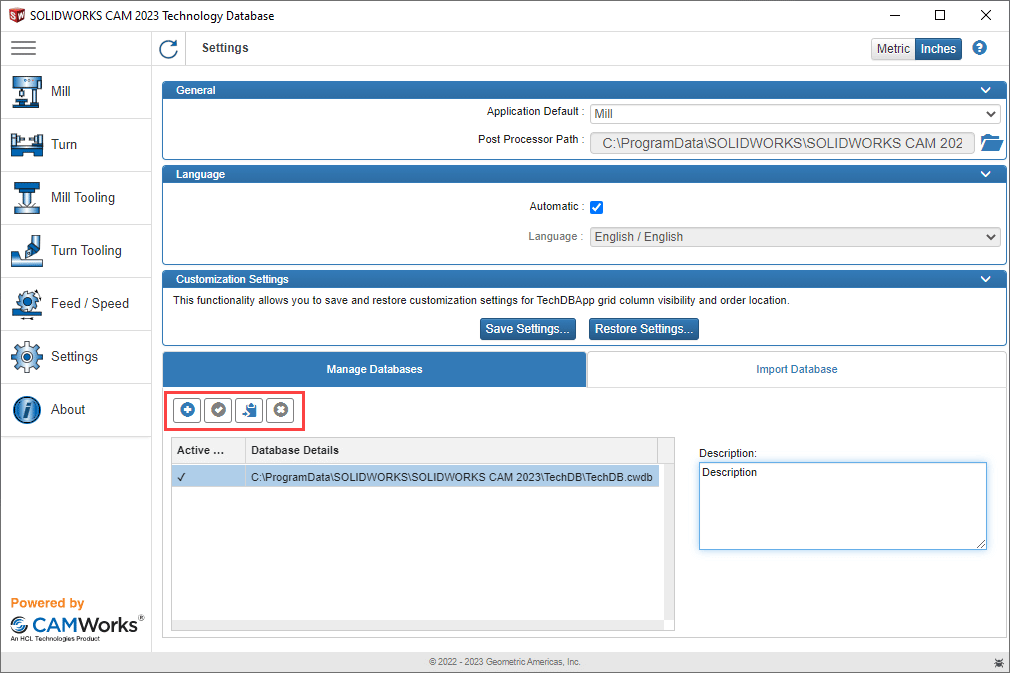 SOLIDWORKS CAM Professional
The installation process for SOLIDWORKS CAM Professional is similar to SOLIDWORKS CAM. The big difference, however, is that it needs the product serial. If you do not know your serial or would like to purchase SOLIDWORKS CAM Professional, contact your VAR (Computer Aided Technology).
Run the SOLIDWORKS 2023 installation manager (or modify an existing installation) and when prompted for the serial information, expand the SOLIDWORKS CAM item and add the SOLIDWORKS CAM Professional serial number.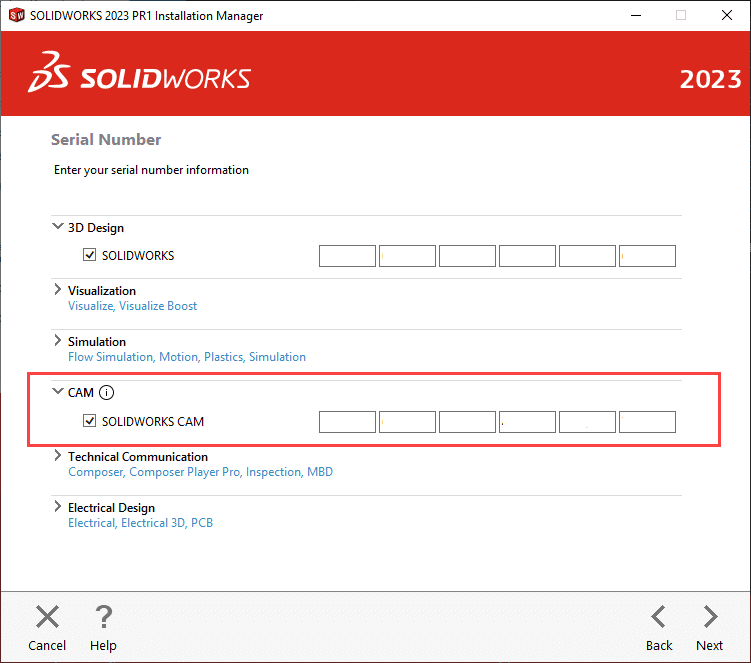 Click next through the remaining installation windows to complete the installation of SOLIDWORKS CAM Professional.
We hope this series has helped you successfully install SOLIDWORKS 2023. Please check back to the CATI Blog as the dedicated support team will continue posting new series of articles every month that go further into the details of many of the SOLIDWORKS tools. All of these articles will be stored in the category of Daily Dose of SolidWorks Support.
Chris Villeneuve
Technical Support Engineer II
Computer Aided Technology, LLC
Related Content
You may also be interested in how to install SOLIDWORKS 2023.
If you have network licenses of SOLIDWORKS, you might need help with upgrading your SolidNetWork License Manager.
There were several great enhancements in SOLIDWORKS CAM 2023, which one is your favorite?
Did you know that SOLIDWORKS is sunsetting the MasterCAM and GibbsCAM add-ins?
If you aren't a SOLIDWORKS CAM user, you should check out this SOLIDWORKS CAM Overview.