3D Compass - 3DEXPERIENCE
How do you enter your house today? If I had to guess, I would say its through the front door! In this context, that is exactly what the 3D Compass is – a gateway to everything in 3DEXPERIENCE. It houses information relevant to each user as well as their available applications. Take a look at a snip of a freshly created 3DExperience dashboard: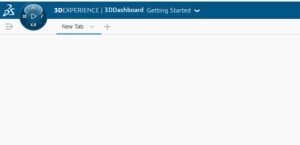 It's empty and will remain so until we populate it with applications we want to use. We're going to use the 3DCompass to access and add that information. One of the benefits of the 3DCompass is housing our applications, but is there more to it?
Yes! It also connects users to their organization, allowing requests for new capability and even services. Additionally, it gives users insight into different solutions available within the platform and how to get them.

Let us start off with the basics, the Compass is located on the top left-hand corner of the screen. When you click on it, you'll gain access to the following.
The First Click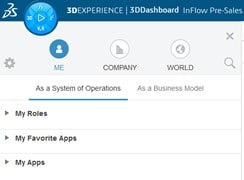 On the first click, you'll see your Roles and Apps. As an aside, your organization purchases roles to add capability to this cloud system. Of course, the more roles you own, the more capability you'll have through several different apps. If users want to add an app to their 3DEXPERIENCE dashboard, they simply drag and drop from the Compass menu into their dashboard interface.
Finding Services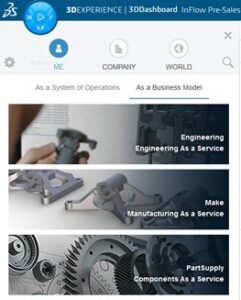 Under the "As a Business Model" tab, users can request different services. Maybe you team is overwhelmed and needs to outsource some of the workload. Or maybe you need to create a prototype and 3D print something. Or you simply want something manufactured to print. Whatever the case may be, you will find useful services in this section of the 3D Compass.
Requesting more capability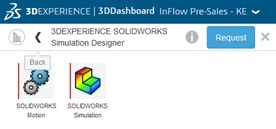 An image speaks volumes with this one. Here, you can request extra capability from system administrators. If there's a particular tool you need access to, find the tool and associated role and click the Request button.
Finding Information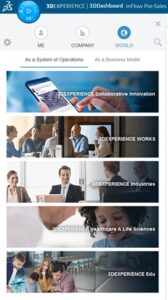 This section goes as deep as you want to go. Each of the sections drills down on available capability using different types of filters. For example, if you are in the oil and gas industry, you can use the "3DEXPERIENCE Industries" section to find content relevant to you. Another example is if you are in college today, you can use the EDU section to find educational material.
When you click on a section, the 3D Compass will help you navigate through a lot of great content on what is available today and how each role can benefit your organization.
Key Takeaway
Most think of the 3D Compass as the place for their apps. But in my opinion, it's much more than that. You can also use the Compass to find relevant information, request new capability and even request services. Make sure you check out the video below for a quick summary of the compass.