3DEXPERIENCE Platform Administration: Adding users from outside your organization.
Questions about adding more users to a 3DEXPERIENCE Tenant have come up a couple of times, so we thought we would share some insights about it. First question, is the consultant/designer/stakeholder going to use one of your licenses or do they already own 3DEXPERIENCE Roles that they can use in your 3DEXPERIENCE Platform? Next, what data and communities do you want them to be a part of in your Tenant? For today, we will discuss how to add users to your 3DEXPERIENCE Tenant.
Platform Management
First we will go to the Members ❷tab of the Platform Management ❶Dashboard that is copied to each Tenant Admin's list of dashboards.

Members
In the Members tab you will go to the Member Control Center and select "Invite members" ❸

On this widget you will want to make sure you have the correct email address of the users that will be invited into your Tenant. Those users probably do not have 3DEXPERIENCE Passports. They will need to create one using the exact email address you will be using to invite them.
Creating a 3DEXPERIENCE Passport ID
By going to https://eu1-ds-iam.3dexperience.3ds.com the users can click on "Not registered? Create your 3DEXPERIENCE ID"❹. This ID can be created before or after the invite, but please remember to use the EXACT email address. Special note: If the user is not sure if they have a 3DEXPERIENCE Passport, they can try a Forgot my Password on that page.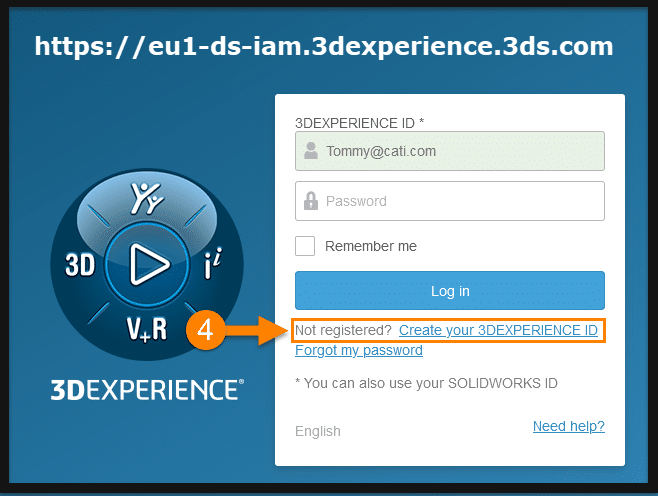 Now that ID has been sorted out, you will need to select the User Rights and Roles for that users. If the users are a part of your company and will be using your Roles you will select Member under User rights❻. If the users are bringing their own Roles to the Tenant, you will select External.
Inviting Users
The selection for Users Location❼ is the default DS Tenant Server that the user will be connecting to so pick the location that makes sense for you. The Add a Message❽ area personalizes the message that user will receive when they are invited to your Tenant.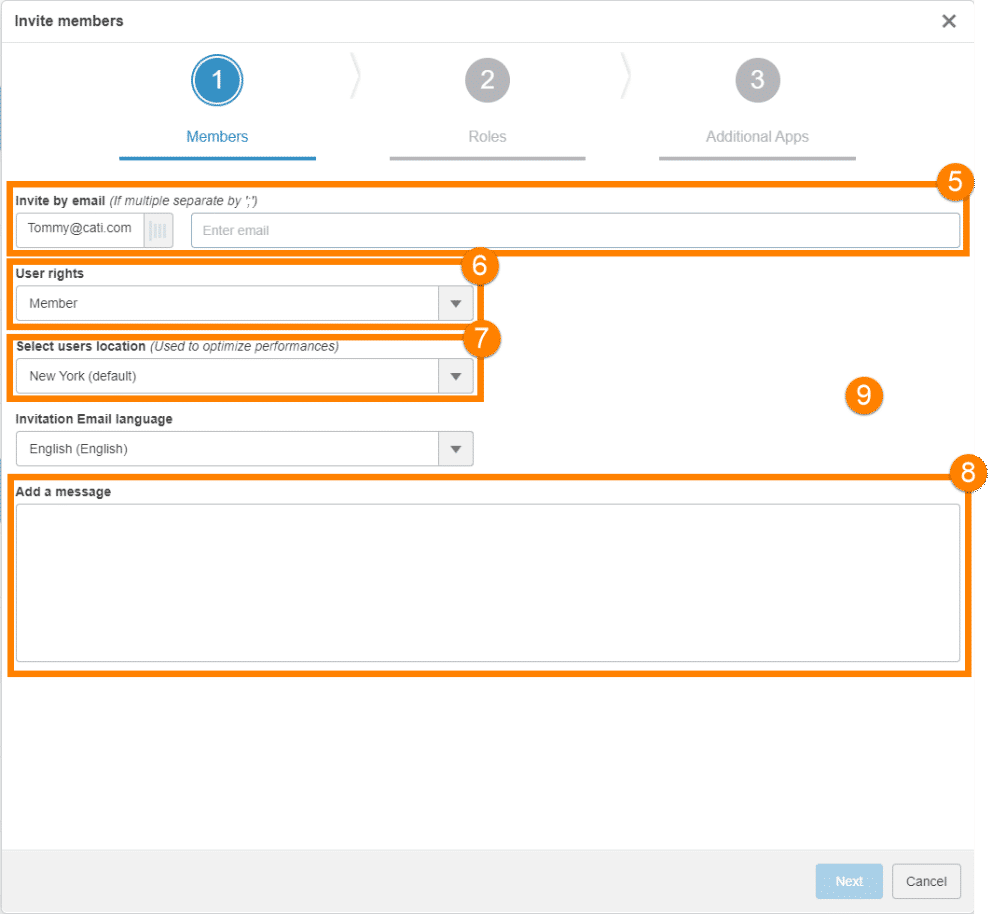 Granting Roles
Collaborative Business Innovator❾ is a Role that all users require to access the Tenant so it gets assigned automatically. Under Assign License❿ you will leave this on if the users are getting there Roles from your Tenant, turn it off if you area allowing the users into your Tenant and they are bring their own licenses. In Restrict Usage⓫ you would turn this option off if you would like to allow user to use the Roles assigned on other Tenants. Example: One of your users is a consultant for one of your clients and want to leverage one of your Roles in the clients Tenant.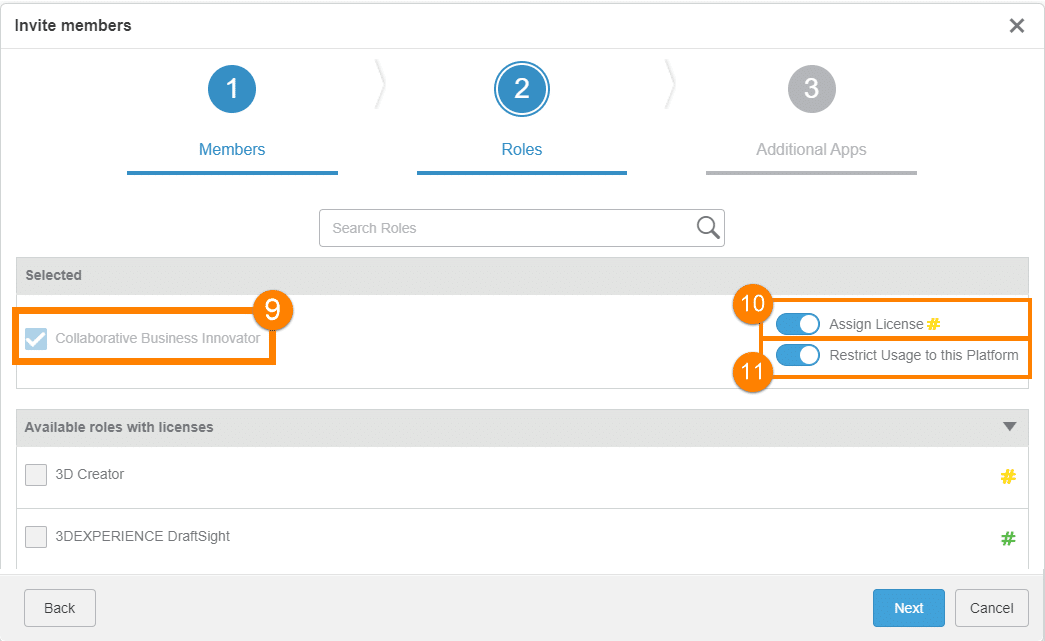 Submit the Invite
Now to finish off this section you will invite the user.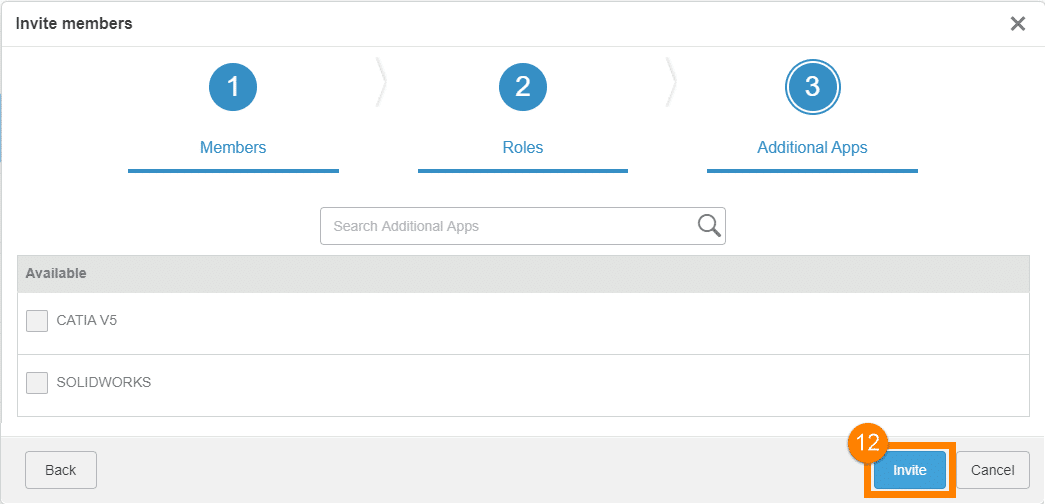 We hope this we helpful, if you'd like know more please keep your eyes out for the rest of this blog series coming over the next few weeks.
Thank you,
Bob McGaughey
Emerging Products
Computer Aided Technology, Inc.