SOLIDWORKS Enterprise PDM: How to Handle a Full Archive Server
So you've been working in SolidWorks Enterprise PDM for a while now and have just realized your vault has gone from 50GB to 500GB. There's very little space left on your server hard disk and you need to do something quickly before the ceiling is reached. What do you do? You have a couple of options that can be done independently or in combination to relieve the stress of a large archive.
Cold Storage Schema
The first thing you should do is implement a cold storage schema. Every time you check out a file, make a couple changes, and check it back in you are creating a new version (copy) of your file on the archive server. Cold Storage will allow you to delete or relocate the least important versions of your files. This is an excellent method to control the growth of your archive.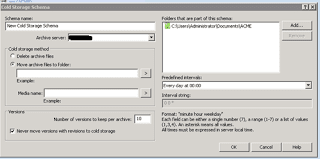 Schema Name: You must give your schema a name and specify which archive server will be running the operation. The archive server dropdown will only contain one option unless it is a replicated environment.
Cold Storage Method: Here you designate if the versions should be deleted or if you would like them to be relocated to another folder. It is important to note that the file versions are unrecoverable if you choose to delete them. For the location, you can press > to use different variables in your folder path. For example, you could use C:EPDM ArchivesYear(4)Month(2) to make the folder dynamic based on the current month and year. Media name is the subdirectory you would like them placed in. It is recommended that you use the Counter variable to ensure uniqueness.
Versions: This assigns the number of versions of your file that are allowed in the vault without being relegated to cold storage. There is a checkbox to assert that versions marked with a revision will not ever be put into cold storage.
Folders That are Part of This Schema: It is possible to have different cold storage schemas for different areas of your vault. For example, you may want to keep many versions of your production assemblies, but may not need the history of a library component.
Predefined Intervals: You can choose from a series of predefined intervals in which this cold storage schema will run, or you can define your own. To define your own, you must choose User Defined Schedule and type it in the format <minute> <hour> <weekday> (in number form). A few examples are below:
* * * Run every minute every day
0,15,30,45 * * Run every 15 minutes every day
0 8-18 1-5 Run every hour between 8 am and 6 pm Monday-Friday
Relocating an Archive
Another thing you can do to relieve an overloaded hard drive is to relocate the archive either partially or completely. This is done in the Archive Server Configuration Tool which can only be located on the server. Once in the tool, right-click your vault and choose the option Relocate.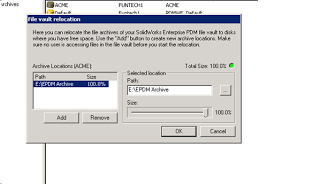 From here, you can add new folders you would like to hold the archive and assign a percentage of the archive you wish to be located in each directory. Be careful to make sure that the archive total is 100%. If you wish to completely relocate the archive, change the original one to 0% and the new one to 100%.
That's it! With these tools you can manage a vault archive that is getting overwhelmingly large.
For more training and tutorials on the many 3D CAD Modeling solutions in the SolidWorks family of products and add-ons, register for an upcoming Event or look into our SOLIDWORKS training.