How DriveWorks Solo Saves Businesses Time and Money
Maybe you're like me and you can't stand doing the same task over and over again. You're the creative type and love focusing on new product development. And perhaps you are like one of our customers who has felt the pain of repetitive engineering tasks costing them and their team time and money. If that's you, we have a solution that could change the game for you…DriveWorks Solo. In this blog post we're going to be answering what DriveWorks Solo is, how it works, and the top 3 reasons that you should consider DriveWorks Solo, so you can determine if it can be the game-changer you need.
So What Is DriveWorks Solo?
DriveWorks Solo, in simple terms, is a design configurator. Was that last project/assembly similar to the one you are about to make? If you answered yes to that question, chances are DriveWorks Solo could help you configure that same assembly and its drawing in a fraction of the time. DriveWorks Solo is for "same but different", designs. You start with a base part or assembly and use this as a template from which you create all the new variations you now need or may want in the future.
So How Does It Do That?
[raw]
[column size="1/2″ wpautop="true"]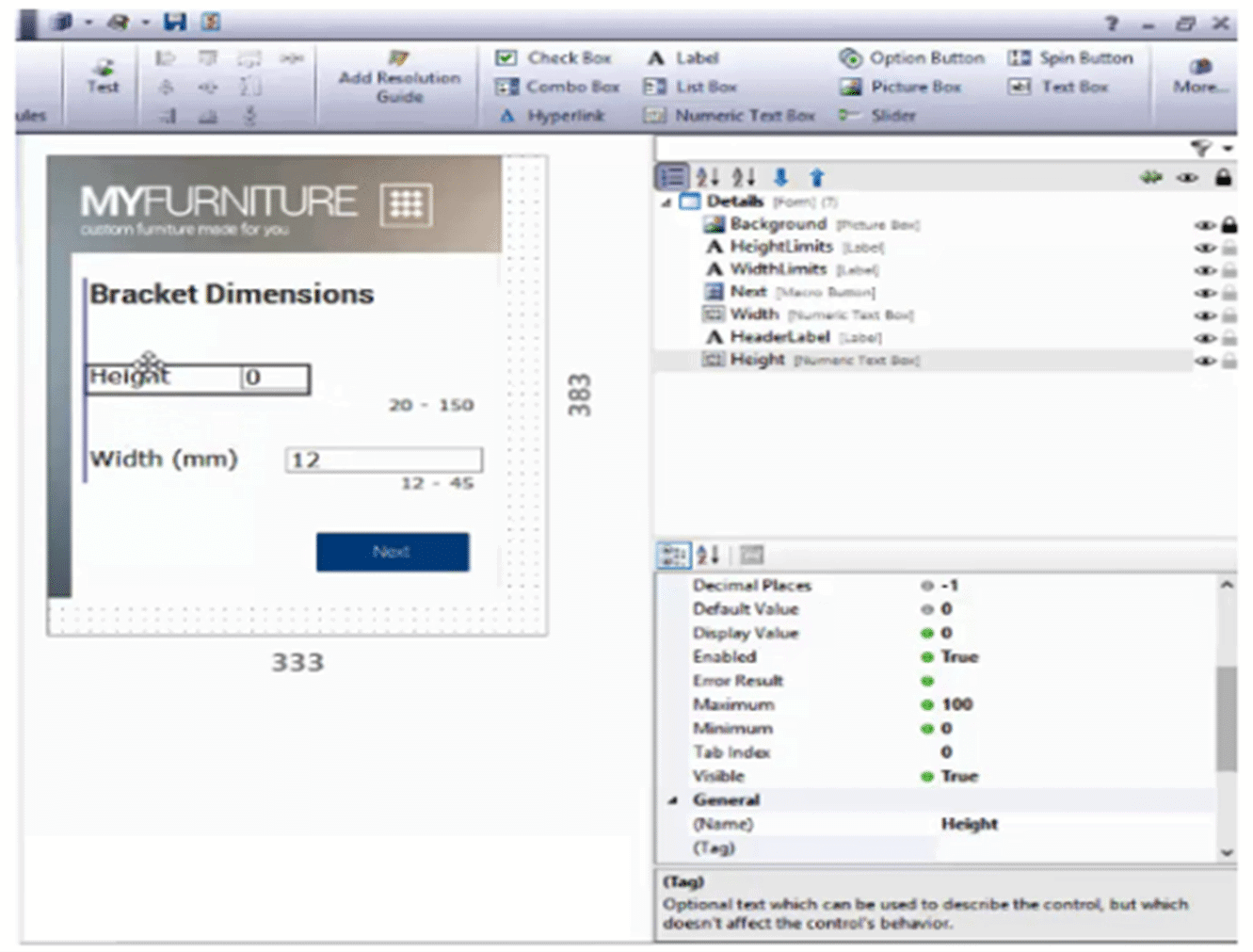 [/column]
[column size="1/2″ wpautop="true"]
DriveWorks Solo has its own "rules engine". If your design is "same but different" you will be able to think through what is the common logic that defines how it can change. Perhaps there are 7 possible subassemblies you could swap in for a current one. Or perhaps you want to change the size of "component A", based on changes to the size of "component B".
[/column]
[/raw]
[raw]
[column size="1/2″ wpautop="true"]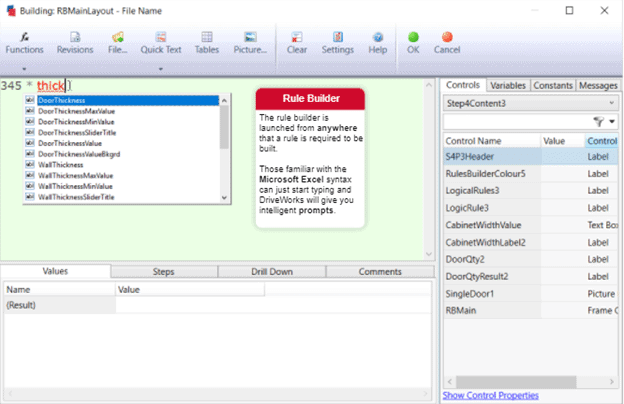 [/column]
[column size="1/2″ wpautop="true"]
DriveWorks Solo will allow you to design a first-class user interface, then use it to feed your rules/logic using easy-to-understand, Microsoft Excel-like logic statements. You can then push the results into your models.
[/column]
[/raw]
So What are the top 3 reasons I should consider Solo?
DriveWorks Solo will save you time and therefore money, freeing you up to innovate more.What would it mean to your business if you could create that new design in not hours or days, but minutes? You could 10X the amount of work you get done, and free yourself up to focus on what you love, new product development, and true innovation. And the ultimate result would be an increased bottom line for your company.
You eliminate costly errors.Companies can spend a tremendous amount in rework due to human error. But imagine getting that new design completed not only in less time but with no errors. You get it right the first time, every time.
It's easy to use.Using DriveWorks Solo is not a science experiment. You don't need to be a "coder" to program your rules. Or an expert at designing user interfaces. DriveWorks Solo uses "Microsoft Excel-like" logic to help you easily write your rules, and it leverages drag and drop form controls to have you designing an interface like a pro without years of experience.
So there you have it. DriveWorks Solo is a time and money-saving, error eliminating, easy to use game changer. Could it be that game-changer for you?
[button color="default" link="https://www.inflow-tech.com/solutions/driveworks-design-automation/driveworks-solo/" size="default" target="_self" block="false"]Learn More[/button]
[raw]
[column size="1/2″ wpautop="true"]

This episode of InPOD discusses the different levels of DriveWorks in detail. Join Nick Sweeney for an explanation detailing what the different levels, Xpress, Solo, and Professional can do for you and your business. The three levels of DriveWorks provide design automation solutions with different benefits, listen in on this episode to help you decide where to get started and what is right for your designers and engineers.
[button color="default" link="https://inpodbyinflow.buzzsprout.com/1051252/4405331-everything-you-need-to-know-driveworks-licensing?" size="default" target="_self" block="false"]Listen Here[/button]
[/column]
[column size="1/2″ wpautop="true"]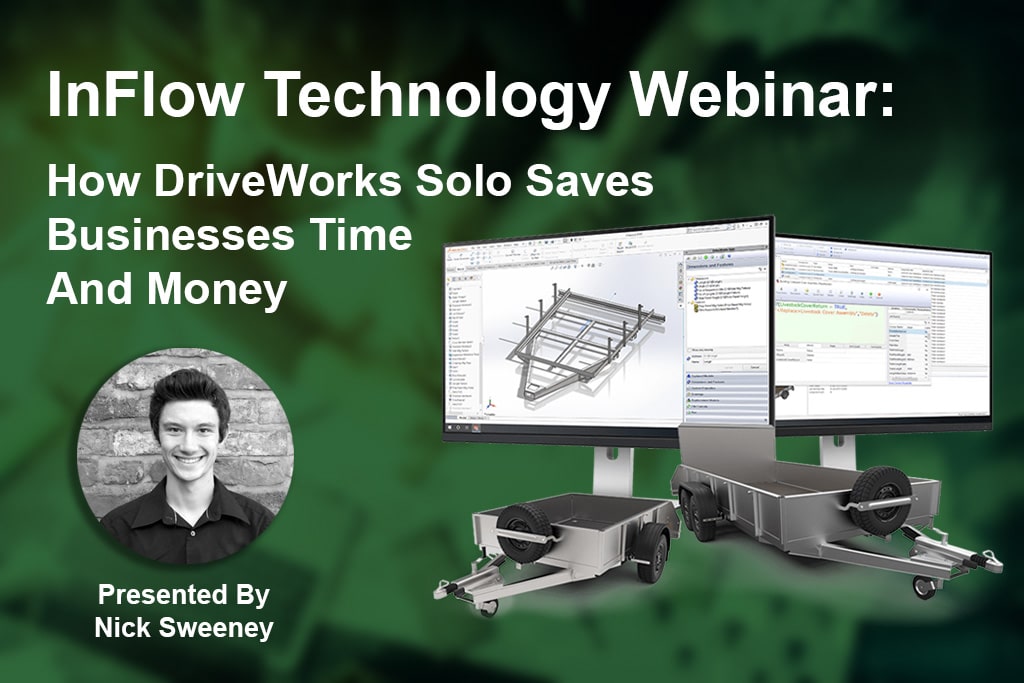 Register for our upcoming DriveWorks Solo Webinar with Nick Sweeney on March 30th, 2021 at 1:00 PM CST. InFlow Technology will help you get the best return on your automation investment with DriveWorks Solo. DriveWorks Solo design automation project is easy to set up, easy to manage, and easy to use. You can set up a project once, and run it as many times as you like, fill out the form, and quickly generate multiple new versions of your designs along with any manufacturing or sales documentation.
[button color="default" link="https://www.inflow-tech.com/events/register/Event_30232/" size="default" target="_self" block="false"]Register Today[/button]
[/column]
[/raw]