How to Insert Dowel Pin Holes in SolidWorks
Many SolidWorks users, especially woodworkers, have asked for this enhancement for awhile: Have the ability to define a hole as a dowel pin hole in the part and have it automatically insert a dowel pin symbol in the drawing.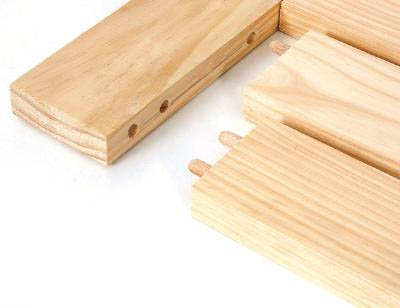 Starting in SOLIDWORKS 2013, users now have the ability to add dowel pin holes. (Applause!) Dowel holes are used to align components in assemblies. Standard dowel holes have been added to SOLIDWORKS in the Hole Wizard. So, all you need to do now is to click on Hole Wizard. In the Hole Specification PropertyManager, on the Type tab, click the Hole button under Hole Type. In Type, select Dowels. SOLIDWORKS gives you standard diameters to choose from or you can assign custom diameters appropriate to your industry. Fit options are also available. Set options as needed. That's it!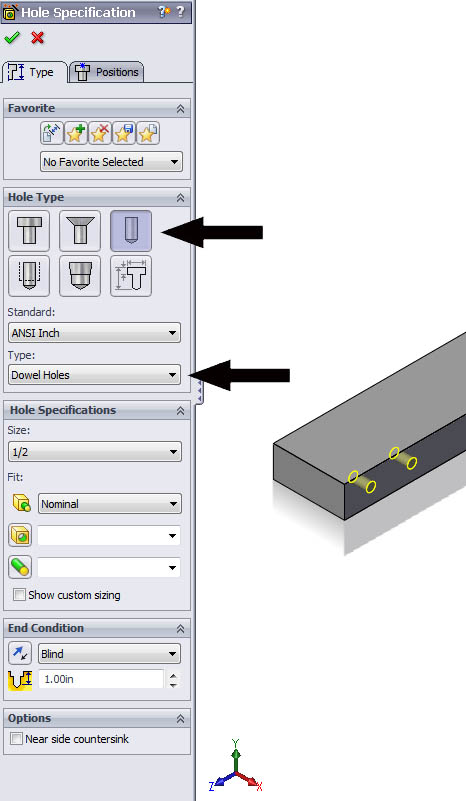 Now that we have added dowel holes to the SolidWorks part document, let's take a look at the drawing. There is a new document option for the automatic creation of all dowel pin symbols on view creation. Go to Tools > Options. On the Document Properties tab, click Detailing. Under Auto insert on view creation, you can select either Dowel symbols -part or Dowel symbols -assembly. Then, click OK.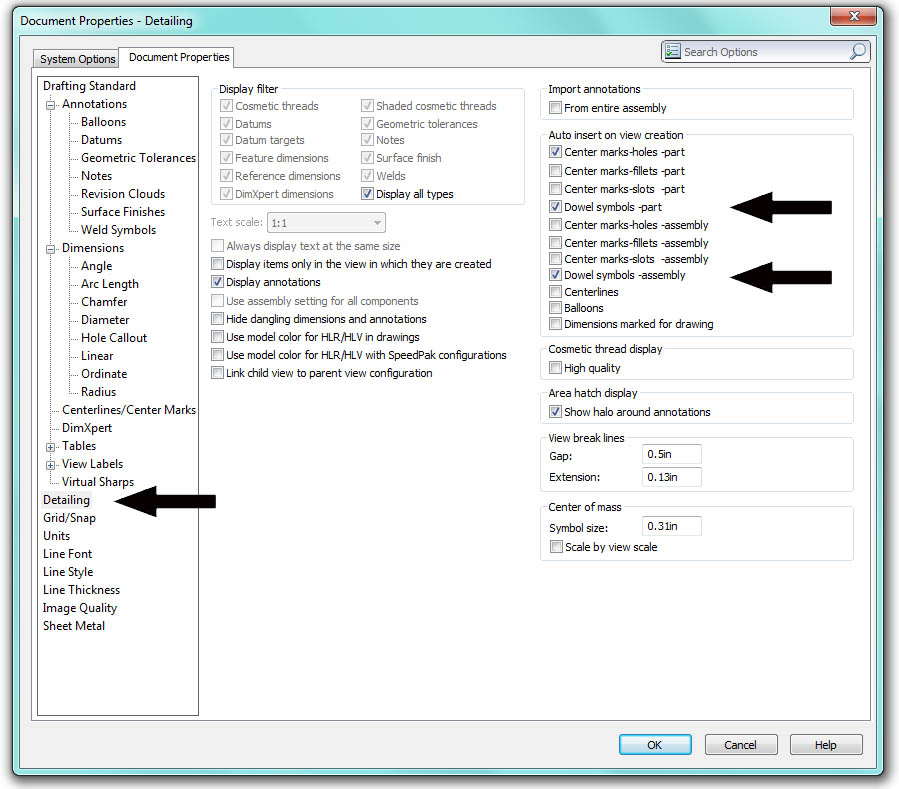 Additionally, you can automatically insert all dowel pin symbols in a SOLIDWORKS drawing view after view creation. You can automatically insert dowel pin symbols for dowel holes created with the Hole Wizard. To automatically insert dowel pin symbols into a drawing, pull down the Insert menu and pick Annotations > Dowel Pin Symbol. Under Auto Insert, select For all dowel holes.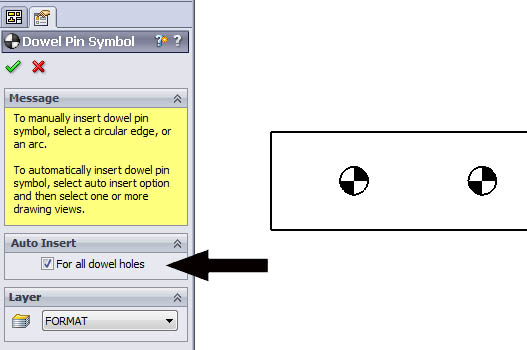 As you select the drawing views, the dowel pin symbols are inserted in the view. Note that you have the ability to flip a dowel pin symbol after it has been inserted (right-click the symbol and click Flip Symbol.)
Lastly, to manually insert dowel pin symbols into a SOLIDWORKS drawing, pull down the Insert menu and pick Annotations > Dowel Pin Symbol. Select a circular edge, a sketched circle, or an arc. Note that you can pre-select your circular edges, sketched circles, or arcs and then click Insert > Annotations > Dowel Pin Symbol. Dowel pin symbols appear in the selected holes.
Although this Dowel pin feature in SOLIDWORKS is great, there are some improvements already requested like:
The ability to define a dowel pin hole tolerance by either the hole or the pin.
Add functionality to insert dowel pins
Ability to add Dowel Pin symbol to a point, not just circular edge or arc
Neil Bucalo
Certified SOLIDWORKS Support
Technician 2013 Computer Aided Technology, Inc.