Iterate Quicker in SOLIDWORKS Flow Simulation using the Parameter Editor
SOLIDWORKS Flow Simulation is an extremely powerful tool. Studies can be setup quickly and run efficiently and accurately. As a result of its ease of use, customers can iterate and solve a variety of scenarios quicker than if they were performing physical testing. In today's blog, I will show you a great tip on how to iterate even quicker with the Parameter Editor tool in SOLIDWORKS Flow Simulation!
One of the most common things I see customers do in SOLIDWORKS Flow Simulation is boundary condition iteration. A customer will run a study, clone it, and then rerun the new study with different boundary conditions until they have reached the desired simulation solution. To do this, typically a customer will clone the study, and then right click on their respective boundary conditions, hit edit definition (Figure 1) and then key in the desired boundary condition changes. This process will be utilized for all boundary conditions, and then the study will be rerun.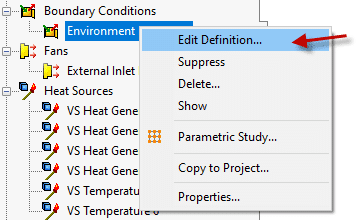 Figure 1: Traditional Boundary Condition Adjustment Method
As you can imagine, this process can become quite tedious with a lot of onerous right mouse button clicks. This is where the power of the parameter editor can really reduce your iteration time in SOLIDWORKS Flow Simulation. The parameter editor allows you to adjust all SOLIDWORKS Flow Simulation boundary conditions simultaneously in one interface, as opposed to manually changing boundary conditions one at a time. To access the parameter editor, you can either go to Tools > Flow Simulation > Tools > Parameter Editor or you can access it via the Flow Simulation Ribbon. In my case, I am going to access the Parameter Editor via the Flow Simulation Ribbon Tools as shown below in Figure 2.


Figure 2: Parameter Editor Location
Once the screen loads you will see the Parameter Editor interface (Figure 3). The Parameter Editor interface will give the name of your assembly, the initial conditions, and all defined boundary conditions in the system. In my study I have a combination of both thermal and fluid flow boundary conditions, as you can see below in Figure 3.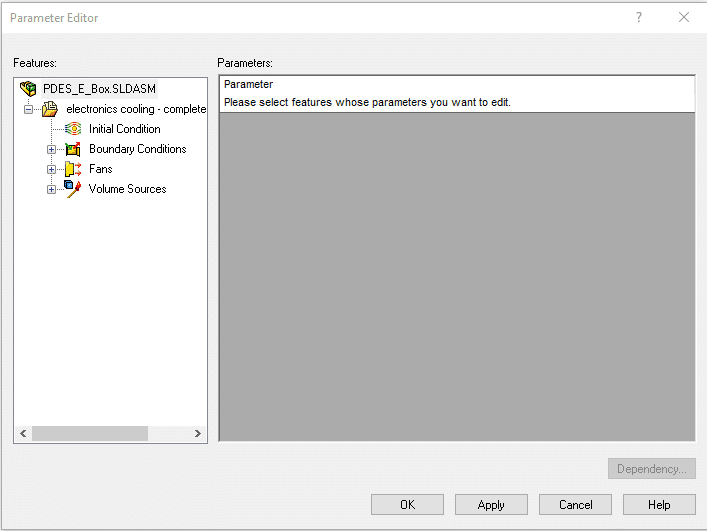 Figure 3: Parameter Editor Interface
I want to change a few of the boundary conditions in my study. First, I want to change the initial conditions solid temperature from 20°C to 35°C. I do this by left clicking on the Initial Condition icon on the Features side of the Parameter Editor. After clicking on the Initial Condition Icon, the settings for the Initial Condition will be shown under parameters. Every setting can be adjusted by left clicking in the desired field box and typing in the change. In my case I click on the initial solid temperature and then key in 35°C as shown in Figure 4. After changing any boundary condition in the editor, make sure you always hit apply to change the boundary condition in your project.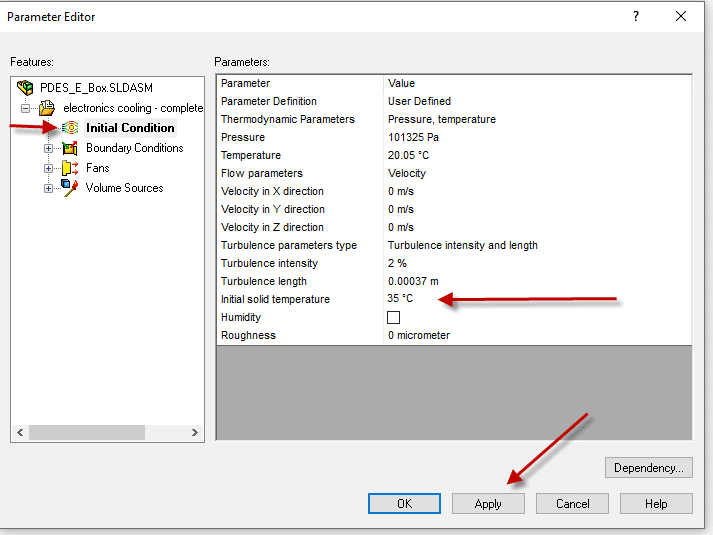 Figure 4: Initial Solid Temperature Adjustment
I now want to make changes to a few of the heat source boundary conditions. I am going to change the VS Heat Generation boundary condition from 2 watts to 4 watts, as well as changing the VS Temperature boundary condition from 45°C to 65°C (Figure 5). The process to do this is identical to the steps I laid out for the Initial Condition changes described above. It should also be noted that if you have any dependencies on your boundary conditions, you can also adjust them within the Parameter Editor.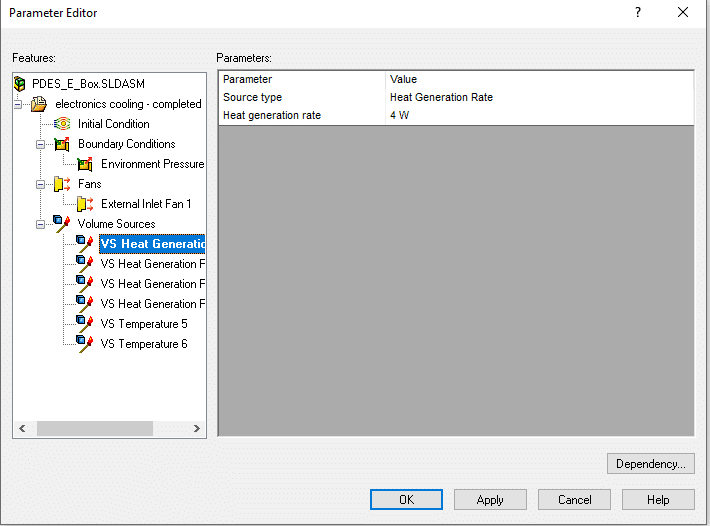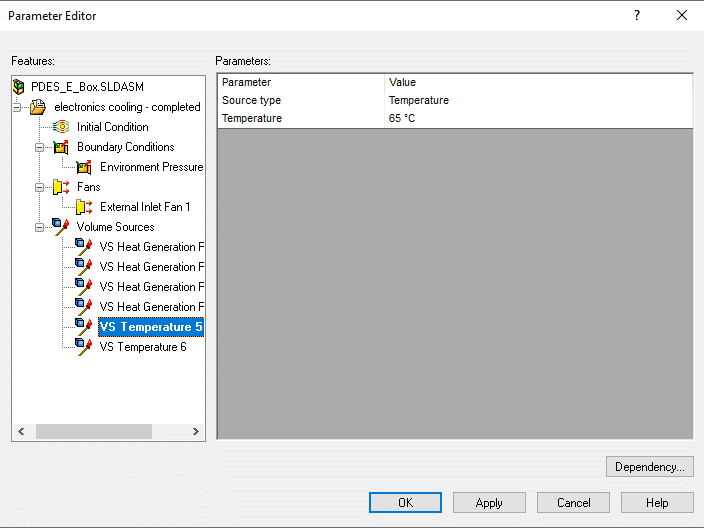 Figure 5: Additional Boundary Conditions Settings
If I were to have made all the changes to the boundary conditions without the parameter editor, it would have required me to right click on each individual boundary condition and to then make those changes. As you can imagine with numerous flow studies, this can be a time-consuming process. Now with the use of the Parameter Editor tool, you can eliminate all those pesky mouse clicks! If you have any further questions about SOLIDWORKS Flow Simulation, please reach out to us to see how you can utilize SOLIDWORKS Flow Simulation to streamline your design processes.
Drew Buchanan
Application Engineer, Simulation
Computer Aided Technology, Inc.