Let It Flow...
Flow analysis for the better part of the last century was
considered more of an art than science. Aerospace needs paved the way to put
logic into art. They followed the
Olympic motto to go swifter, higher and stronger. Software companies realized
the potential and started developing algorithms that made artists out of design
engineers. The advances in the Aerospace industry are a testimony to success of flow
analysis tools. With development costs in millions, how many designs do you think
Aerospace Engineers go through? My guess is just one!
The commercial world couldn't stay far behind. Fuel efficient
cars, energy saving light bulbs, super fast computers, gas grills, artificial
heart pumps, swim suits all took a leap forward in being swifter, higher,
stronger.
FloWorks from SOLIDWORKS Corporation offers intelligent,
easy-to-use CFD tools for engineers. Engineers no matter how geeky they may be,
like to follow the KISS principle….."Keep it Simple"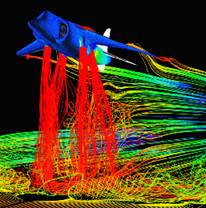 FloWorks has a wizard
that walks you through all the steps needed to set the problem. This is extremely
useful for expert as well as novice users. Values important to a designer can be
set as engineering goals. These may be tracked as the software is chugging
through numbers. Users can track goals or see a graphical representation of
flow as it is being solved for. Enabling qualitative, as well as quantitative
tracking.
Single window Single interface: Floworks, being a SolidWorks
product, takes advantages of parametric modeling. So any change made to 3D
geometry is reflected in flow tests. Besides, users don't need to export
geometry to a preprocessor or solver. Pre-Processing (set geometry, boundary conditions) to Post Processing
(results) is done using SOLIDWORKS interface.
Animations: Ability to
set analysis and run them efficiently is only half the battle. Presenting results
in a fashion that makes sense unfolds the big picture. Floworks animations are
the coolest ways to explain complex flow phenomenon.
Fellow flow enthusiasts can solve engineering problems like…
Incompressible (liquid) and Compressible (gas)
Ideal and Real Gas
Subsonic, transonic and supersonic regimes
Viscous, pure laminar and turbulent flow
Conjugate heat transfer
Porous media
Non Newtonian Fluid
Solar Radiation
Rotating Reference Frame
Moving walls
Rajat Trehan
Product Manager – Design Validation
Computer Aided Technology, Inc.