Mini 3D Printed Satellites Lowering Manufacturing and Launch Costs
Recreational space travel may not be on the near horizon, but 3D printing is making space more accessible! Small 3D printed satellites – some only 10cm square – are being launched routinely for industry and research. Phillip Keane's CubeSat was recently named one of Virgin Media Business' Three New Things for 2014.
Keane spoke to Stratasys about using 3D printing to develop his ideas for these small, useful forays into space.
>>Click here to read the full article found on the Stratasys Blog.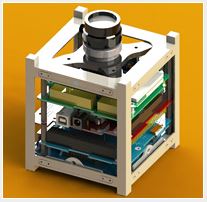 3D rendered model of the CubeSat – a 3D printed casing for mini satellites. Keane says the flight model should be ready by the end of 2014. (Photo provided by Phillip Keane)
Tracy Golden
Marketing Assistant
Computer Aided Technology, Inc.