Pack and Go Now Available for Flow Results
Pack and Go Now Available in SOLIDWORKS Flow Simulation
Pack and Go has been a staple in SolidWorks functionality for years. It allows a SOLIDWORKS user to package SOLIDWORKS files such as Assemblies, Parts, and Drawings into a new folder location, or a Zipped file. Pack and Go can keep the current file structure of folders and sub folders, or flatten to one folder. This allows a user to make back ups of their work, or transfer files to others easily. You can rename the new saved files individually or globally with a suffix or prefix creating a new file set. The user does not loose custom appearances decals or scenes saving time and work when copying the files. Toolbox components can also be included in the Pack and Go.
SOLIDWORKS Simulation files have always been able to be included with the Pack and Go, However New for 2015 SOLIDWORKS Flow Simulation can now add results files (.fld) to a Pack and Go. This added functionality allows a user to quickly roundup all the important files needed to transfer, or store their design. Simply select the Pack and Go option from the file menu. Choose the "Include Simulation Results" check box, and proceed like normal. Please note that with the Flow Results included the Pack and Go .zip file will be large in size.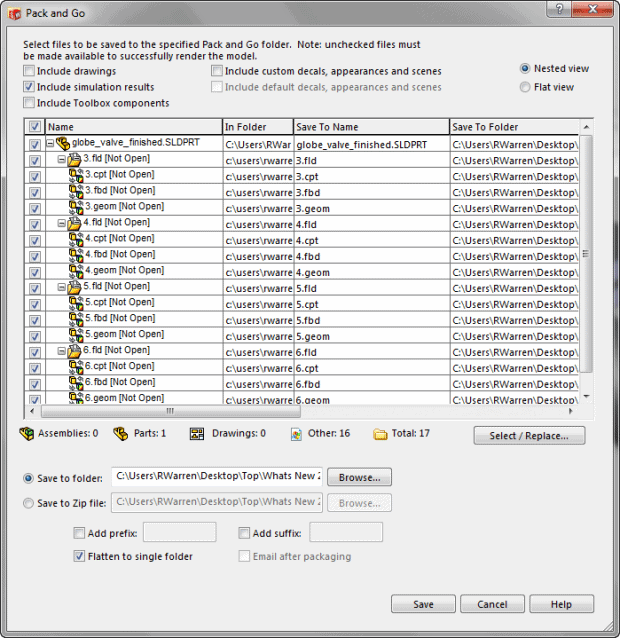 Pack and Go has always made it easy to accumulate all the important files to transfer or store. Now in 2015 Flow results are added to this great functionality. Lets us know through the blog comments how this functionality has helped you in your daily engineering tasks. Pack and Go will continue to improve and add functionality as it matures. Users like you help shape how the product behaves and what new functionality is added. keep up the good work. It has been requested for a while and we finally have Flow Results included with Pack and Go.