Response to Comment from Maximizing SOLIDWORKS Performance - OS Visual and User Settings
The following comment was posted to our article Maximizing SOLIDWORKS Performance (MSWP-12-#2) OS Visual and User Settings.
"Personally I must let AERO running, because of graphical problems inside of SOLIDWORKS otherwise!" (Posted by: Florent)
This comment is correct. According to SOLIDWORKS, "Using basic or non-Aero themes, Windows disables certain 3D acceleration settings to conserve resources. Disabling these settings can have a negative impact on SOLIDWORKS performance. Basic or non-Aero themes are intended for use with PCs which do not have dedicated GPUs, to reduce the overall load on the CPU. However, in PCs with dedicated GPUs, Basic or Non-Aero themes can hinder overall performance."
The biggest problem I have seen is documented in Solution S-037418 – When panning, zooming and rotating a model in Windows Vista® or Windows 7, what can cause a graphical problem whereby only a small rectangular area of the display is refreshed? The rest of the graphics area freezes.
We have had several users report this graphic issue, as shown below.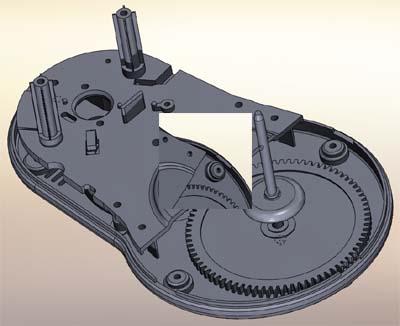 The Solution
The most likely cause for this is utilizing a basic or non-Aero theme in Windows Vista or Windows 7. In Vista, please enable the Vista Aero™ interface and in Windows 7, please choose an Aero™ enabled theme.
Additionally, there is SPR# 594031, which is an enhancement to allow SOLIDWORKS to check if AERO is enabled before each start, which would improve overall user experience and performance.
Neil Bucalo
Technical Analyst
Computer Aided Technology, Inc.