Simulation Verification - How Accurate are My Results?
Do you need to provide documentation about the accuracy of the Simulation program to support a Quality Assurance (QA) process in your company? Or have you ever asked yourself; "How do I know I'm getting accurate results?" No need to guess or worry, the SOLIDWORKS Simulation team has provided verification problems with comparison to theory to support this need.
To access the full list of these problems and open the model files associated with each, navigate within SOLIDWORKS to the Help pulldown menu as shown below. Note that these menu selections are available only if Simulation is added in and you have part or assembly file open.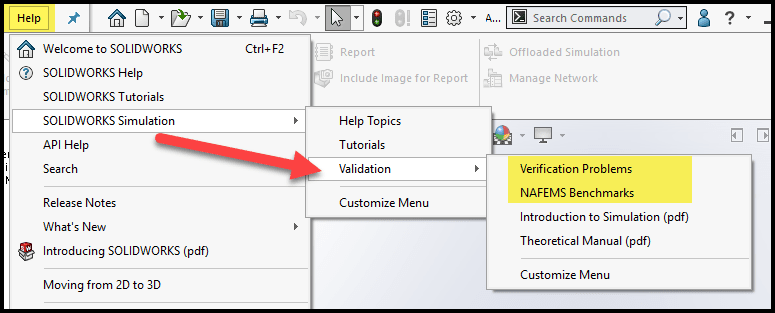 Picking either "Verification Problems" or "NAFEMS Benchmarks" opens a new interface in split-screen mode with multiple selections available, similar to the way we access tutorials.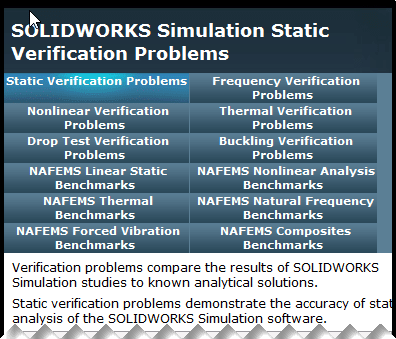 The Verification Problems topics range from basic to advanced and are verified by analytical solutions taken from familiar technical publications such as Timoshenko's "Theory of Plates and Shells" and Young's "Roark's Formulas for Stress and Strain".
The NAFEMS Benchmarks are based on publications from the International Association for the Engineering, Modelling, Analysis and Simulation Community – an international organization whose self-proclaimed mission is:
"Provide knowledge, international collaboration and educational opportunities for the use and validation of engineering simulation" https://www.nafems.org/about/nafems-mission/
After picking one of the categories, you are presented with several examples. Shown below is a partial list displayed after picking the Static Verification Problems section.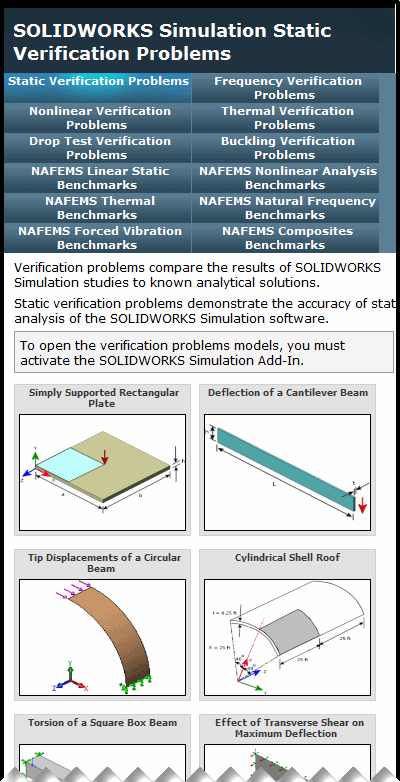 For each of the problems the following is presented for review:
the problem description of the geometry and loading,
a link to the model file containing a preset Simulation study,
the finite element model setup and materials,
FEA results comparison to theoretical calculations,
the analytical solution and reference.

The part can simply be opened and solved in SOLIDWORKS Simulation to show the results. Here is the circular beam part after solution with the deflection in the X-direction plotted.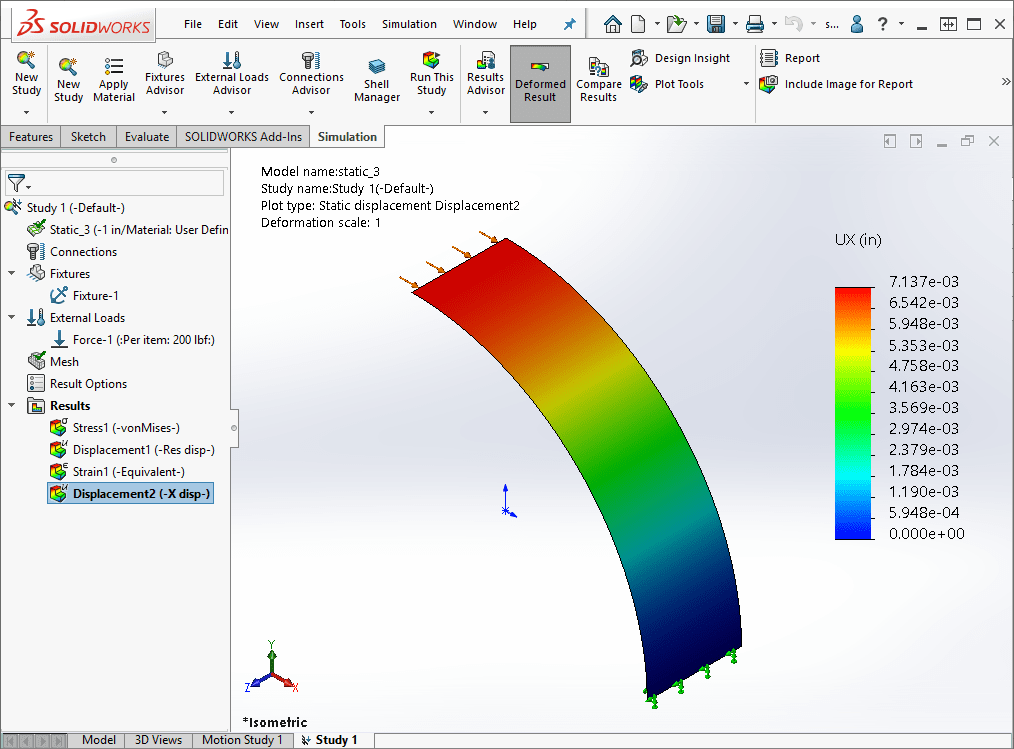 So, if your need is for documented verification of Simulation results, check out the Verification Problems and NAFEMS Benchmarks to see if there is a theoretical solution that relates to the type of analysis you are running. Best of luck with all of your simulation efforts!
Kurt Kurtin
Technical Manager, Simulation Products
Computer Aided Technology, LLC