SOLIDWORKS 2011 SP5!
Hey all,
2011 sp5 is out. It is now possible to 'Exclude from cut list' property of a WeldmentCutListFolder (Cut List Item) through the API, change transparency of sub-assembly component/part from top level assembly, the global contact no longer fails between certain shell edges and shell faces, and the flat pattern of simple lofted bend sheetmetal part is no longer distorted. For a complete list of fixed SPRs, see the following link.
https://www.solidworks.com/sw/support/subscription/ServicePackMaintenanceNotes.html
Just set up the filter as follows.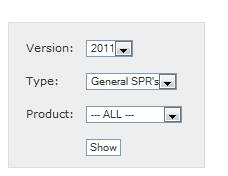 Brian Adika
Technical Analyst
Computer Aided Technology, Inc.