SolidWorks 2013: Materials in Design Studies
In the past, many people have asked me if you could optimize a part by using material as a variable. Well, in SolidWorks 2013, you can. With SolidWorks Simulation 2013, you can use the material of a part or body component in a Design Study using the new Design Study Materials parameter. This functionality allows you to evaluate a wide range of design choices or optimize a current design by defining a parameter that sets bodies to use different materials as a design study variable.To define a material as a variable in a Design study:
Create a Design study.
Click Insert > Design Study > Parameters or click the Design study tab and under Variables, select Add Parameter.
In the Parameters dialog box, under Name, type a name for the parameter.
Under Category, select Material.
Under References, select the bodies for which the material is set as a variable in a design study. Rows highlighted in green contain bodies assigned to the material parameter.
Click Apply and OK. An asterisk appears under Linked to show that the selected bodies are linked to the material parameter.
Switch to the Table View tab to define the design scenarios.
For each scenario, click the Select Material cell on the material parameter row.
Select a material from the SolidWorks or custom materials library and click Apply. The selected material is applied to the bodies linked to the material parameter.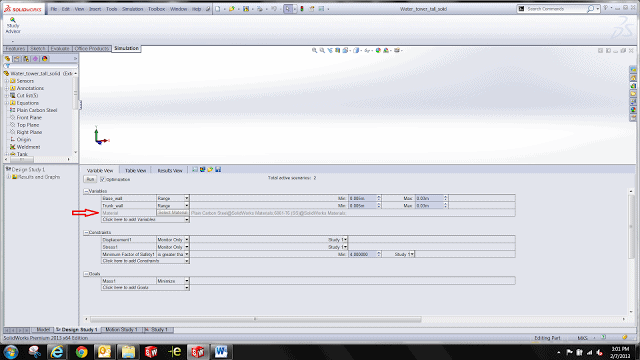 For more training and tutorials on the many 3D CAD Modeling solutions in the SolidWorks family of products and add-ons, register for an upcoming Event or look into our SOLIDWORKS training.