SolidWorks Enterprise PDM 2009 - What's New (3/3)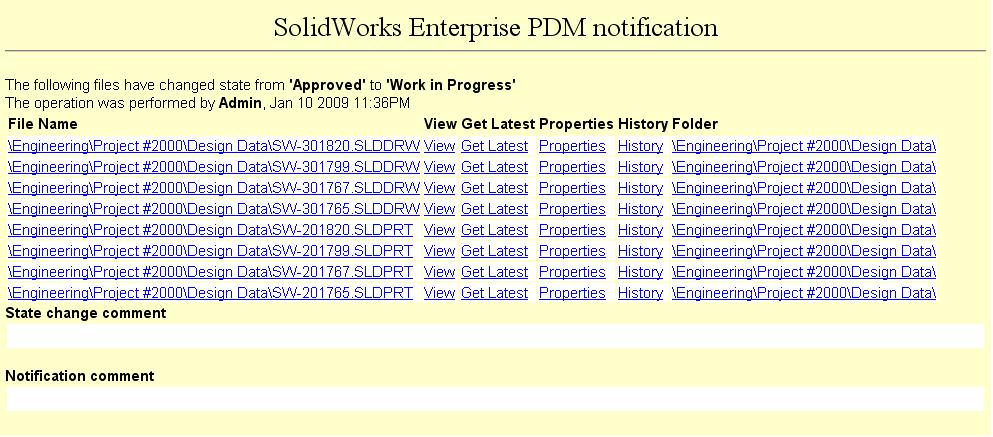 After a short blogging break, I am now posted the third installment of my "What's New" posting for SolidWorks Enterprise PDM 2009. My previous blogs covered the changes to the Bill of Material and the SolidWorks integration. This installment will cover some other general enhancements. First we will look at Workflow.
Enterprise PDM 2009 Workflow
As many of you know, Enterprise has a nice interface for creating routes for things like drawing approval, Engineering Change, Print Transmittal, etc. Enterprise 2009 added the following capability:
Runtime user notifications – in previous versions, you had to predefine the groups or users to be notified as a document was routed on a workflow. Now you can leave the transition open to select at runtime. The user will be allowed to choose who gets the document.
Combined Email Notifications – in previous versions, when users were notified of a document change, they would get an email for each document routed. In 2009, when you route a set of documents, only one email is sent with links to all the documents that require approval (see screenshot)
Double Authentication – Now administrators can force users to enter their password when they execute a state change in a workflow. So, if you are logged into Enterprise and walk away to get a coffee, someone can't go to your computer and approve your document.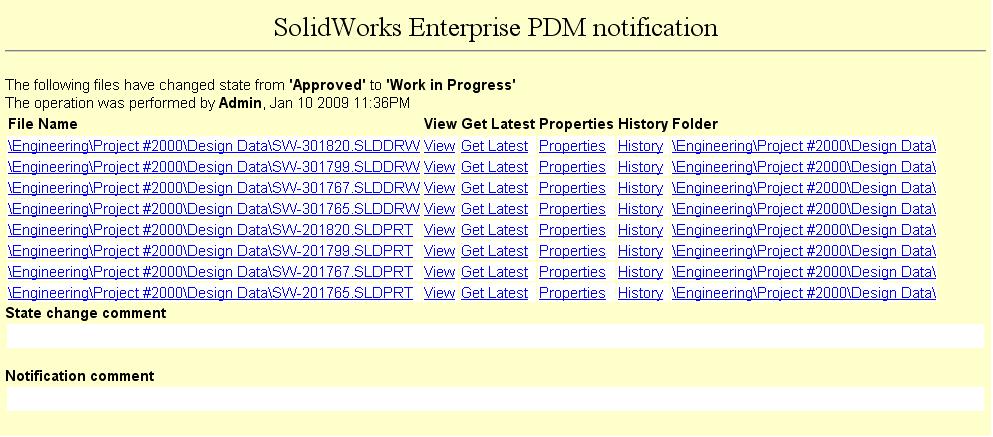 Enterprise PDM 2009 Security
In Enterprise PDM 2009, SolidWorks also made the security more flexible by adding the ability to "self manage" user permissions. In other words, the administrator is now able to give security ownership to others so they can manage permissions of their particular team. If a manager has ownership, they can change access rights to various projects (or other folders) as they see fit. So a user could be an "Engineer" in one project and a "Viewer" in another. In previous versions, the admin would have to manage these rights. Now the administrator selects an area of the vault and passes the keys to a local admin who can then self-manage their area. This may seem minor, but for companies with hundreds of users, with different project/product groups all over the globe, this provides a great benefit.
Some other new functionality:
Users can now compare one part version to another in SolidWorks.
Part Number generator can automatically assign part numbers to SolidWorks Configurations
Enterprise automatically includes SolidWorks Simulation results upon check-in
Added Support for Windows Server 2008
Added Support for AutoCAD 2009
There are more things coming in SP2 of Enterprise PDM 2009, so I will post another blog once I get a good look at it. Questions…send them to us at InFlow Technology.