SOLIDWORKS Enterprise PDM - Permission Changes
In the latest release of SOLIDWORKS Enterprise PDM, there are a few enhancements in the area of group and user permissions. The primary enhancement in this area is related to the separation of the "move" permission from the "delete" permission. In previous releases, EPDM worked like Microsoft Windows, where you needed delete permissions to move a file or folder. In 2015, these permissions are split. You can now give a user permissions to move a file or folder without giving them permission to delete. In addition, the folder delete permission has been separated in this release. In previous releases, the permission was "add or delete a folder." Now there is a specific permission setting to delete the folder. Below is a picture of the new permissions: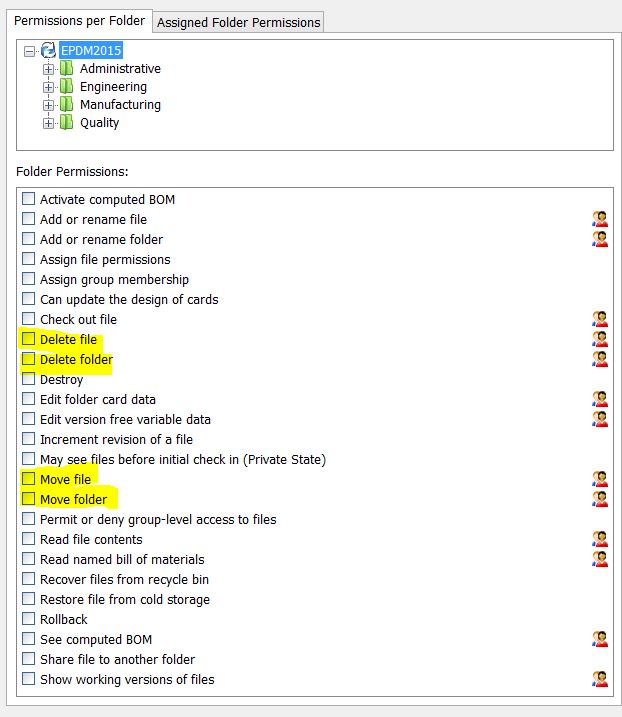 One last change related to permissions: all users can now see "never checked-in" files. Previously only the "admin" user could see these files. So, if a user add a file to the vault, but never checked it in, others users would not be able to search on it or view it. In 2015, that permission has been changed so now all users can see these files. This is a minor change, but one that all users will appreciate.
So…administrators, when moving to 2015, check out the new options to make sure you take advantage of the new options. For more information, find us at www.inflow-tech.com. If you want to see 2015 and talk to someone on our team, you can register for 2015 launch events (click here for info).