SOLIDWORKS Flow Simulation: Remote Solver Setup
Think about the last time you needed to solve a very large SOLIDWORKS Flow Simulation project. Did your workstation have enough horsepower to solve the project in a reasonable amount of time? If not, did you have access to a high-end workstation elsewhere in your office that you could have connected to? If the answers to those questions are 'no' and 'yes', respectively, then you could have taken advantage of SOLIDWORKS Flow Simulation's Remote Solver capability. Utilizing the Remote Solver capability can be done with both network and stand-alone SOLIDWORKS Flow Simulation licenses, and only a single license is required!
Setting up a workstation to be used as a Remote Solver may seem like quite a daunting task, however, I will show you that this capability can be set up in (well) under thirty minutes, provided you understand and follow a few simple guidelines. First, both your workstation and the remote workstation need to have identical versions of SOLIDWORKS and SOLIDWORKS Flow Simulation installed – same version and service pack. Second, both machines need to be connected to the same office network; both a named domain or a workgroup are acceptable! Third, the service "Remote Solver for Flow Simulation 20xx" must be started on the remote workstation. Fourth, you should create firewall exceptions for the Flow Remote port. And, fifth, you should set up the SOLIDWORKS Flow Simulation options to provide a working directory for the remote solver work. Let's review each of the requirements in a little more detail.
Verifying the version and service pack of your SOLIDWORKS installation is simple. When SOLIDWORKS is running on your machine use the pull-down menu "Help… About SOLIDWORKS".

If both your local workstation and the remote workstation are on the same version and service pack, you can continue with the next steps. If you have different versions, download and install matching SOLIDWORKS versions on both workstations.
The next step is to verify your network settings. The simplest method is to make sure you have file and print sharing turned on for both machines, then try to browse to the machine using Windows Explorer.

You could also verify your 'computer name/domain/network' settings in Control Panel, System. The picture (below) shows the 'FLOW_Remote' machine is a member of a 'Workgroup', not a named domain.

The third requirement should be straightforward – verify the Flow Remote service is started on both workstations. The remote service is installed and started automatically when you install SOLIDWORKS Flow Simulation. The key is to verify the parameters of the service. Do this by a left-click on the Windows Start button, then type 'services', and launch the Windows Services application. Scroll through the list of services running on your workstation and look for "Remote Solver for Flow Simulation 20xx". If you right-click on the service, you can verify the path to the remote solver executable.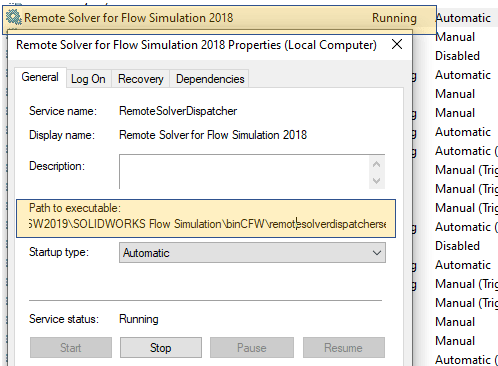 Just a little sidebar here. On my workstation, I have several SOLIDWORKS versions installed for testing and providing technical support to Computer Aided Technologies customers. The name of the Remote Solver service indicates 2018, however, the executable is clearly in the 2019 installation folder. I'm sure I could find a way to rename the 'Display Name' for the service, however, it doesn't affect my ability to use the Flow Remote capabilities, so I leave this as-is.
There is one additional setting to verify for the Flow Remote service, and that is a registry setting. Make sure that the HEKY_LOCAL_MACHINESOFTWARESracCOSMOS_FloWorks 20xx hive has a key for your current version and service pack. The key, as shown in the picture below, has a specific naming convention per version/service pack and should point to your SOLIDWORKS Flow Simulation installation folder's 'efdsolver' executable file.

The fourth step is to set up both TCP inbound and outbound port exceptions for the Flow Remote solver. The default port is 30950. If you're not familiar with modifying your Windows Firewall exceptions, consult your I.T. department and they can assist you. You should only need to create the port exceptions on the remote workstation, however, I create the inbound/outbound port exceptions on my local workstation, as well.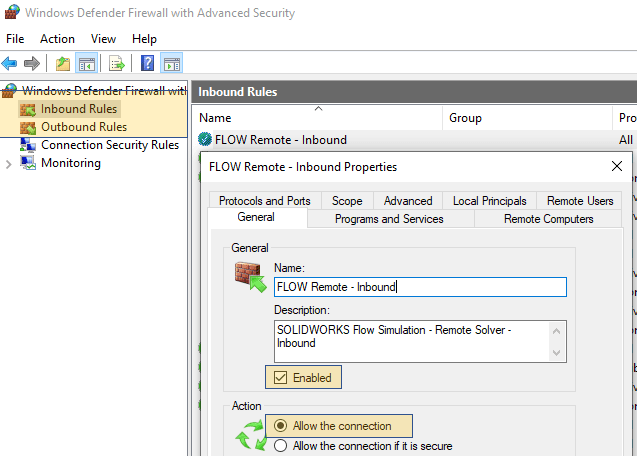 The fifth step is to set up your remote solver folder location in your SOLIDWORKS Flow Simulation options. Like most of the prior steps, I do this on both my local workstation and the remote workstation. When SOLIDWORKS is active on a workstation, you have a part or assembly file open, and the SOLIDWORKS Flow Simulation add-in is active, use the pulldown menu "Tools… Flow Simulation… Tools… Options". Then expand the 'Remote Solver' section and add the remote solver directory by clicking on the ellipses radio button on the right-hand side.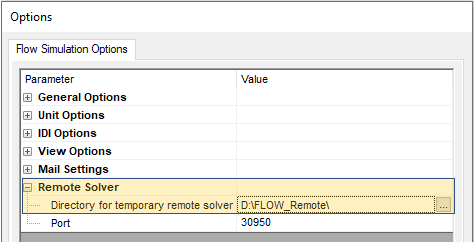 Once you have configured both your local workstation and the remote workstation, a quick check of connectivity is to use Telnet to verify you can connect to the remote workstation and port. A successful telnet connection is a command prompt window that is blank with a blinking cursor! If you receive an error message, there is a problem somewhere in your setup.
When the setup is complete, you need to test the SOLIDWORKS Flow Simulation Remote Solver capability! The creation and setup of your SOLIDWORKS Flow Simulation project are done on your local machine. When you're ready to solve it, use the pull-down menu "Tools… Flow Simulation… Solve… Batch Run".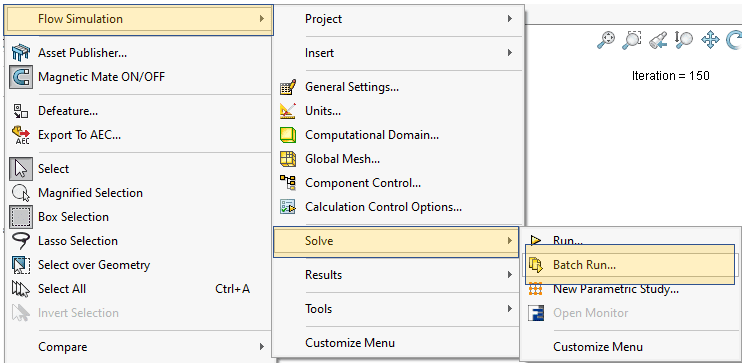 This will bring up a list of open SOLIDWORKS Flow Simulation files. Left-click on the 'Browse' button and you will see a list of all the workstations you have set up to act as a FLOW_Remote machine. Add the machine to your list of available workstations and you're almost ready to go.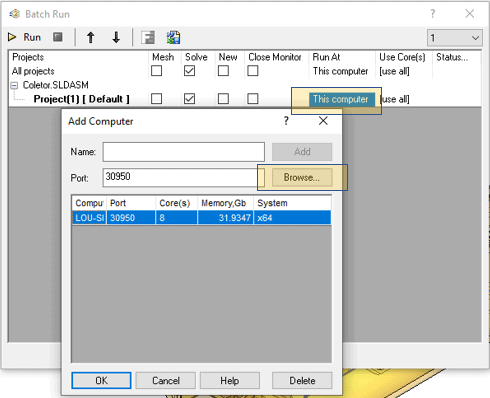 The last step is to use the pull-down menu under the 'Run At' column, select the FLOW_Remote workstation, and then click the 'Run' button in the upper, right-hand corner. If you've set everything up correctly, the mesh and solve operations will be done on the remote workstation.
There are several SOLIDWORKS Knowledge base articles you can reference for additional information, each of the listed articles below includes PDF reference documents:
S-018892 – with FAQID x247 "Remote solver capability in SOLIDWORKS Flow Simulation
S-018848 – with FAQID x280 "Cannot find solver on the specified computer" error message
S-067080 – with FAQID x538 "Cannot connect to the specified computer" error message when adding a computer to the Remote Solver
Please consult these SOLIDWORKS Knowledge Base articles for in-depth discussion and instructions regarding the setup of a SOLIDWORKS Flow Simulation Remote Solver workstation.
As I mentioned at the beginning of this topic, only a single SOLIDWORKS Flow Simulation license is needed for the Remote Solver capability. If you are using stand-alone licensing, you do not need to activate SOLIDWORKS or SOLIDWORKS Flow Simulation on the remote workstation, only install the software. This is possible because your local workstation will be actively using the license, you are only farming out the mesh and solve operations. This does mean that your workstation needs to maintain a connection to the remote solver workstation while this functionality is being used. Once you've connected your SOLIDWORKS Flow Simulation project to a high-end computer to solve your CFD project faster, you'll have more time to tackle other Design and Engineering tasks. Now go make your products better with SOLIDWORKS Simulation!

Bill Reuss
Product Specialist, Simulation
Father, golf junkie, coffee connoisseur, computer nerd
Computer Aided Technology, LLC