Rendering Your SOLIDWORKS Motion Results in Visualize Professional
SOLIDWORKS continues to amaze me! In 2017, they raised the bar with the ability to send animations created in SOLIDWORKS Standard and Professional into Visualize Professional. This ability allows you to re-use animation work already done at the CAD level to create fully rendered movies of your products for sales and marketing purposes. The integration doesn't stop with the Professional package; SOLIDWORKS Premium Simulation Motion results will also import into Visualize, allowing you to take your widgets to the next level and create epic movies with ease!
To test this, I used a 12-sided die and set up gravity, contact, friction, and materials to simulate what would happen if dropped; what number would it land on? But what fun is it to watch a virtual dice land on a number?! Let's make it explode instead!
Once the simulation was setup, it was time to export the results to Visualize Professional. With the push of a button, the results are calculated, and then exported to Visualize. This took about 3 minutes to complete for this example; time to get some coffee.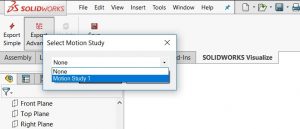 Once imported, it's time to set up the scene; I adjusted the camera to my liking using focus and post processing effects. I then applied materials to the parts and an environment to the background from the library. Using the preview display, you can quickly play back the animation before sending it to the render queue. As a proof of concept, you can also save the full animation using the preview quality which only takes a few minutes to save.
To make sure that the animation would look correct, I saved 4 still images to get an idea of what the animation would look like when finished. I then used a free 3rd part editing tool (Shotcut) to create a short movie.
Once I was happy with the setup, it was time to render the final animation. I wanted to slow down the final animation with editing so I increased the frame rate to 120FPS. Since the animation is 1 second long, Visualize will need to render 120 total frames. This will take a while so, to continue working on my mobile workstation, I used Visualize Boost on my home machine to free up processing power and continue writing this blog.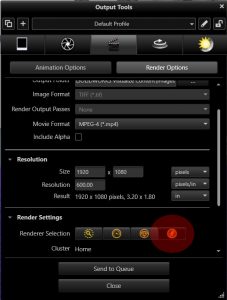 Visualize Boost is easy to set up (if you use the proper port numbers; Thanks Jordan!) and one license is Included with Visualize Professional! Read this other SOLIDWORKS Visualize article for instructions on how to set up Visualize Boost and offload your rendering tasks on other unused PCs in your office.

This animation took 13hr 06m 04s to complete. If I had used a more powerful PC, or more PCs in my Boost Cluster, I could shorten this time. However, given the complexity of the scene, 1200 passes, and number of frames, Boost averaged 6.5 minutes per frame. The Visualize Boost machined I used has a 3.9 GHz i7-4770k processor with an NVIDIA GeForce 1080 video card; Visualize SP1 now has support for the NVIDIA Pascal architecture, so Boost used both CPU and GPU to finish the task.
Click the image below to view the final Video.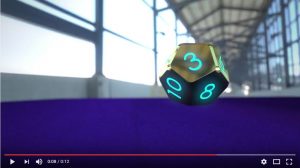 As always, if you have additional questions about Visualize or any other SOLIDWORKS topic, don't hesitate to contact CATI Technical Support for help.
Happy rendering!
Alex Worsfold
Application Engineer
Computer Aided Technology