SOLIDWORKS: Performance Gain with Saving to a New Version
We often get asked "What can I do to make my models open up faster"? One of our answers is to ask if everything is saved into your current version? There is a performance hit when SOLIDWORKS must translate a previous version into the current version, but how much?
I was able to get a hold of a big assembly model from 2019 and ran a few tests with it. Things to note first was that I loaded everything fully resolved for each test, the model had several sub-assemblies and it was on my local drive. I first ran the test with 2019 Files and an outdated graphics driver, 2019 Files and updated graphics driver, and finally 2020 files and updated graphics driver. The results are interesting.

While the new driver didn't speed things up too much, it did show a slight improvement. The big thing here was usability once the new driver was finally loaded. The model was more responsive as I moved and rotated around, not much, but just a touch better.
Load times improved the most when I used the SOLIDWORKS Task Scheduler to update ALL the associated files of the assembly to SOLIDWORKS 2020 From 2019. This did take a while and I would suggest starting this before you left work, and have it run overnight. The process is straight forward. You launch the SOLIDWORKS Task Scheduler, click on the Update Files Icon and browse to the folder or files you want updated.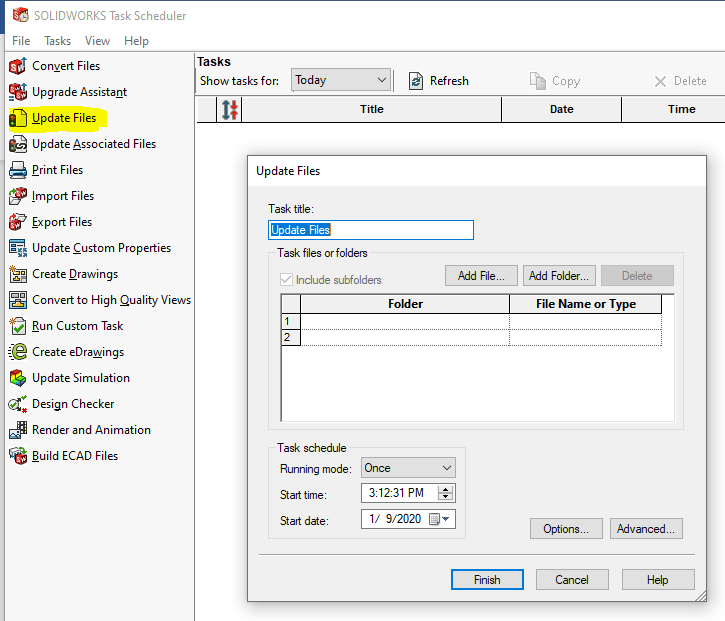 Do you think it would be worth it? I suggest so! Roughly half the load times from something that could be accomplished while you are away from your desk.
Craig Maurer
Applications Engineer
Computer Aided Technology, LLC