Where to Learn SOLIDWORKS Simulation
There are multiple places to get help with Simulation. Whether you have years of FEA experience or none at all, it pays to start slowly when learning a new program and then tackle more complex problems later. SolidWorks Simulation has one of the nicest simulation interfaces I have ever used, but it still takes some adjustment for new users. There are multiple places to get help in different ways; I'll go into them in some detail.
Tutorials
Knowledge Base
Context-Sensitive Help Inside Simulation/User Forums
FISHER/UNITECH Support Hour Webcasts
Official Training
a. Load Simulation Add-In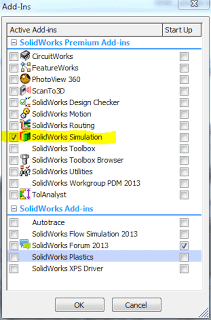 b. Open a part file or create a new part or you won't see the Simulation Help.
d. Crawl/Walk and then Run: Start with the part-only simulations to get used to loading and fixturing your part. Then go to assembly-based tutorials to learn about contact conditions and connectors available in SolidWorks Simulation.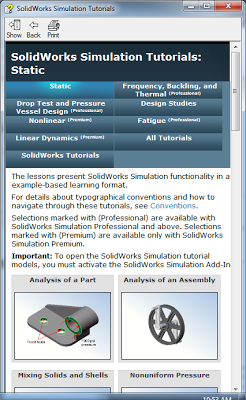 Knowledge Base
If you want to read articles on different aspects of simulation, or if you see strange behavior with the software, you can search here to see if a service request has been created. You can access the "KB" from the upper right-hand search window in SolidWorks or from the
Customer Portal
.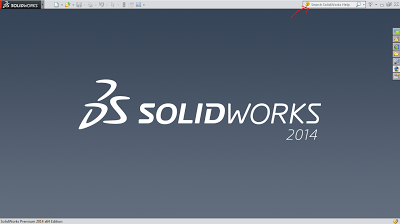 Search in upper right corner (Help > KB > Forums). Pretty cool!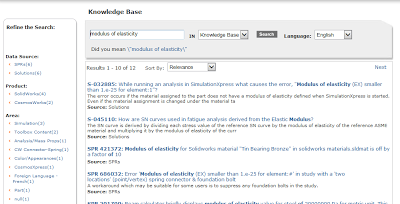 KB example
Context Sensitive Help / User Forums
I never search the Help anymore; I just click the context-sensitive help from the dialog box. It takes you right where you need to go.Note: if you are using the web help, it will search the Forums and the "KB" as well, killing three birds with one click.
Fisher Unitech Support Hours
Every other month or so, we offer our Support Customers a complimentary webcast on a very specific Simulation topic. The topics are relatively deep dives into things such as simulation study property settings, bolt and pin connectors, what is going on behind the scenes, etc.

b. Look to the left of the user screen; you will see past Support Hour webcasts.
c. Some Sim-specific topics cover things like:
– Static study properties
– What is behind the scenes with pins and bolts
– How to get accurate motion loads – Contact sets versus component contact
Funtech Simulation Training:
The links to our standard classes are
here
. If you see a class you want to take but it's not currently being offered, let us know you're interested! Contact your FISHER/UNITECH Account Manager if you already have one, or contact our sales department by
filling out the form here
if you don't.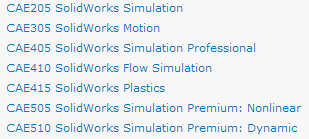 Standard Simulation Classes Offered Online or Onsite
Other training options:
– Standard classes onsite at your facility, which may be more cost-effective if you are training 3 or more.
– Mentoring. Work directly with one of our engineers on an hourly basis to help solve your analysis project.
– Custom support. Buy a bundle of consulting hours ahead of time to use on an as needed basis.
I hope this helps everyone get a jumpstart on learning some very powerful tools.
Happy Simulating!