SOLIDWORKS Tech Tip: How to see shared mates between assembly components
Once you start creating mates between assembly components, it can be easy to get lost in trying to remember what mates you shared between two components. Wouldn't it be nice to be able to easily distinguish what mates were shared? Well, you can. Let me show you how.
Take the image of two blocks below. As you can see, the blocks share two Coincident mates. The Top block (indicated with yellow top) also has its OWN additional mate to a separate Plane.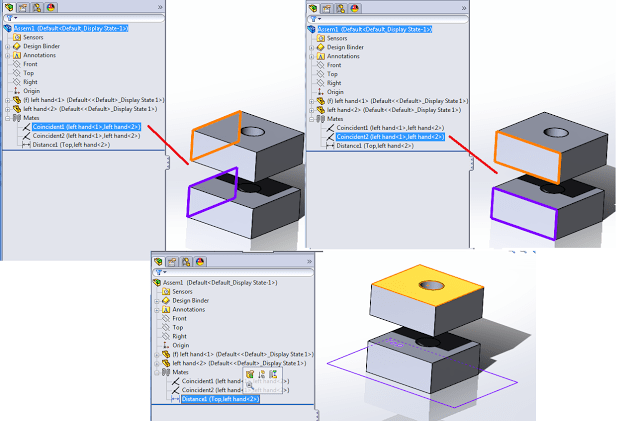 Naturally, this is a simplistic case, but imagine if there were 10 or 20 mates on these parts. If you just want to find the mates specifically between the two blocks, how can you distinguish them?
Simple.
Hold down the Ctrl key and select each block.
Click on the Property Manager tab.
Look at the Property list.
As you can see below, the two common mates (coincident) are BOLD while the Distance mate (that is not shared) is plain.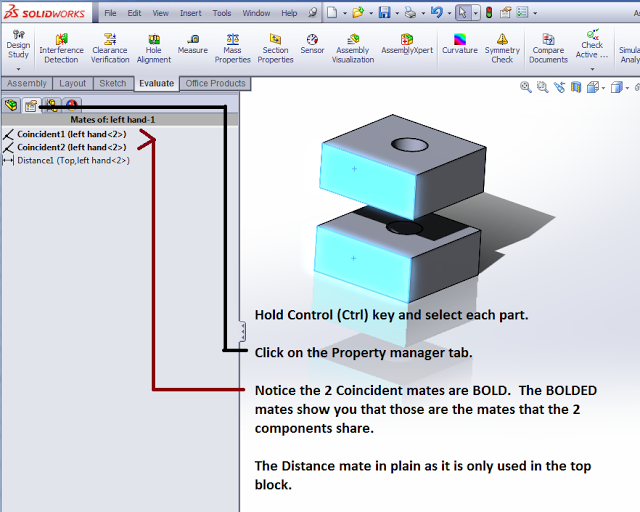 Happy modeling!
For more training and tutorials on the many 3D CAD Modeling solutions in the SolidWorks family of products and add-ons, register for an upcoming Event or look into our SOLIDWORKS training.