Tractor Trailer Aerodynamics in SolidWorks Flow Simulation [VIDEO]
As time progresses and fuel prices increase, you might have noticed some changes to the tractor trailers you see on the highway. Fairings on tractors have been common for quite a while; however, side skirts and extended "tails" on the trailers are relatively new additions.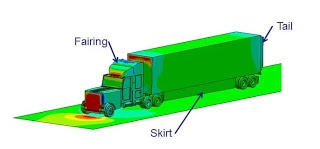 To satisfy my curiosity on the effectiveness of these devices, I've performed a virtual experiment using
Flow Simulation
. Watch the quick video below to see the results of the test.
For more training and tutorials on the many 3D CAD Modeling solutions in the SolidWorks family of products and add-ons, register for an upcoming Event or look into our SOLIDWORKS training.