Wayne Tiffany: Remembering a SOLIDWORKS Community Leader
I am not sure how many of you knew Wayne Tiffany, but
I found out some pretty neat information that I wanted to share with the
community as a whole. Wayne was a long time user/advocate of SolidWorks
software and most recently held the distinction of being the president and
founder of the Kansas City SOLIDWORKS User Group.
Wayne sadly lost his battle with cancer in September of this
year.
On Tuesday December 11th, Richard Doyle & Elton Smith presented
Kansas City's 10th anniversary meeting in KC. In attendance
were two of Wayne's children, who will also be present at SOLIDWORKS World next
month in Orlando. During Richard's presentation he showed a slide
advertising the About SOLIDWORKS screen found in the Help pull down menu in
SolidWorks. If you are still using 2013 SP0, you can hold down Shift and
click on the SW red logo. Upon doing this, you will see a pop up window
(known as a virtual Easter egg in the computing world) showing a tribute to
Wayne's legacy. I found this interesting because according to the group,
this has never happened by SOLIDWORKS before.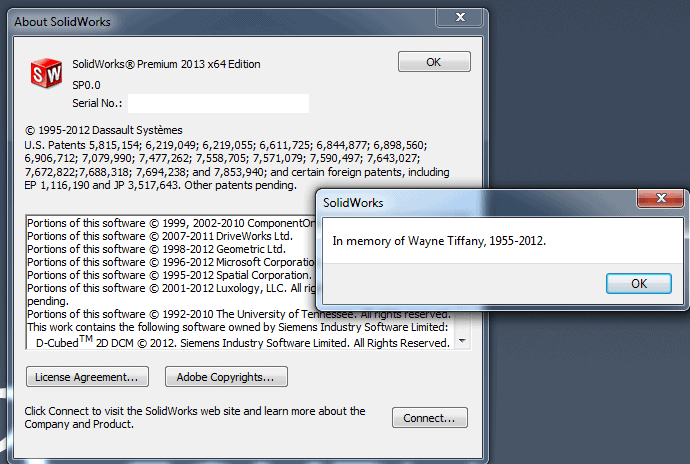 If you get the chance to mention Wayne's name to just about
any SOLIDWORKS employee, user group attendee from here in the mid-west, or any frequent forum reader, you will probably get one heck of a story in
return. He will be missed, and I wanted to share this story with you all.
Thank you,
Brian Reel
CATI