Why you should add Cosmetic Threads to your downloaded fasteners
One of the benefits of working in 3D has always been the ability to verify that your assemblies will actually fit together when the parts hit the manufacturing floor. SOLIDWORKS has always had a great interference detection for parts that don't move and even a collision detection for parts that do move. The issue with fasteners is that they are always designed to interfere. A bolt or a screw is modeled to the major diameter of the thread and the tapped hole (and sometimes nuts) are modeled to the minor diameter; hence they will always interfere. That can make the Interference Detection highlight interferences that aren't really going to be an assembly problem on the manufacturing floor. We can help ourselves by adding Cosmetic Thread info into our parts so Interference Detection will isolate all those fastener "interferences" so you can focus on the real part interferences.
Before I go any further, I feel I should mention that if you use Toolbox, you're in luck as they already have cosmetic thread information in them. Many companies I've interacted with have a large McMaster download library which have no cosmetic threads (and have way too much detail!)
Here is an example of a small block with 3 tapped holes – and if you look at the Feature Tree I am sure you'll recognize the McMaster part numbers. The fillister head fastener is an 8-32, and the hex head fastener is a 10-24. The tapped holes in the block were put in with the Hole Wizard and have the cosmetic thread information, as the block indicates. Both fasteners have been simplified and had the Cosmetic Thread entered in, but did start as McMaster downloads.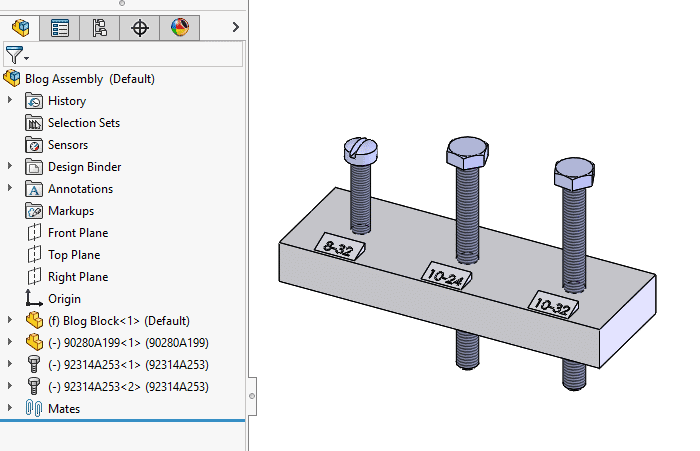 Now when we bring up the Interference Detection tool we will turn on the option highlighted – "Create matching cosmetic threads folder"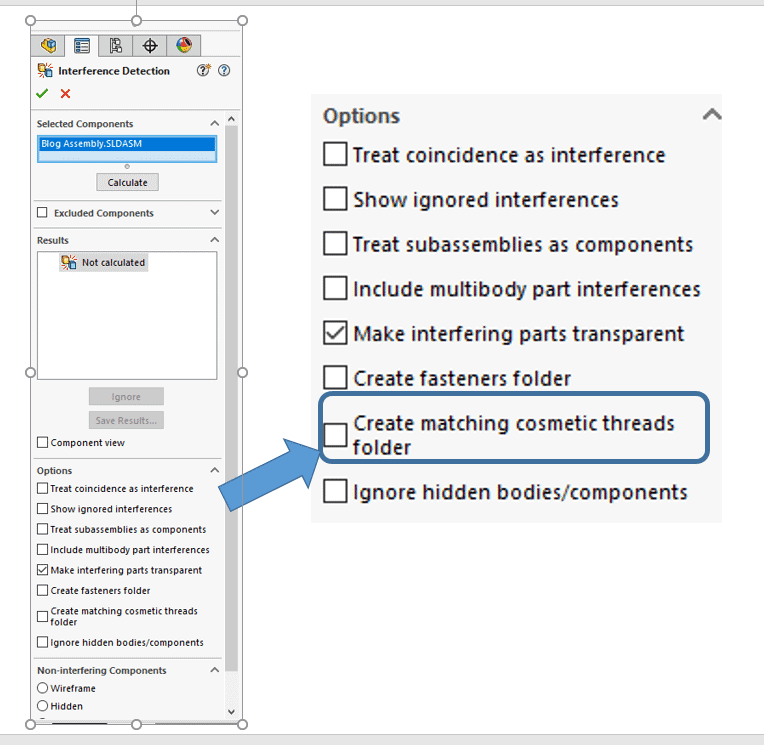 When we calculate the results, this is what SOLIDWORKS does for us: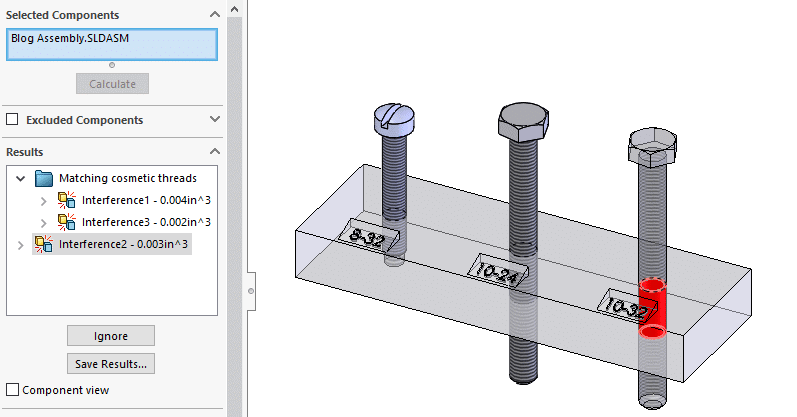 The two instances where the fastener and the tapped hole have matching threads, they get tucked into a folder. The one that is highlighted is indicating that we are trying to install a 10-24 screw into a 10-32 hole and leaves that outside the folder. Without tis process all three would be at the same level in the results when only one really needs to be addressed.
So I hope you agree, this is a great little option to take "interferences" that aren't really interferences out of the results list for you. Now you can focus in on real interferences that need to be addressed before the assembly is released.
Here's a couple of side notes on this process:
Cosmetic Threads can be inserted on any circular edge from Insert–>Annotation–> Cosmetic Thread. It has a library of standard thread types for you to use.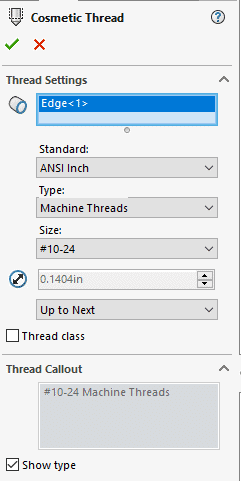 If you download from McMaster, I have found that they have disabled the Shaded Cosmetic Thread option, which is a Document Property, not a System Option. It can be turned on here:
Tools–> Options–> Document Properties–> Detailing–> Shaded Cosmetic Threads
Jay Pinheiro
Senior Application Engineer
Computer Aided Technology, Inc.