12 Days of InFlow - 3DExperience Platform
Introduction to the 3DExperience Platform
On my last blog of the series and closer than ever to Christmas, I've decided to focus on the foundation of the 3DExperience Platform. There are hundreds of different things we can discuss. However, understanding the fundamentals of the platform is key before we start elaborating on its different tools. Most of the 3DExperience capabilities were derived from ENOVIA, a high end product life-cycle management solution offered by Dassault Systèmes. This cloud enabled collaboration will change the way users go through their daily workflows.
Users may be surprised to find that the 3DExperience platform is a blank slate the first time they log in. Much like a new cell phone, it is up to the user to customize it as needed for the desired experience. For instance, users can choose apps from the north, south, east and west side of the navigation wheel. Each quadrant provides different solutions specifically designed to solve a collaboration problem.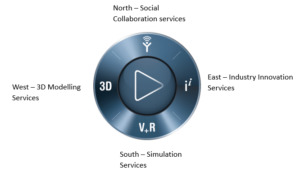 Once you're familiarized with the available applications and their locations, you can start creating tabs and dashboards for a fully customized experience on the platform. You can see below that I have tabs like Project Planner and Community

My Custom Dashboards
My personal dashboard is comprised of several different tabs. Plus, it's tailored to my specific needs. These tabs help with collaboration as well. By using 3DSwym and the SW connector, I am able to collaborate on current designs while employing a project planner application to keep track of current projects. Also included in my dashboard are the markup and compare applications; these allow me to quickly interrogate existing CAD parts and collaborate with colleagues on their development.
Finally, the platform is an integrated solution customizable to each user. With every update, new applications are added, and additional functionality is introduced. If considering a comprehensive cloud solution, 3DExperience may be the way to go.