About a week and half ago I posted a article on how to remove the locks from the SOLIDWORKS Customer Portal (http://blog.cati.com/2011/03/how-to-remove-the-locks-in-the-solidworks-customer-portal.html) so I thought it would be good to follow it up with how to submit a SOLIDWORKS Enhancement Request.  So to put in an Enhancement Request you will need to do the following:
Log in to the SOLIDWORKS Customer Portal (https://login.solidworks.com/nidp/idff/sso?id=cpenglish&sid=2&option=credential&sid=2)
Select the Enhancement Request link.
 
Search to see if there has been a similar request before.
 
If none of the results match yours then select the link at the bottom of the page and generate a new Enhancement Request.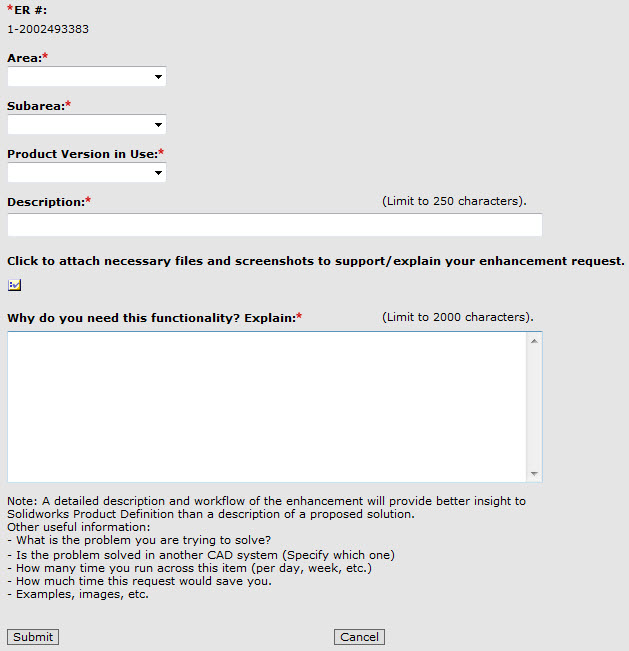 Your Enhancement Request will be assigned a number and you will receive a confirmation from SOLIDWORKS stating that their request was received. 
Enhancement Requests are tracked and put into production based on the requests submitted by customers via the Customer Portal.  If multiple customers show interest in seeing the same product enhancement, then the SOLIDWORKS Developers will focus on adding that enhancement to the next release.  Requests need to be submitted by the customer through the Customer Portal in order to make issues visible to SOLIDWORKS Developers.
Here is the link to the Enhancement Request form:  http://www.solidworks.com/pages/services/subscription/Enhancements.html
Josh Altergott
CATI Support Team Leader