3DEXPERIENCE SOLIDWORKS User Interface Enhancements (2022 SP02)
SOLIDWORKS 2022 SP02 (released in late April) adds some great new 3DEXPERIENCE data management tools to the SOLIDWORKS user interface!
The first addition is that there is a new flyout on the right side of the Feature Manager Tree that can be enabled to show columns with 3DEXPERIENCE data management information. This is the same place for a long while that you have been able to see visualization information, but now there is a 2nd tab named Lifecycle & Collaboration. The columns included are STATUS (not saved, equal to, newer than, etc), LOCK STATUS, REVISION, and IS LATEST REVISION.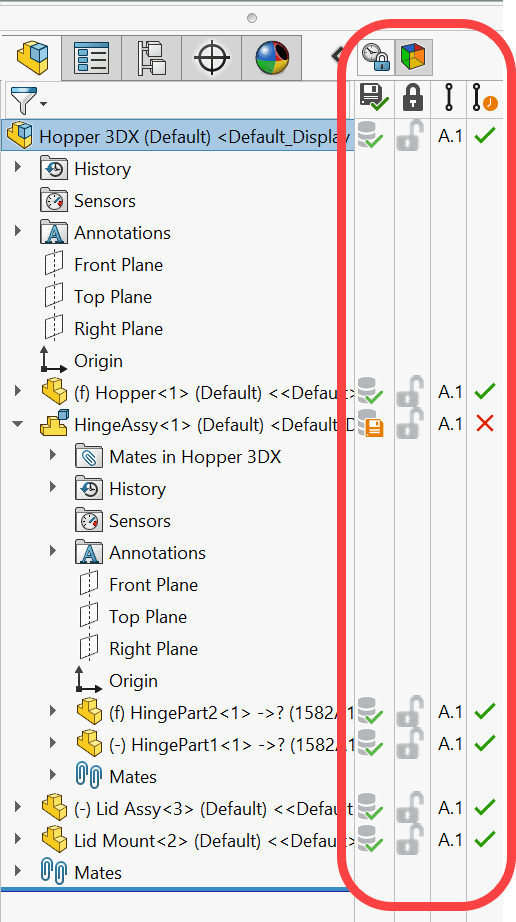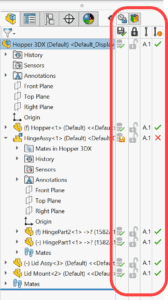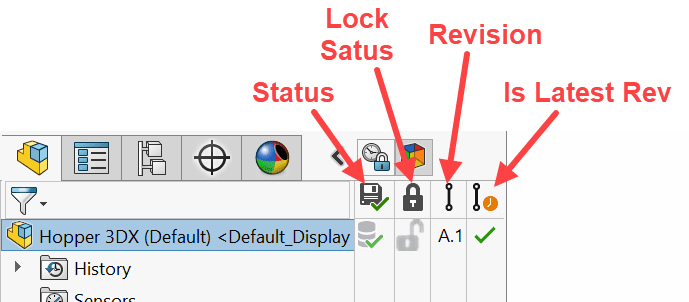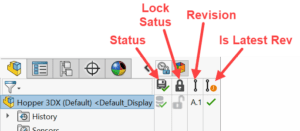 A nice enhancement in the Feature Manager Tree flyout is that you will see a green checkmark if you DO have the latest revision and a red "X" if you do NOT. This is better than the "blank" or "+" sign used in the task pane interface in my opinion.
There is also new sub menu when you RT+CLK a part from the Feature Tree for "Lifecycle And Collaboration" tools to get access to some common functionality for data management.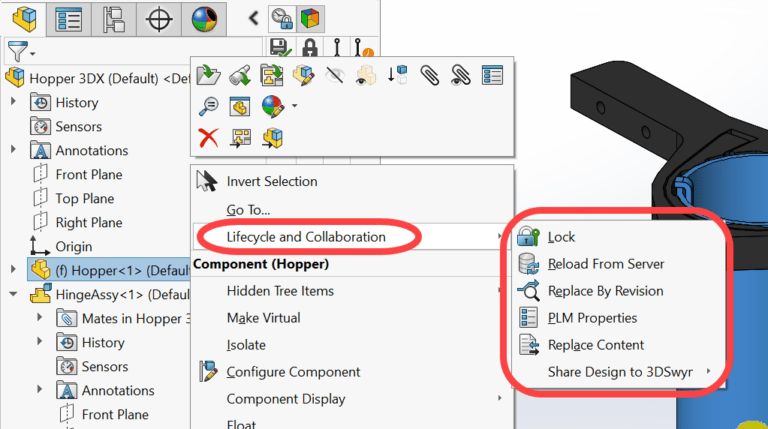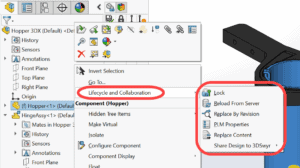 A new standalone TOOLBAR titled "Lifecycle And Collaboration" that is available to turn on/off that contains the same tools as the RT+CLK menu.


Even better than that, there is a new TAB that can be enabled on the Command Manager for "Lifecycle And Collaboration" to get to these tools.


This tab has to be "added" to your Command Manager the first time, then can be turned on/off like the other tabs you have.
If you can't remember how to add a tab to your Command Manager (I never can), here is a quick reminder…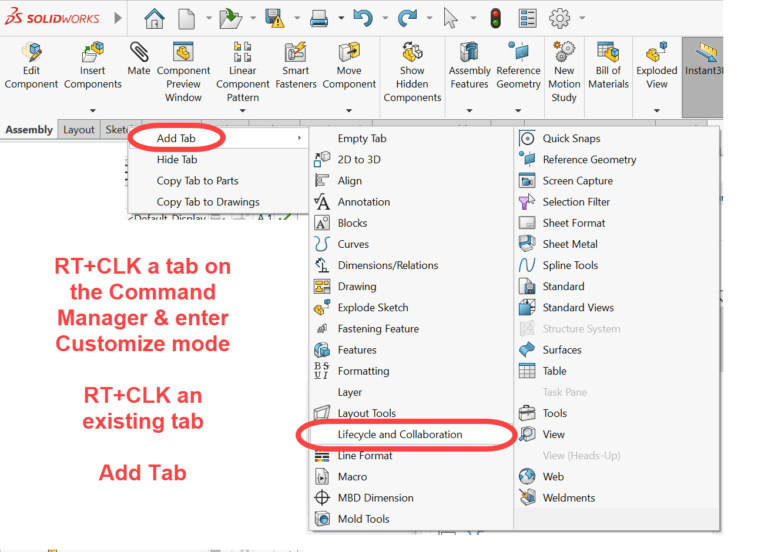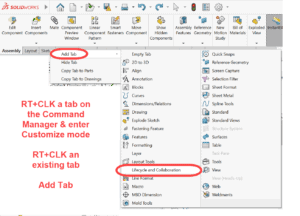 One thing I did notice on the free standing toolbar and on the Command Manager tab was that 2 of the new related commands were not showing on them by default. I had to customize and manually add the buttons/commands for "Share as Picture" and "Share as 3D" to both of these. Those commands are listed under a new section called "Lifecycle and Collaboration" of the Customize—Commands window.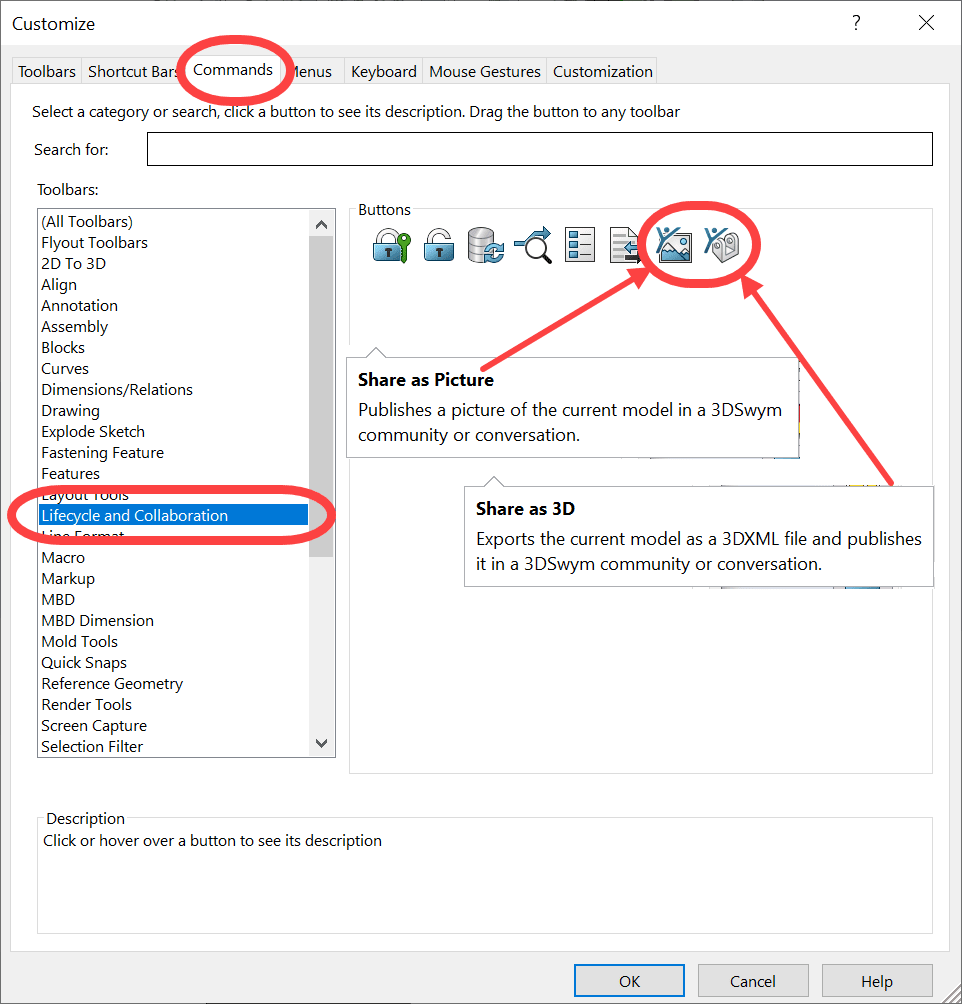 These new interface enhancements obviously don't eliminate the need for all of the 3DEXPERIENCE tools in the Task Pane, but does get some of the most commonly needed information right over in your Feature Manager for easy access, as well as faster ways to get to some of the commands you need. Sometimes your 3DEXPERIENCE Task Pane is filled with other info like search results, or Relations, etc. and it is nice to be able to see all this info at the same time.
This functionality is available to customers using desktop SOLIDWORKS with the Collaborative Designer for SOLIDWORKS add in OR using a seat of 3DEXPERIENCE SOLIDWORKS. You just need to update to SOLIDWORKS SP02.
Randy Simmons
Sr. Application Engineer, Strategic Solutions
Computer Aided Technology