3DEXPERIENCE: Why Analysis in the Cloud is the Next Evolution of Digital Engineering
Since the advent of PC computing, engineering has evolved into a hybrid science, a cooperation of man and digital machine. First was 2D computer drafting which eliminated the need for vellum paper. Then came 3D drafting, which allowed for full digital representations of geometry. Also, during this time, came the advent of advanced CNC manufacturing processes and G-code which allowed for translation from digital 3D to real life products. Other digital technologies like Model Based Definition (MBD), additive manufacturing, and photo-realistic rendering are ways that we leverage the digital and make it real. There is one I have left out and it will be the topic of this discussion: simulation. Up until now, some have viewed simulation as a novelty; it's a thing only afforded to the richest companies with only the most intelligent engineers. I'm here to tell you that this is changing.
The 3DEXPERIENCE suite of products is poised to be the next evolution of digital engineering. It is going to accomplish this by uniting all of engineer's digital allies into a single environment that is accessible, affordable, and most of all-user friendly. Imagine having a single program environment for CAD, PDM/PLM, collaboration, CAM, simulation, etc. That is the crux of what 3DEXPERIENCE is, and simulation is at the forefront of the next digital revolution with advanced nonlinear technology, cloud computation, automation, and integrated data management.
Advanced Nonlinear Technology: Abaqus FEA
3DEXPERIENCE STRUCTURAL is the structural component of the 3DEXPERIENCE SIMULATION portfolio which also handles fluids, electromagnetics, and plastics. The backbone of that structural component is Abaqus FEA, a powerhouse nonlinear simulation product with over forty years of history. Its list of features is distinguished, but the best way to highlight its power is to compare it to another tool we use. Here at CATI, we have had huge success using and selling SOLIDWORKS Simulation Premium for nonlinear analysis. It has been tried and true by us and our customers for decades now, and it is a fantastic product. However, SOLIDWORKS Simulation Premium is not without its limitations. Most notably, it struggles with high strain applications (400-500% +), and complex contact.
Below you can see a comparison between the same problem attempted with SOLIDWORKS Simulation Premium (right) and 3DEXPERIENCE SIMULATION (left).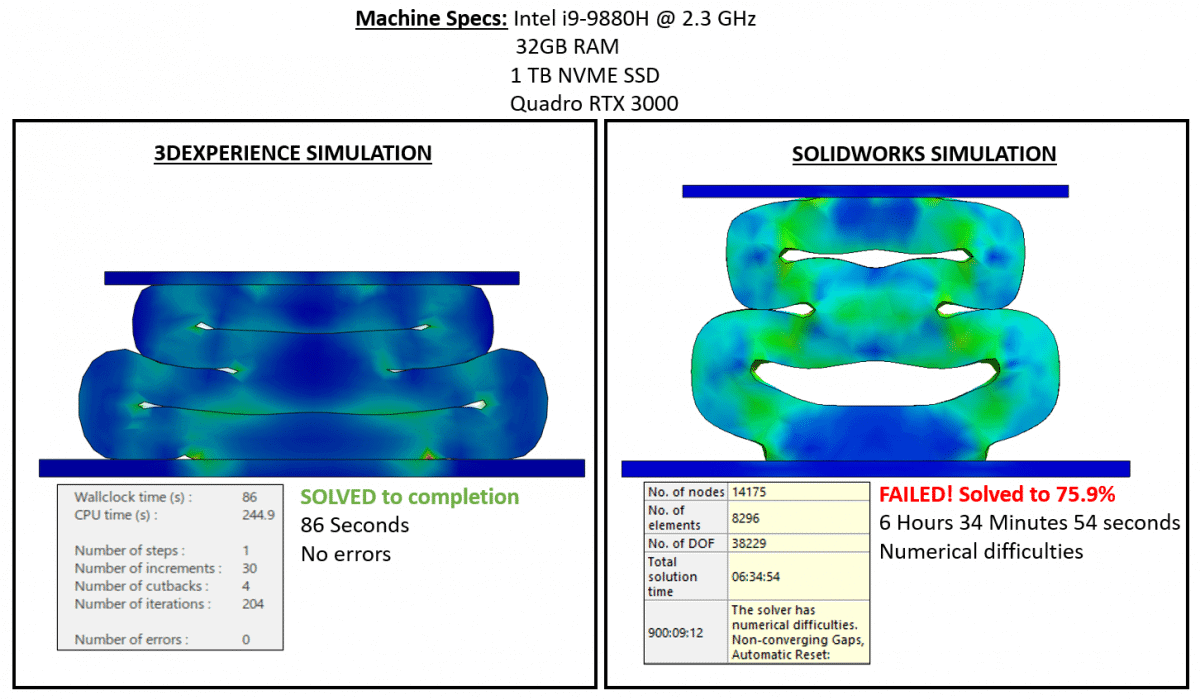 As you can see, 3DEXPERIENCE SIMULATION is able to solve a more complex problem, faster than SOLIDWORKS Simulation Premium takes to fail the analysis. What would it mean for your business to solve a higher quantity of more complex problems even faster than you can now?
Cloud Computation
The next digital ally to discuss is cloud computing. Cloud computing is relatively new to engineering but has enabled all sorts of other industries to de-centralize and distribute their most demanding calculations. This is ideal for simulation workloads and again, 3DEXPERIENCE SIMULATION products lead the charge. An advanced 3DEXPERIENCE STRUCTURAL package comes with 8 cores of unlimited cloud compute right out of the box! This means that an engineer working with this product can solve as many 8-core simulations as they want, without the need for robust simulation hardware. This provides us with a few benefits:
Unlimited concurrent simulations
No hardware overhead
No IT overhead
No more bottlenecks for simulation jobs
No job queueing
Simplified licensing
Credits can be purchased that allow for use of up to 144 cores for large studies and co-simulation of multiple compute jobs simultaneously for the large sim jobs. Below is an actual graph from our simulation consulting team. It shows the number of our daily compute hours over a 3-month period.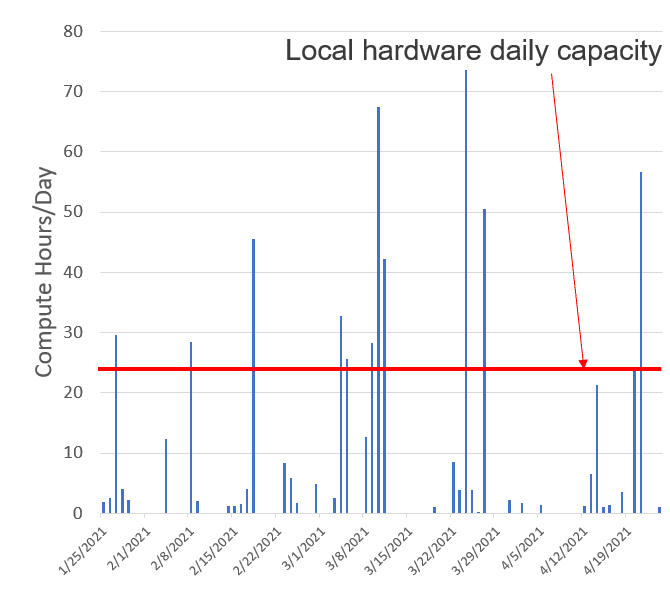 There were 11 days that required more than 24 hours of solve time in a day. There were 4 that nearly doubled that! Normally, any of these days would have resulted in backlogs and bottlenecks, but not with cloud computing and 3DEXPERIENCE SIMULATION. Imagine if your business could run simulations for dozens of design scenarios concurrently. Would this speed up product development and validation?
Automation
Any good digital ally exists for one core reason: to automate repetitive and menial tasks. 3DEXPERIENCE is built with this in mind. One notable example of this lies with automated Finite-Element-Model (FEM) generation. Generating the finite element model (FEM), meshes, connections, and contacts is probably the most time-consuming aspect of any simulation workflow.
3DEXPERIENCE SIMULATION again revolutionizes this with the "Automated FEM" tool. This allows the user to enter a set of rules and parameters that the software will use to analyze the geometry to be considered and generate appropriate meshes and connections. Many businesses use the same parts, hardware, and features in many of their products. Cases like this are ideal for FEM automation. The screenshot below shows an assembly where the FEM model, midsurfaces, shell element definitions, fasteners and materials definition were all applied using the "Automated FEM" tool.
Imagine how much more value an engineer can add to their work when the most repetitive tasks can be automated!
Integrated Data Management
By some estimates, the human race generates 2.5 quintillion bytes of data every single day. As an engineer or business, we generate a lot as well. The question is, how do we manage that data and leverage it effectively? In house PLM/PDM servers have been the go-to solution for years, but the cloud and 3DEXPERIENCE is quickly replacing these systems. Here's why:
Cost: Maintaining in-house PDM/PLM systems is expensive. The hardware is not cheap. Is susceptible to supply chain woes and is quickly obsolete. This does not include the cost of IT to maintain and administrate these systems, nor does it include the cost of licensing for these systems. The move to cloud-based PLM with 3DEXPERIENCE alleviates much of this cost and is updated automatically by Dassault so you never have to worry, and you are never behind.
Collaboration: How many different engineering programs are used at your company? Maybe you have one for CAD, another for CAM or simulation, a 3rd party solution or shared folder for data management, the list goes on. My guess is that many of those programs do not talk to each other or require an import/export process to work. On top of that, how do you keep track of revisions with disparate systems? 3DEXPERIENCE takes care of all that. The whole platform is built on a data management backbone. All users on your tenant are required to have inexpensive data management roles as a pre-requisite for doing any type of work. Data is stored in collaborative spaces that seamlessly allows users to invite, collaborate and share their work across multiple disciplines.
Accessibility: As we said, a large problem with the current data management paradigm is the data management infrastructure and overhead itself. This problem is only worsened by the ongoing pandemic and the need for remote-work ready systems. Many companies are relying on slow VPNs to access their network or they must have workers come in shifts. Imagine what would be possible if employees at your business could access the data they need anytime, anywhere, on any device! With 3DEXPERIENCE this is possible. All a worker must do is login to your tenant through a web browser and they can access any data they need to be productive.
Innovative: Gone are the days of data cards and antiquated PLM solutions. The 3DEXPERIENCE platform has a refreshing take on data management by making it look, feel, and operate less like a structured rigid system and more like a living, breathing, customizable environment. It's obvious when you log in that the platform was inspired by social media sites and other popular websites. It is laid out to be user customizable, and there is no single right way to do a task.
I hope this blog has demonstrated why moving towards a Cloud based simulation product would be beneficial to your business. Whether it's more advanced capabilities, cloud computation, or just the convenience that comes with the cloud, there are many great reasons to invest in this technology. Thanks for reading!
Matt Sherak
Sr. Simulation Product Specialist, Elite Application Engineer
Computer Aided Technology