Stratasys 3D Printing: Accuracy of Stratasys FDM vs. Hobbiest FDM Machines
Accuracy of Stratasys FDM vs. Hobbiest FDM Machines
What is the actual difference between Stratasys FDM machines and hobbiest FDM Printers?
There are so many FDM machines out there on the market today that utilize FDM technology and it can be hard to distinguish between them. Parts off one machine can look just as good as parts off a different one. But one of the main things to take into consideration is Reliability and Repeatability. If you are thinking of using 3D Printing in a commercial means at all, then those are some big points to hit on.
Lots of machines out there claim high accuracy and resolution, but what they don't tell you is how many times they had to print the part to get a satisfactory result out of it. Now, if you don't care about accuracy and just want to make some fun toys, then any machine could work, heck, the more trouble the machine gives you, the more time you get to spend on your hobby and having fun tinkering with it.
If, on the other hand, you do care about accuracy of your parts and don't want to spend any time tinkering and babysitting, the machine to get usable parts out of it you might want to use a Stratasys FDM Printer. We recently did some test prints on a Stratasys Dimension 1200es vs an Ultimaker FDM machine.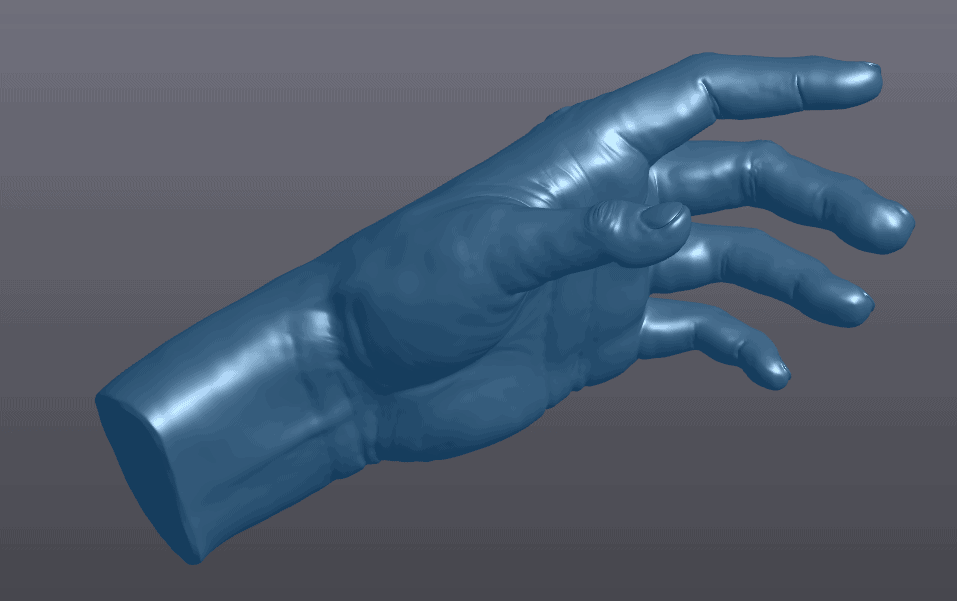 The part was a high quality model of a hand with lots of detail and smooth organic surfaces. When we saw the hand from both machines, they basically looked the same with the naked eye. They were basically the same shape and height and both had 5 fingers. It would be hard to tell the difference because the part is so smooth and organic that there are not many good options for areas to caliper and get measurements off to check.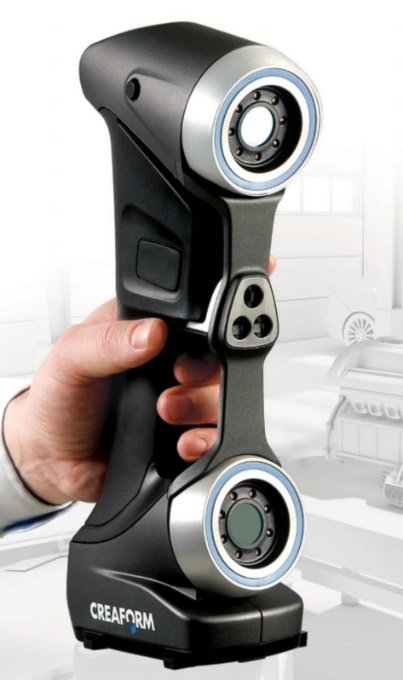 What we did have on-hand at CATI is the HandyScan700 from Creaform! This is a metrology grade hand held 3D scanner that lets us compare the exact surface of the printed model to the CAD file. The HandyScan700 has an accuracy of 0.030mm, more than enough to see the differences between the two different FDM prints.
After a Quick scan of each hand that took about 3 minutes each, we had a 3D recreated model of the 3D Printed part. Now all we have to do is overlay the CAD file with the mesh of the Printed hand to do a quick First Article Inspection.
Lets take a look at the results of the Ultimaker FDM part first: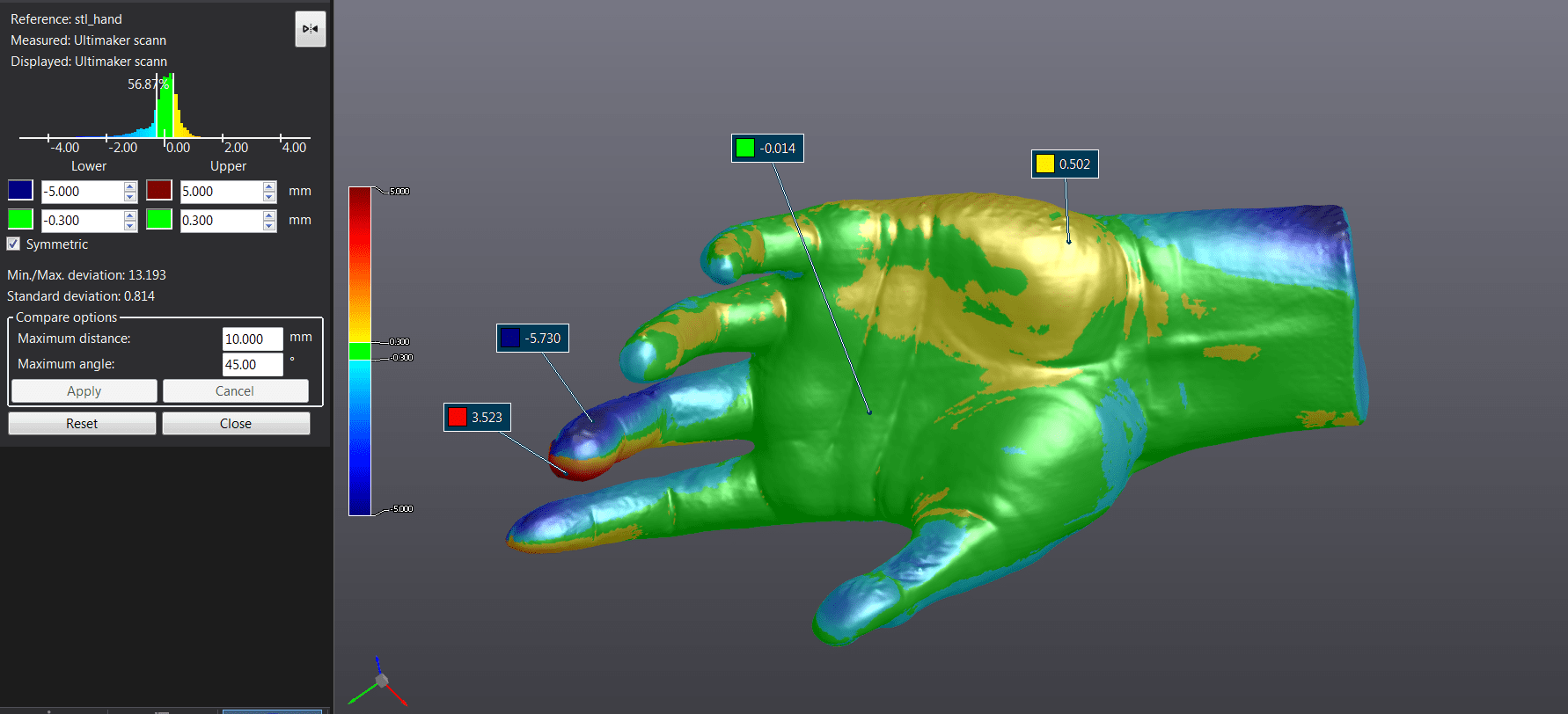 You can see that this part is only 56% within the tolerance of 0.3mm that we had set. Not very good at all and if we printed more versions of the hand they would all be different levels of accuracy on the hobbiest machines. I'm sure if you printed enough of these hands off, that one might be within tolerance but that is a lot of machine time/ material cost/ and a lot of user time and evaluation just to get a good printed part.
Now let's look at the Stratasys FDM part: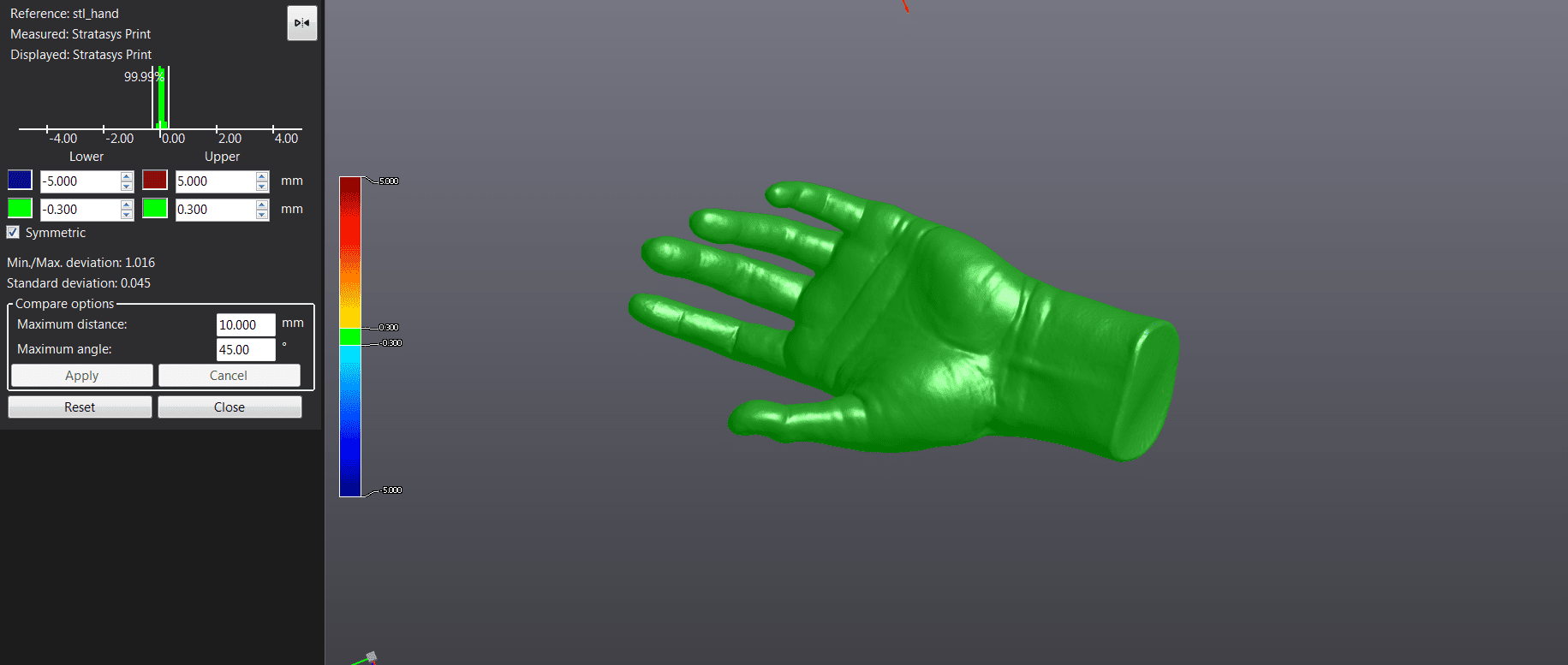 From this, we can clearly see the difference in the quality of the machines. The Dimension1200es part is 99.99% accurate, just look at all the green! And the best part is that the Stratasys machines are all Lights out and hands free operations. Stratasys Printers will deliver this kind of result 99.99% of the time.
If you care about accuracy and repeatability in your 3D Printed parts, then your decision making becomes a lot easier.
Tim Crennen
Application Engineer, Additive Manufacturing
Computer Aided Technology