Airborne Maintenance & Engineering Services Flying High
When high-quality and cost-effective solutions are required, Airborne Maintenance & Engineering Services (AMES) delivers. Using SOLIDWORKS Professional and SOLIDWORKS Inspection, they provide customers a one-stop total solution for aircraft maintenance, repair, and overhaul.

Located in the Wilmington (OH) Air Park, AMES was built on a 35-year airline maintenance legacy. They take pride in understanding what aircraft owners and operators require and deliver on time and on budget. In the highly competitive airline industry, getting quality parts as quickly and cost effective as possible makes the difference between continued success and being left in the competitors after burners.
AMES provides heavy maintenance, line maintenance, component repair & overhaul, material services, manufacturing and engineering in Wilmington (ILN) and operates line maintenance stations at the Greater Cincinnati International Airport (CVG), John F. Kennedy International Airport (JFK), Logan International Airport (BOS) and Miami International Airport (MIA).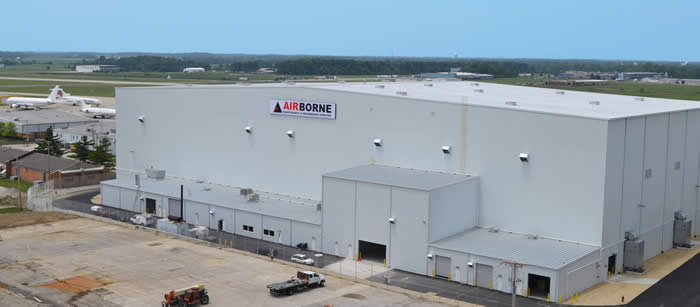 What Made the Difference?
Airborne Maintenance & Engineering Services had a painstakingly manual process that required engineers to design parts using 2D CAD software. Then CNC programmers needed to re-draw the part in 3D CAM software prior to machining. This additional step negatively affected part completion times, which in turn, affected aircraft maintenace turn times. They knew it was time for a software upgrade.
AMES needed the ability to create 3D models and wanted software that was user friendly plus allowed them to model their sheet metal and machined parts quickly and efficiently. After a 3DVision Technologies demonstration of all the capabilities of SOLIDWORKS, they knew they had found the right software.
"We saw the value the SOLIDWORKS capabilities could bring to our operation and knew we had to bring this into production."
Jeff Smith – Manufacturing Specialist
After purchasing SOLIDWORKS Professional, AMES continued to maximize their investment by sending multiple engineers to training. They gained crucial skills by taking SOLIDWORKS Essentials, Sheet Metal and Weldments classes.
"They (3DVision Technologies) offer great training here. I think it would be really tough to just dive into it and learn it on your own without at least an essentials class. They gave me everything I needed to get started."
Jeff Smith – Manufacturing Specialist
AMES recently added SOLIDWORKS Inspection to their suite of SOLIDWORKS products. With some of their assemblies containing over 300 characteristics SOLIDWORKS Inspection was a game changer when creating First Article Inspection Reports (AS9102). What normally would take days to complete, can now be done in a matter of hours.

AMES continues to partner with 3DVision Technologies taking advantage of SOLIDWORKS launch events, training and technical support.
"Tech support is awesome, everything from installation, updating to a new version, or just a simple question about flattening a part, the guys have always been great"
The Results
3D model permits viewing interferences that weren't seen on 2D designs
Reduced design time for sheet metal parts from hours to minutes
Eliminated re-drawing in CAD
Permitted CNC programming to start sooner
Time to create Inspection Reports reduced from days to hours
Minimalized human error and rework time