3D Scanning: An Introduction to Creaform
An Introduction to Creaform 3D Scanning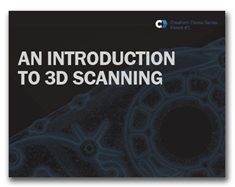 While the mainstream media continues its obsession with 3D printing, another impactful, disruption is revolutionizing the way products are designed, engineered, manufactured, inspected, and archived. It's 3D scanning — the act of capturing data from objects in the real world and bringing them into the digital pipeline.
CATI has partnered with Creaform to enhance your product development process with 3D Scanning technology.
So, what is 3D Scanning?
This eBook will get you started and provide an understanding of how the different 3D Scanning technologies work. Whether you are new to 3D Scanning or an old pro, we think you find this eBook insightful.
Download this free eBook to Get Started.
Jim TeDesco
Director, Marketing
Computer Aided Technology