Let's Make SOLIDWORKS Better Together!!!
With SP 3.0 live and people making the upgrade we need to help SOLIDWORKS out. SOLIDWORKS is looking for our help.(yes that includes you!) We are not helping. As a community we are not helping 🙁
Inside your system options is something that is not turned on. The sad part is that you actually turned it off when you installed the software in the first place. The little thing that we are not doing is sending SOLIDWORKS very important information. Its called performance logging. Every time you crash there is a log file generated and cached on your machine. If you enable this option: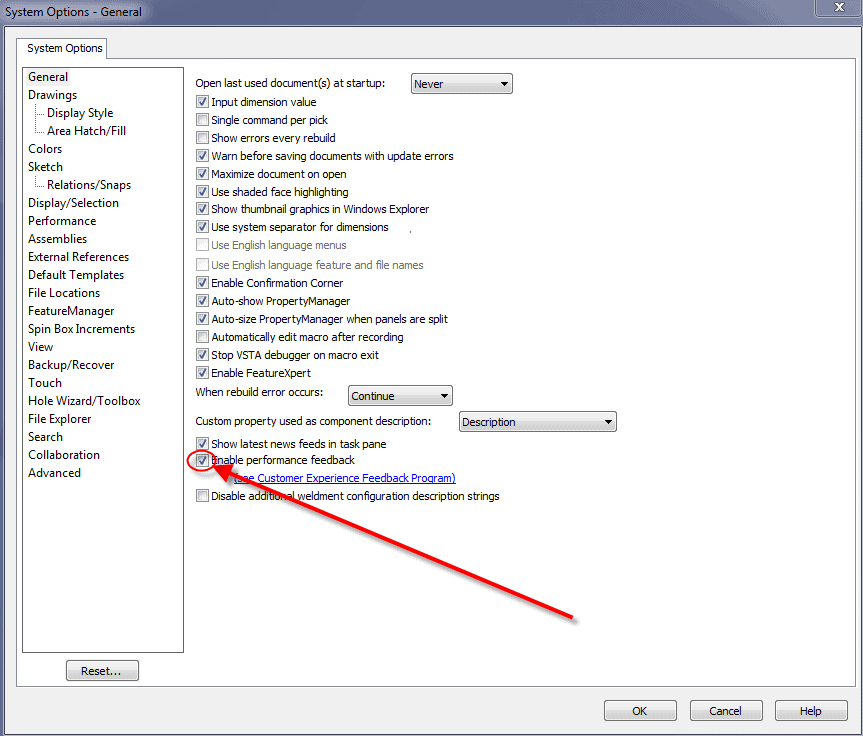 you are sending SOLIDWORKS an "Anonymous" log file that they can use to help track performace related situations. Here is what is included in the log file and for the record it goes out without any specific information about who and where it came from. Its just a number. i.e. 2348854

Call stacks data for instability issues. This data is used to determine operations that cause quality related issues. Providing this data helps us identify these problems and have them fixed quickly.

System, processor, memory (size and type), and OS version.

SOLIDWORKS version and serial number.

Toolbars and add-ins active.

Video card type and driver.

Command usage (information is limited to which ones were used).
Currently only .1% of all SOLIDWORKS users have this box checked. That to me was a staggering statistic. The question was asked: "How can we make it better without the data and help from our users?" So SOLIDWORKS users need to bond together to help SOLIDWORKS developers make SOLIDWORKS better for you. I will now make it my mission to make sure to tell everyone I talk to to check that box. In the long run it will help all of us because we will be better equipped from Solidworks.
Todd Werginz
Technical Analyst
Computer Aided Technology