Automate Drawings with Predefined Views
If you use a standardized layout and template when creating drawings then let me show you how to quickly go from start to finish by utilizing Predefined Views. With Predefined Views, you can set up a drawing to automatically populate your standard views. You may set up individual drawings with Predefined Views or save them as part of a drawing template to maximize efficiency. Once the drawing file or drawing template is set up with Predefined Views you can quickly create a drawing that captures not only your views but also display styles, scale, and design annotations.
Getting Started
Start by selecting File > New and choosing the drawing template you want to use. You may choose from any standard or custom template you've created or that may have been provided to you by your company. You may also create a new drawing template, but to keep things simple I'm going to demonstrate using A Size ANSI Landscape in millimeters. In our new drawing file, navigate to the Drawing tab on the Command Manager and look for Predefined View.


Adding and Customizing Predefined Views
As we place the Predefined Views, they will appear as blank drawing views until we select an assembly or part. So, keep in mind the drawing views will not have any graphical preview or feedback just yet. Select Predefined View and place your empty view box on your drawing sheet. From the property window, I'll select my first view to have the Front Orientation and I'm going to Import my Design annotations. Selecting Design annotations will allow SOLIDWORKS to import your parametric data into your drawing view.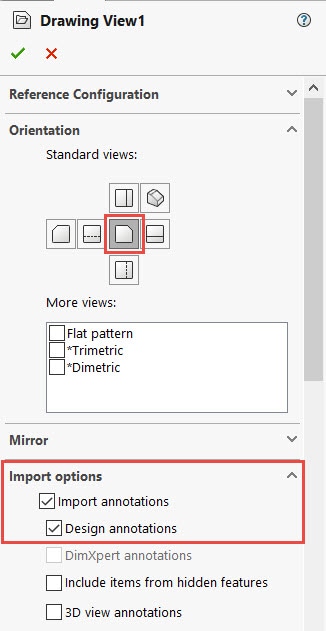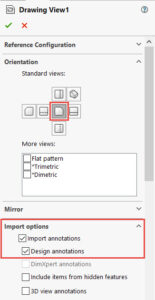 Scroll down the property window to set the Display Style to Hidden Lines Visible and keep the Scale the same as the sheet scale. Then click OK or the green checkmark.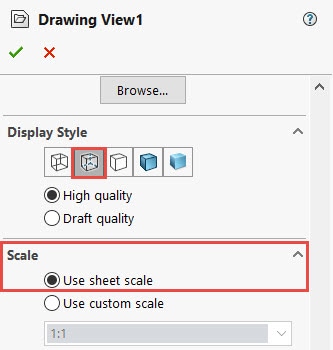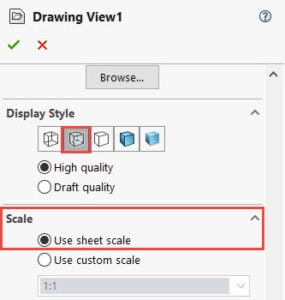 With the Front view in place, you can now place more Predefined Views or create Projected Views of Font Predefined View. Projected Views stay aligned with their parent views helping to keep the drawing sheet organized. These views will also appear blank until a model is added. From the Drawings tab, I'll select Projected View and add 1 blank view to the right side of the Front view. Notice in the picture below how the blank views are aligned and parent view properties are maintained.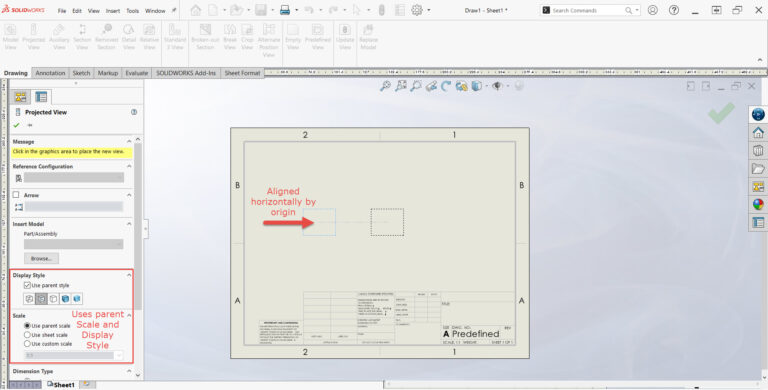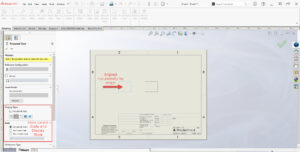 I have one last Predefined View to place and this view is going to represent the final product. Again go to the Drawing tab > Predefined View and place the view box on the drawing sheet. This time selecting the Isometric view and leaving the Import Annotations checkbox cleared. I also want to change the display style to Shaded and then click OK to accept my changes.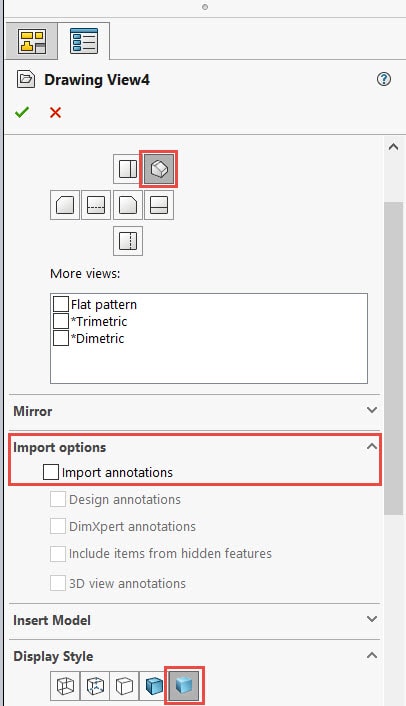 Using Your New Drawing
The best way to get the most out of this setup is to save this new drawing as a template. By saving this drawing as a template you can reuse this setup over and over again to create multiple drawing files. Go to File > Save As > File name: Give a descript name to your new template > Save as type: click the drop-down arrow and look for Drawing Templates file type(*.drwdot). Before you hit Save make sure you are saving to a designated SOLIDWORKS Template location.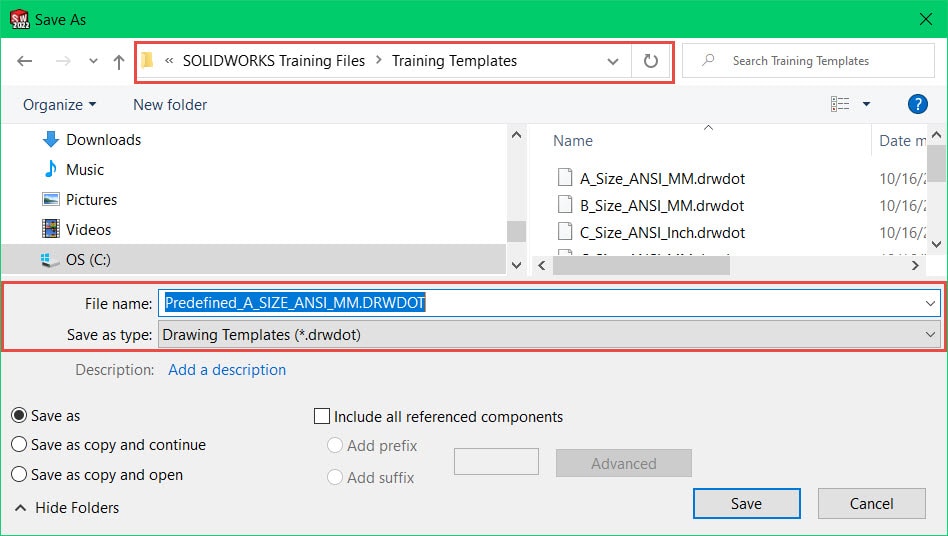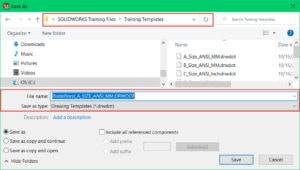 I have a part that is ready to be placed into a drawing. Go to Make Drawing from Part/Assembly located on the New document drop-down menu.


Chose the Predefined Drawing Template.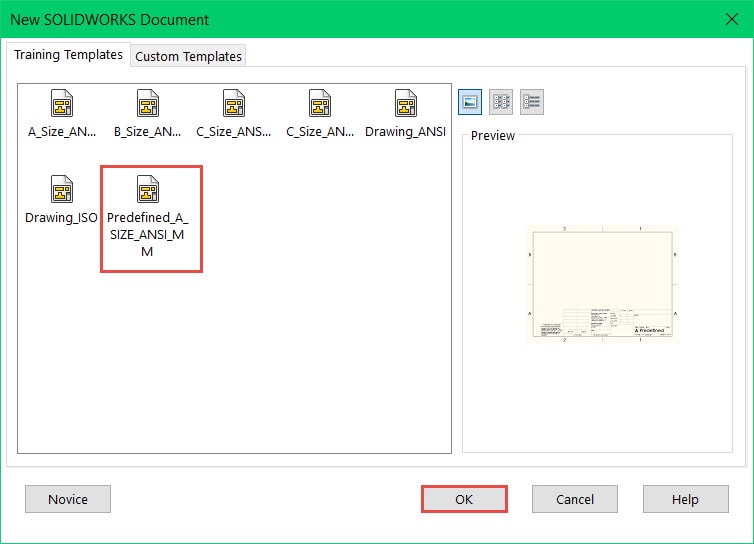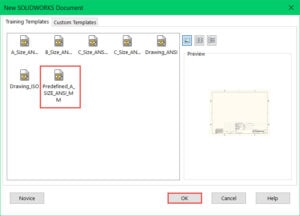 Once the drawing is open just verify that your drawing views are set up correctly and you're done. There are multiple ways to insert models into the predefined views. Each view property window has an Insert Model Browse option when the Predefined Views are still blank. You may also drag and drop files on the drawing sheet from the task pane or file explorer. In the picture below you can see my predefined views with different display styles, view orientations, and annotations.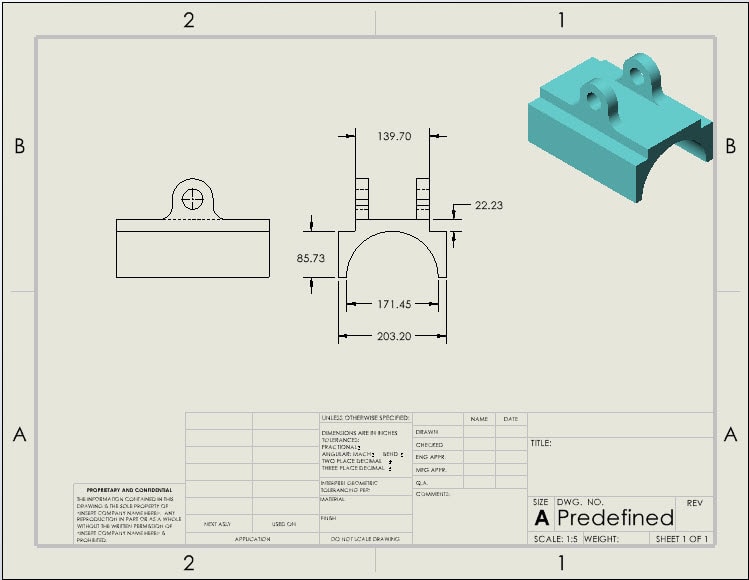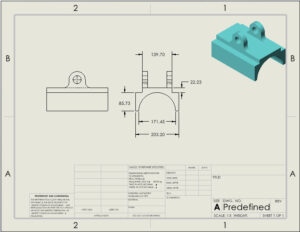 Creating templates using Predefined Views is a great way to automate standard or projected views and get the most out of your Solidworks tools. Try introducing Predefined views in your workflow so you can work smarter not harder.
Sara Hollett
Application Engineer
Computer Aided Technology