Calumet CopperBots Recap 2019 FIRST Robotics Season
Tucked away in the Keweenaw Peninsula of Michigan lies the small town of Calumet. As the most northern-placed FIRST Robotics team in Michigan, the Calumet Copperbots (FRC team 2586) have had to overcome some geographical challenges throughout the years and strive to make their team successful. With the support of their local community, families, friends, and faculty, the Calumet CopperBots gained recognition eventually winning the 2018 Michigan State Championship. Soon after the 2018 season celebrations, the team quickly started planning for 2019. Here's a look back at what the 2019 FIRST Robotics season had in store.
The 2019 season for the Calumet CopperBots turned out to be a successful one. Not only were they competitively successful, but they were also successful at learning and growing as a team. After a preseason filled with workshops for new members and a working preseason robot (a first for the group), they were optimistic in what they could accomplish. With this air of confidence, the team decided to build a robot that could reach the highest goals on the field, a lofty target nine feet tall.
They started by building a completed version of their robot in 3D CAD software, which allowed them to compartmentalize different mechanisms and incorporated CNC machining into their build. A few members even learned G-Code efficiently enough so that instead of having shafts or gearboxes outsourced, they were able to make them in-house.
Meet Gunderson
Over the next six weeks, the CopperBots completed their best robot to date and gave it the name Gunderson. Gunderson was comprised of a 4-stage forklift elevator with CAM bearing mounts, a drive train with two custom gearboxes, an intake that was able to change positions via an additional custom gearbox, a pneumatically-actuated game piece manipulator, a rack and pinion mechanism as a part of a custom gearbox to complete a HAB level 2 lift, and a few other obscure mechanisms. (Note: Not all of these features were always available, but added throughout the season when needed).
The CopperBots competed at the Kingsford District Event from March 14th – 16th. Although they were nervous when they arrived, they were ready to take on the rest of the teams. After the Qualification Matches, the CopperBots had a record of seven wins, five losses, and ranked 14th overall. When Alliance Selections rolled around, they were picked 2nd by the 7th alliance and 10th overall.
Excellent defense by our alliance partners (FRC 6079) "JET SET" from North Central in Powers, Michigan pushed us to the victory over the 2nd alliance. In the semifinals, however, our alliance was defeated by the eventual event winning 3rd alliance. Our team did, however, earn the prestigious Engineering Inspiration Award for "advancing respect and appreciation for STEM" in their community.
Mechanical Issues Create Chaos
After two weeks, the team headed back to Kingsford with an ambitious attitude. They attempted a complete redesign of their manipulators. After a last-minute installation of the new mechanisms, they made the eight-hour journey to Sault Ste. Marie, Michigan for the Lake Superior State University District Event. Mechanical issues with the latest mechanisms made their robot entirely useless for the first three matches, forcing them to switch back to their original set. The CopperBots ranked 12th with a qualifications record of five wins, five losses, and two ties.
The third alliance chose the CopperBots as their second pick, the fourteenth pick overall. A deadly combination of the offense of the Escanaba RoboMos (team 3602) and the level three climb of the Wolverine Circuit Breakers (7782) out of Rock, Michigan propelled them to two smooth wins in the quarterfinals, but a bevy of mechanical issues on our alliance caused the CopperBots to be knocked out in the semifinals. The team did, however, win the Creativity Award, an award based on machine, creativity, and innovation.
Two days after arriving home from Sault Ste. Marie, the team headed out to compete in the Michigan State Championship. Once there, the team spend the first day and a half practicing and gearing up for their stiffest challenge yet. An unlucky turn of events caused their robot to be immobile for two of their matches, essentially disqualifying them for Playoffs. They finished qualifications in 26th place with a record of five wins and seven losses.
Looking Back
Looking back, the CopperBots consider their 2019 season one of their best. It was the second time the team has won two awards in a single year, and their second time winning the Engineering Inspiration Award in four years. For a group of ten high school students – the team is incredibly proud of their accomplishments!
The CopperBots are looking forward to next season and are taking on some ambitious offseason projects. To keep up with what they're working on, follow them on Facebook, or visit their website.
Fisher Unitech believes in giving back to the community. Corporate sponsorships, scholarship donations, and mentoring programs reflect our philanthropic focus and values to improve the lives of our communities and future workforce generation. If your FIRST Robotics team is looking for support, contact us.
Images courtesy of the Calumet CopperBots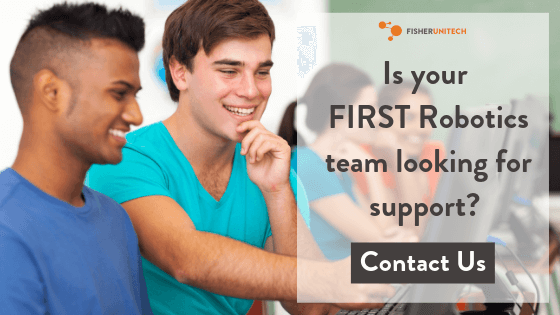 Related Articles
FIRST Robotics Team "Calumet CopperBots" Win Michigan State Championship
SOLIDWORKS Education: Encouraging Student Success
About the Author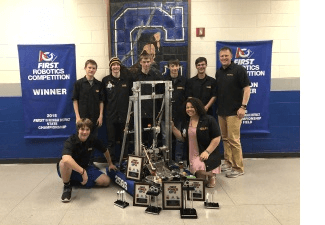 Lowell Torola is a student and member of the Calumet CopperBots (FRC team 2586). The CopperBots, based out of Calumet High School in Calumet, Michigan was founded in 2008. The CopperBots have won numerous competitions including the 2013 St. Joseph District, 2014 Escanaba District, 2018 Division winner Michigan State Championships and were the 2018 Michigan State Champions. They are currently coached by Mr. Todd Waurio. Stay up to date on their Facebook page @CalumetCopperbots.