Customer Story: Frasca

Nobody said learning to fly was easy. Sure, birds, athletes, and superheroes make it look simple, but in reality, you have to take baby steps before you can really fly. As was the case for Frasca, an Urbana-based company that designs and manufactures high-quality and reasonably priced flight simulators for training pilots worldwide. At Frasca, the Mechanical Engineering Department was stuck on the tarmac with 2D AutoCAD. Now, Frasca soars above many of its competitors with the help of SOLIDWORKS 3D CAD.
David George, Manager of Mechanical Engineering at Frasca, says they certainly didn't learn to fly overnight. "When we first started, we had so much data in AutoCAD that it was difficult to make the decision 'let's do it in SOLIDWORKS this time.' We just had to make some changes," George says, adding that the migration to 3D has really broadened their horizons. "We have, in fact, brought on some assemblies recently that I'm pretty certain we never would have attempted before SOLIDWORKS."
As they continued through the implementation process, the mechanical engineers at Frasca began taking baby steps. First, it was a reduction in the amount of time it took to detail the parts, and then, a noticeable decrease in manufacturing errors, ultimately deciding to see just how far SOLIDWORKS would take them. After introducing SOLIDWORKS to its Marketing Department, Frasca began providing concept renderings to its customers, greatly improving their bidding process and allowing them to earn more business.
"We've generated the external components of an entire device in 3D and gone to the extent of applying customer logos to the product. We actually took visual shots that were computer-generated in-house and pasted them onto the visual screen of the flight simulators," says George. "It gives the customer a really good idea of what the product is going to look like."
The customer isn't the only one who needs to see the product. Upper management at Frasca has more flexibility with trial-and-error ideas because making revisions with the software is easy. The Mechanical Engineering Department finds it so easy to make changes in SOLIDWORKS, that 15 to 20 minutes after a request, management can walk by and say, "Yeah, I like that better."
Frasca has also added PhotoWorks and SOLIDWORKS Toolbox to its SOLIDWORKS repertoire, and George says working with CATI has helped to make it a smooth transition. His CAD evaluation process whittled the search down to two options— SOLIDWORKS and SolidEdge. CATI proved to be the more knowledgeable copilot.
"It was much more than just the sales pitch," George says, touting CATI's timely responses as well. "It was after-the-fact, the questions we asked and the answers they gave us."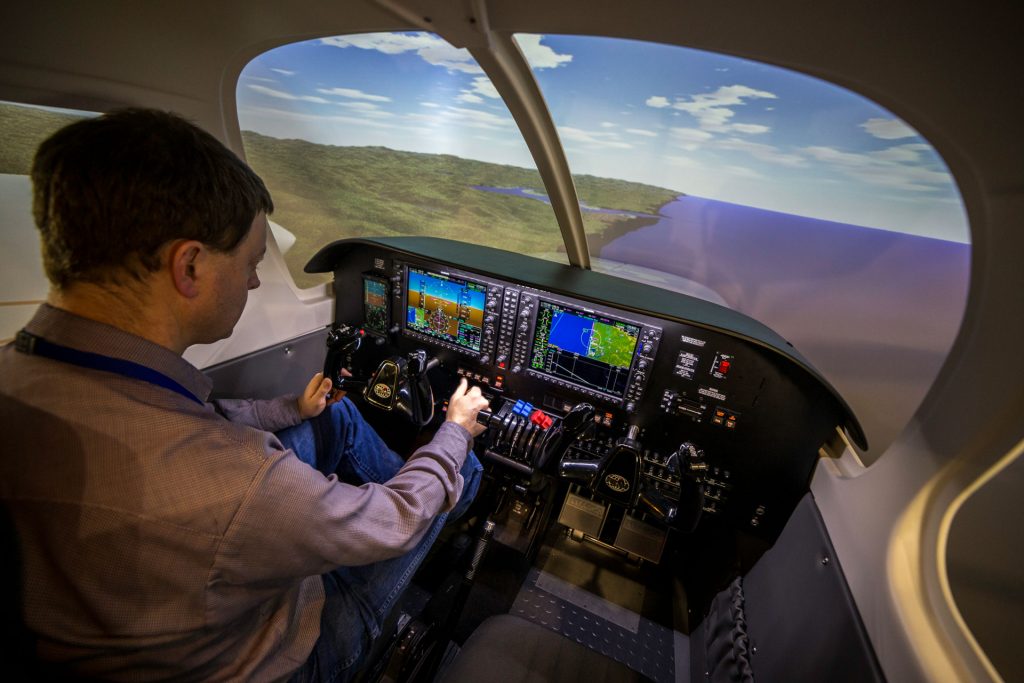 Frasca has also taken advantage of CATI's first-class CATalyst training program. Although many hours working with SOLIDWORKS had been logged, the training proved to be extremely valuable. "SOLIDWORKS Training at CATI was very beneficial for me. There were many things that the instructors taught us that I would not necessarily discover on my own," comments George. And CATI wasn't the only one to earn its wings with Frasca. George also commended SOLIDWORKS Corporation for taking good care of its customers. "They do a good job at listening to what the users want to see for improvements…inevitably, a version or two down the road, our idea shows up."
It's true. Nobody said learning to fly was easy. But with the right crew in place—CATI and SOLIDWORKS—Frasca has discovered that flying truly can be an exciting journey. Frasca purchased SOLIDWORKS, SOLIDWORKS Toolbox, PhotoWorks, training, and support from CATI. To learn more about Frasca, visit frasca.com.