PostProcess Chemistry: Detergent and Media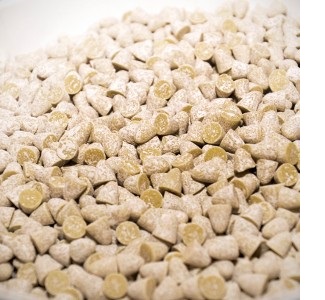 In part one of our PostProcess Technologies three-part blog series, we covered the first aspect of their unique innovative value – AUTOMAT3D. In part two we're diving into a unique value PostProcess Technologies provides that the entire company is based upon – Chemistry.
PostProcess chemistry consists of two distinct consumables: Detergent and Media. Let's take a look.
Detergent
The detergent, coined PolyGone, comes in a variety of different incarnations specific to the several PostProcess technologies and systems. These formulas are all aqueous based and pre-mixed allowing you to simply pour the detergent into your machine and begin.
The first technology, Submersed Vortex Cavitation (SVC), is the concept that fuels the agitation bath systems, installed with proprietary Agitation Algorithms (AGA) on the larger systems, programmable, repeatable software (AUTOMAT3D) that optimizes the detergent temperature, agitation, and ultrasonics for the specific geometry that you are trying to remove.
This can be found throughout the entire Design Series machines and within the CENTI and DEMI systems within the Production Series. Lastly, the CENTI and DEMI, powered by the proprietary and customizable AUTOMAT3D software allow you to automatically top off detergent levels.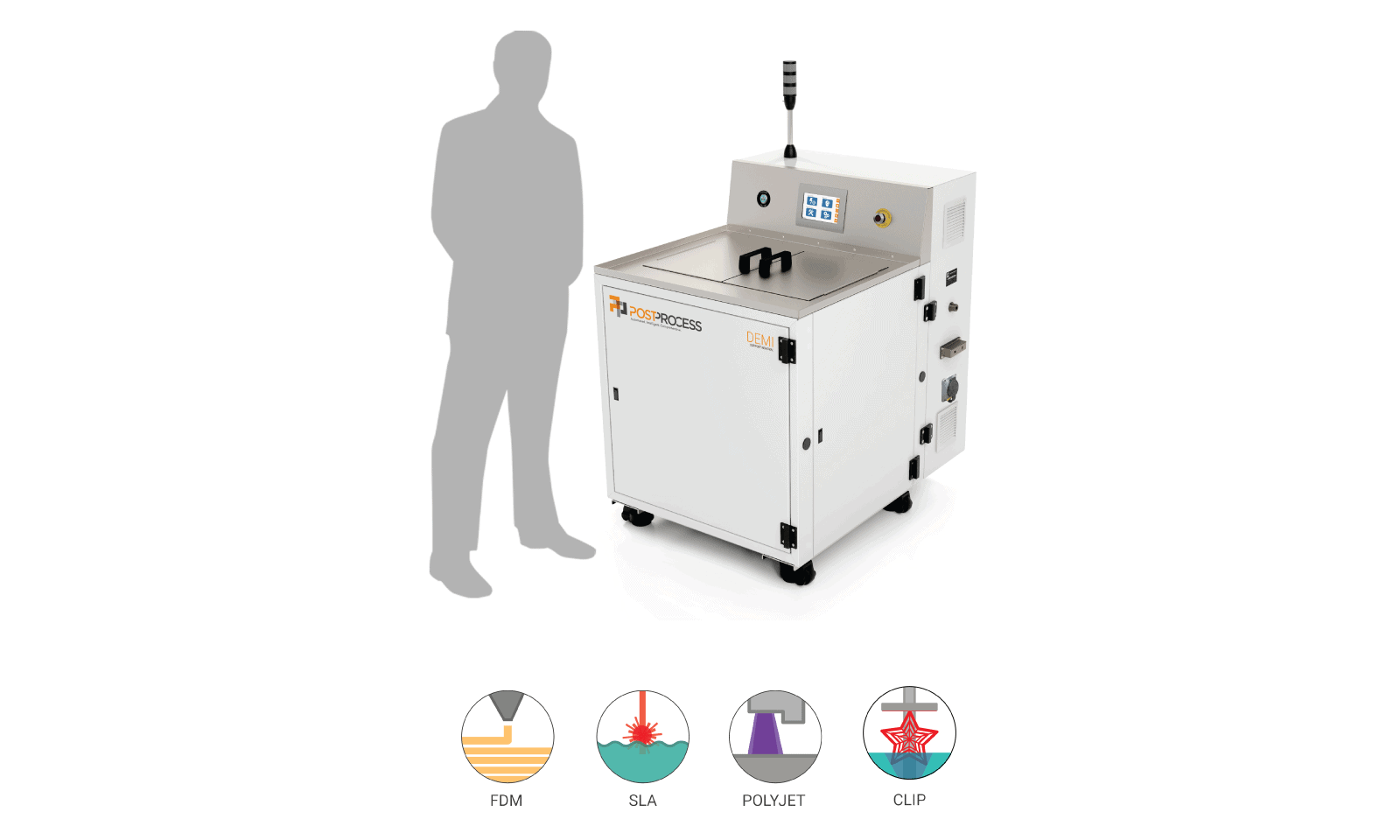 Detergents are typically used within the Support Removal systems with different detergents being optimal for a range of 3D printing technologies and materials. However, some detergents are used for occasional misting of finishing media for some of the Surface Finish Systems. Additionally, there are other specific detergents for the spraying and jetting support removal systems such as the BASE, Deci, and Deci Duo which work with metal 3D printing supports.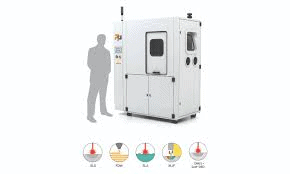 The spray systems work off of a different type of technology, Volume Velocity Dispersion (VVD), which offers high velocity, low-pressure spraying, auto draining, and automatic part drying allowing you to leave parts in the system overnight (a feature that is not possible with submersion technologies).
It's important to note that all PostProcess Detergents are Potassium Hydroxide based and are of the same health parameters as Sodium Hydroxide. The detergents have caustic agents and organic compounds require hazardous waste pick-up even though they have a much higher flash point compared to isopropyl alcohol. The chart below shows which detergents correspond to what technology.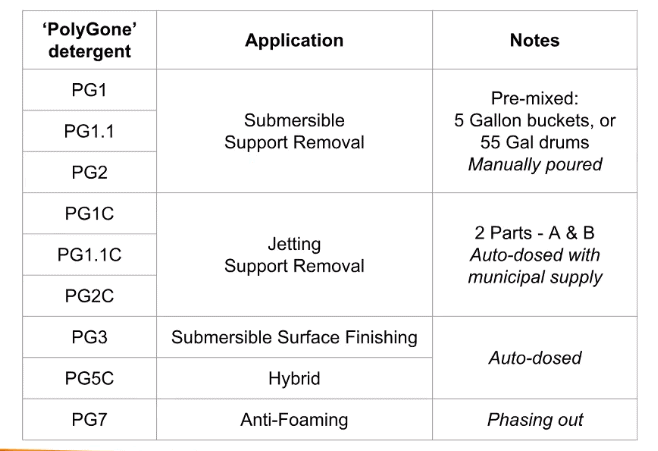 Media
PostProcess media, ranging from urethanes to suspended ceramic and metal solids, combined with their Agitation Algorithms offers some of the finest surface finishing possible in the industry, regardless of print technology.
The first finishing technology, Suspended Rotational Force (SFR), lets you circulate parts within a tank of media ranging from urethane to stainless steel allows you to do multiple cycles of finishing to further increase surface finish. You can also put in multiple print technologies into one batch if you have a lab with multiple 3D printing technologies.
The second technology, Thermal Atomized Fusillade (TAF), found only on the DECI DUO lets you use suspended solids to blast into all sorts of different parts, most notably metals, with a rotating platform and programmable nozzles to get a robust, uniform surface finish. The chart below briefly categorizes all media used by PostProcess.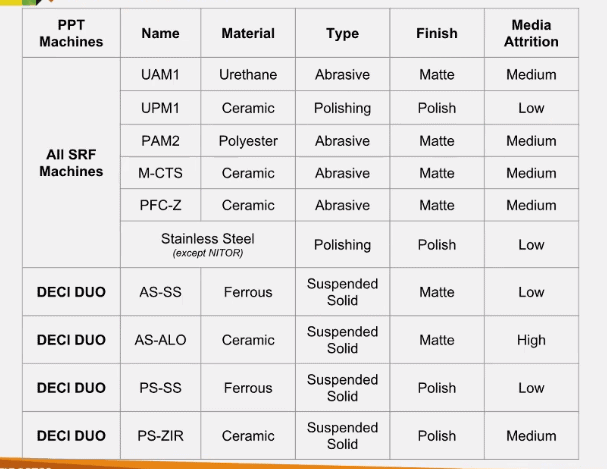 The chemistry backing PostProcess is applicable to all print technologies and is what optimizes both support removal and surface finish for the best results of both software and chemistry in part three – Hardware.
To learn more about the ubiquitous and programmable AUTOMAT3D software check out part one.
Related Articles
AUTOMAT3D: 3D Printing Support Material Software by PostProcess Technologies
Material Mayhem: 3 Tips for Optimizing FDM 3D Printing Materials
Stratasys Materials: When to Use PolyCarbonate, PC-ABS, and Nylon
About the Author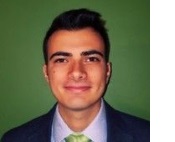 Gerald Matarazzo is a certified Additive Manufacturing (AM) Application Engineer, AM Designer, AM Service Engineer, Project Manager, and Lean Six Sigma Green Belt based out of Boston, Massachusetts. Gerald has a B.S. in Data Analytics and began his career in Additive Manufacturing by starting and leading a makerspace turned service bureau in college. Gerald joined the Fisher Unitech team in 2018 with over 3 years of professional AM experience and is the Lead AM expert for the Fisher Unitech New England territory. Gerald is an experienced educator and presenter providing highly customizable, pre-to-post printing turnkey solutions.