Edit Sketch Patterns in SOLIDWORKS
As a designer, I want easy ways to replicate my geometry. One of the best ways of doing this is with patterns. Within SOLIDWORKS there are multiple ways to make a pattern. But for simplicity, there is either a feature pattern or a sketch pattern. The one major difference is that feature patterns live in the feature tree and sketch patterns live in the sketch (seems intuitive). The basic concepts are the same in that I want to copy some geometry that is based on some mathematical rules and point them in a direction.
For most of my designs, I choose to use the feature pattern as I have more options for future development. Things like configurations of the pattern, variable pattern, and nonstandard x-y directions are available in the feature pattern. There are times when I do need a pattern at the sketch level, but it has always been a little harder to work with sometimes. Let me show you some tricks for editing your sketch patterns in SOLIDWORKS.
Edit a Sketch Pattern in SOLIDWORKS
With a feature pattern, making those edits is straightforward. Simply right-click on the feature and edit.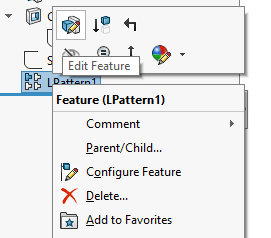 From here, we can change the parameters of the feature.
If I want to edit the Sketch Pattern parameters, I must edit the sketch to start. But the issue is that getting back into the pattern dialog box is not as intuitive. Most people end up deleting the feature to do it over, as they do not know how to edit the pattern. They might also try double-clicking or right-clicking on the pattern relation to get only display/delete relations. The way to get back into the Sketch Pattern properties is to right-click on a patterned object or the seed, then "edit pattern" will show up on the menu.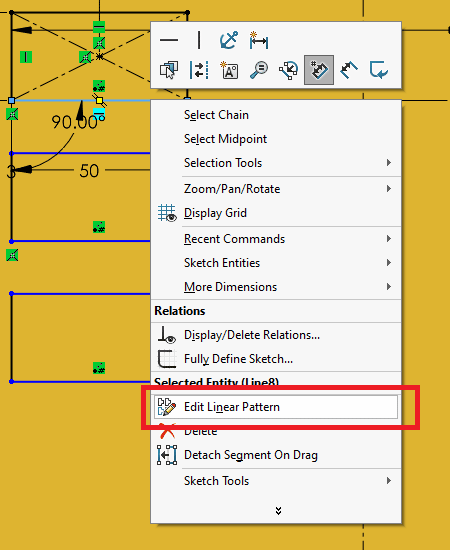 From here you can edit the sketch pattern to change any of the properties.

Everything is still intact and editable, and most of all the Instances to Skip is just as useable as the feature pattern. I still prefer to use Feature Patterns, as I find that I have more control over all of my design. There are times that a sketch pattern is super useful in my designs and editing was always a challenge. But the goal of this post was to help bring awareness to the fact that sketch patterns are editable! Anthony Sandri goes into great detail on the performance side of patterns in another blog post, which is another reason to contemplate using Feature Patterns.
I gave up thinking that it was possible to edit a sketch pattern until recently. I hope this gives you some new information on how to handle them.
Craig Maurer
Elite Applications Engineer
Computer Aided Technology