EPDM TECH TIP: How To Use An Options File For EPDM in 2015
With all the changes that have come about in the license structure for EPDM 2015, you now have all the capabilities with options files that you've had with SOLIDWORKS network seats for a while! This includes setting up timeouts on the licenses and reserving licenses for groups of people.Begin by opening up a blank text document in Notepad. You must set up a group to assign rules to by entering the syntax below:
GROUP <group_name> <username1> <username2> <username3> (do not include <>)
NOTE: The group_name is arbitrary and is only used in the file. The usernames must match their EPDM login exactly and is case sensitive. There is no limit to the number of users for a group.
Now, you're ready to set the rules. The most common rules are to reserve licenses and also set up a timeout period. First, we will look at reserving a pool of licenses for a group. This is useful if there are certain people you want to make sure will always be able to get a license if they log in to EPDM. Add the following to your options file:
RESERVE <number> <license_type> GROUP <group_name> (do not include the <>)
The license types available for EPDM are as follows:
Editor – swepdm_cadeditorandweb
Contributor – swepdm_contributorandweb
Viewer – swepdm_viewer
Additionally, you may want to require that EPDM licenses expire after a certain timeout period. In previous versions of EPDM, you could set a 30 minute timeout directly in the license node. This is no longer possible and must be done through an options file. The syntax is located below:
TIMEOUTALL <number_of_seconds> (do not include <>)
NOTE: The range of time is 900-7200 seconds.
When you are done setting up your file, you need to save it as sw_d.opt (set type to All Files instead of txt) in a safe location on the server (it cannot be deleted). Load the license manager on the server and choose Modify > Activate/Reactivate.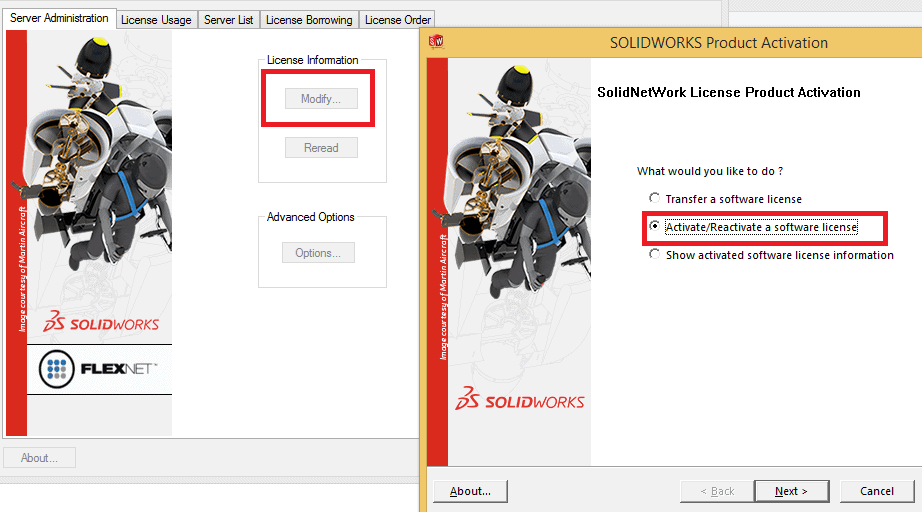 In the next screen, check the box for Options File and Browse to the location of your file. Continue through the prompts until it activates again. You can check View Log on the Server Administration Tab to check to see if your options have been read in. If you need to update the options, just change the sw_d.opt and stop/start the server.
For other commands in options files, please use the Flex LM user guide here under the options file section.
For more training and tutorials on the many 3D CAD Modeling solutions in the SolidWorks family of products and add-ons, register for an upcoming Event or look into our SOLIDWORKS training.
Related Articles
Tips for New SOLIDWORKS Users Part 1: Sketch Mode
Tips for New SOLIDWORKS Users Part 2: Keep Your Sketches Simple
Tips for New SOLIDWORKS Users Part 3: Fully Define, Everytime