Featured Customer Story: Hellan Strainer
Hellan Strainer provides industrial solutions to the global market. Using SOLIDWORKS Premium and SOLIDWORKS Flow Simulation they provide tier-one quality products for several Fortune 500 companies and has been selected by the Navy as the "strainer of choice".

Hellan Strainers are extremely popular due to their reliability, efficient operation and cost savings. Compared to conventional basket strainers the Hellan Strainer discharges solids from the flow without disassembly. This reduces operational and maintenance costs and permits continuous flow of fluids. These strainers are used in many different industries including the petrochemical, municipal, power generation, military and more. One of their biggest clients, the Navy, has selected Hellan Strainer design for seawater cooling protection of critical electronic equipment, fire protection systems, and filtration of lube oil and propulsion fuel systems for all support and combat ships. These include carriers, cruisers, destroyers, tenders, plus the next generation of ship designs which will be delivered well into the 21st century.
The degree of straining required differs widely by application. Hellan Strainer needed help to determine the mechanics of the water flowing through the strainer and the flowing pressure drops in their products. With the help of SOLIDWORKS Premium and SOLIDWORKS Flow Simulation they developed and improved a broad selection of product offerings to meet every industries unique needs.
Jim Hollingsworth, engineering manager at Hellan Strainer explains that when deciding to purchase SOLIDWORKS Premium the choice was easy, "The 3D Modeling capabilities are the best I've used". When it was time to add SOLIDWORKS Flow to their suite of SOLIDWORKS solutions Jim worked with multiple 3DVision Technologies engineers to determine the right solution. "I sent an assembly of a strainer and your application engineer was able to simulate it, discuss SOLIDWORKS capabilities and workflows, and answer all my questions."
Since the purchase of SOLIDWORKS Premium and Flow, Jim and his team continue to take advantage of 3DVision Technologies resources. Jim recommends training to all of his engineers sending several members of his team to Essentials classes and taking three classes himself. When questions do come up they do not hesitate to contact the experts at 3DVision Technologies. "Communication with your company has been stellar. Whenever I call and talk to somebody they're extremely helpful. I was given a lot of the Application Engineer's time to learn the software. I don't think I would get that level of support from somewhere else."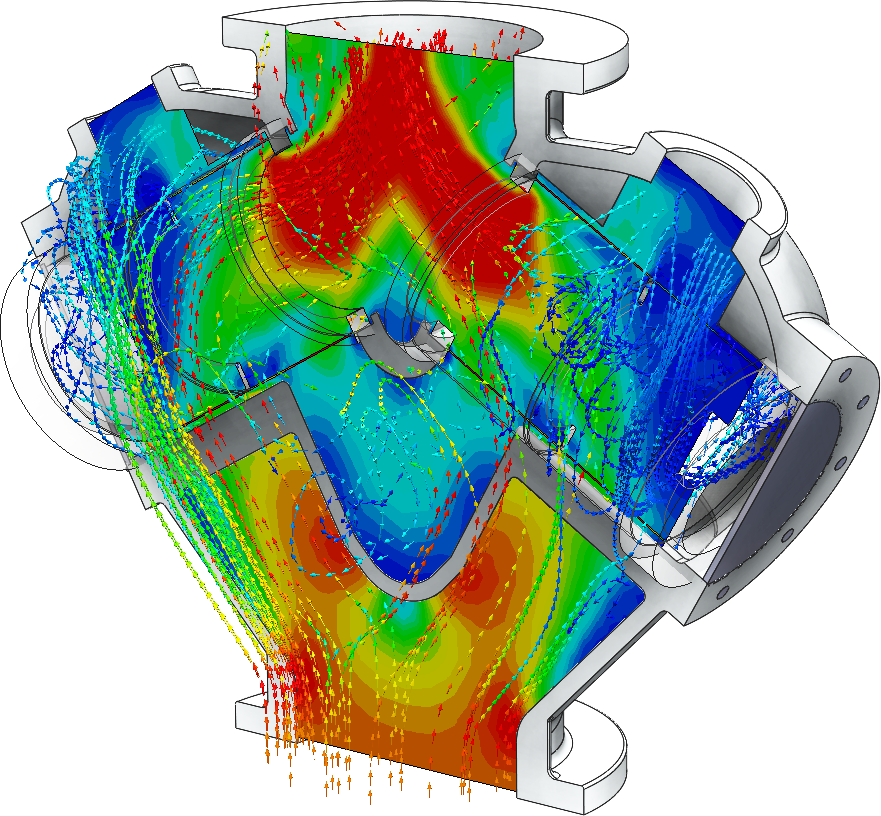 The Results
Improved knowledge of flowing pressure drops, resulting in time savings developing new products and optimizing current products.
Cost savings by eliminating recasting due to design changes
Skilled team of engineers trained in SOLIDWORKS by 3DVision Technologies experts