Five Reasons to Upgrade to the Stratasys J55 Prime 3D Printer
We received a Stratasys J55 3D Printer in our Cincinnati Office a couple years ago. I had heard about all the hype with easier maintenance, faster prints, etc. but am someone that needs to see it before I believe it.
After a few years of running our machine, I am a big fan. Step by step instructions for maintenance are given right on the main screen. The rotary table eliminates the X-Y motion of the typical gantries which makes build speeds so much faster. From a technical perspective, it's everything I hoped it would be.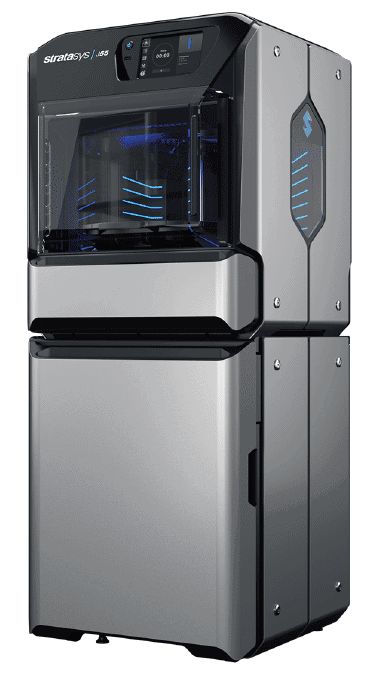 And if you need more convincing, here are five reasons to upgrade to the J55 Prime
1. Turns Design Ideas into 3D printed Reality
Accurate color with PANTONE matching. Texture realism. Excellent resolution. You can create superior quality parts with incredible visual, tactile and sensory capabilities providing results that look, feel and function like the real thing.
2. Streamlines Your Design Process
Go from render to reality faster with a simple design-to-print workflow that lets you import CAD models directly into GrabCAD Print. The user-friendly design incorporates a touchscreen interface and makes it easier than ever to get printed parts in your hand.
3. Keeps Productivity at Your Elbow
A solution fit for the office or studio space featuring an easy-maintenance air filter for odor-free operation, compact design, and a unique rotating print tray for ultra-quiet printing.
4. Prevents Wasting Time on Maintenance
An easy-to-service, reliable platform with a routine cleaning wizard and automated print head calibration means less time spent maintaining and more time printing.
5. Realizes Real Business Impact Faster than Ever
The J55 Prime is affordable enough for you to start saving on costs right away – take advantage of 80% less cost per part and the ability to create high-quality models in just one day.
Check out this link for the J55 and here for its close cousin the J35.
Jeremy Marvin
Application Engineer
Computer Aided Technology