GrabCAD Print: What You Need to Know
If you've been in the 3D printing world a while, GrabCAD is probably not unfamiliar to you. Along with Thingiverse and MyMinifactory, GrabCAD has been a stalwart repository of 3D-printable files; notable, in native CAD formats. Over the past 8 years, GrabCAD has been (and remains) an invaluable resource to some two million members.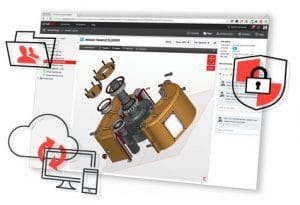 So what's this GrabCAD Print thing, you ask? Well, it's a slicer. Like Catalyst, Insight, and others, it slices a CAD model into thin layers, and then writes the instructions for a 3D printer to lay down material for each layer. GrabCAD Print supports polygon-based STL files, but unlike most, also directly reads native geometric modeling file formats like SOLIDWORKS, CATIA, UG/NX (among others) and the usual neutral formats (e.g., step, parasolid, iges); even assembly files.
Works with the entire Stratasys line
With GrabCAD Print, there's no need to export an STL. Gone are the days of fiddling with export settings to get an STL file that's smooth enough without being too large to email. Just drag and drop whatever file you have. Today, GrabCAD Print works with the current line of Stratasys FDM machines from Uprint SE to Fortus 900 and the full-color J750 PolyJet machine, with support for the entire Stratasys lineup coming soon.
Stays connected with your entire network
But GrabCAD Print is more than a slicer. It's also a print scheduler and queue management tool. The Schedule tab shows the queue for all the machines connected to your network at once, with each queue visible in an easy to read Gantt chart. And you can easily re-order builds right from there. But it gets really interesting if your business has multiple offices, each with its own printers. GrabCAD Print Server makes those machines available to whomever in your organization should have access, wherever they may be. Send a build from Michigan to print in Mexico; that's just-in-time manufacturing, without shipping anything.
Finally, because GrabCAD Print is cloud based, you can view and manage these queues from your smartphone, via the app (on Android and iOS). And, you can view usage and activity reports from the GrabCAD Print web portal.
How will GrabCAD affect you?
If you're a current Stratasys customer, you may be wondering how GrabCAD Print will affect you. The answer depends on what sort of user you are. If you are a current Catalyst user, or use the Green Flag option in Insight, GrabCAD Print is a perfect fit. If you just purchased a printer from the Stratasys F123 series, it's the only option. If you are currently considering bringing a Stratasys 3D printer into your business, GrabCAD Print can help justify the investment. How? You can add any supported machine as an 'offline' printer, to find the best fit for your parts and estimate the material use and duration for costing. Whatever type of user you are, you will appreciate the contemporary new interface; it's more intuitive and easier to navigate.
In the long run, GrabCAD Print will support all Stratasys 3D printers (even Polyjet) and enable Toolpath manipulation (Insight functionality). Stratasys is committed to the platform and investing heavily in development. Updates drop almost weekly and are automatically installed, with new functionality coming with each release. And you can have a say in that process, by giving feedback via the Help Menu.
So in short, GrabCAD Print is here, it's here to stay, it's free to use, and a pleasure! Be sure to stay tuned for more GrabCAD Print content, where we'll go over uses and how-tos.
We got to talk to the lead project manager of GrabCAD at SOLIDWORKS World 2017. Here's what he had to say about the new software.
https://www.youtube.com/watch?v=-Cciz52RLhE&feature=youtu.be
Image courtesy of GrabCAD