GrabCAD Print Version 1.35 Released
Build number 1.35.21.56592 released on 24 October 2019
Important Notification:
Support for Windows 7 is ending. After January 14, 2020, Microsoft will no longer provide security updates or support for PCs running Windows 7. GrabCAD Print 1.37 (scheduled for December 17, 2019) will be the final release supported on Windows 7. Stratasys will stop providing software updates for GrabCAD Print on Windows 7, will no longer ensure that GrabCAD Print works on Windows 7, and will not offer support for operational issues involving Windows 7 after GrabCAD Print 1.37 and after January 14, 2020.
General Changes/Improvements:
Model loading is now a cancelable action. Previously, if you made a mistake and selected the wrong file, you would have to wait for it to load before you could remove it, and now you can cancel right away.
Deleting Printer History now requires a user to have local administrator privileges.
FDM Changes/Improvements:
When you apply settings to a specific face in Advanced FDM, you can now remove them via the right-click menu. Previously, you had to use Undo to revert face setting
Support for new FDM materials:

Antero 840CN03 is now supported on the Stratasys F900 Printer for GrabCAD Print. Learn more about the new Antero 840CN03 material here.
Diran 410MF07 is now supported on the Stratasys F370 printer for GrabCAD Print. Diran is the ideal material for tooling applications. Learn more about the new Diran 410MF07 material here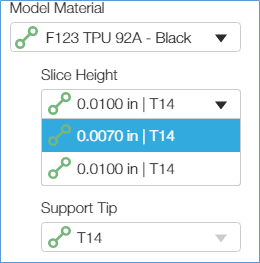 TPU 92A now supports 0.0070 inch (0.1778 mm) slice on the Stratasys F370 printer. Print quality is improved for the 0.0070 slice and the 0.0100 inch (0.2540 mm) slice. F123 Controller Software must be upgraded to version 2.1 to take advantage of these improvements.
PolyJet Changes/Improvements:
Only 2 steps necessary to update PolyJet Job Manager. When a Job Manager update is required for your PolyJet Printer a message will be displayed in the Printer list and when selecting the printer from the list, you will be taken directly to the Settings screen where you can perform the upgrade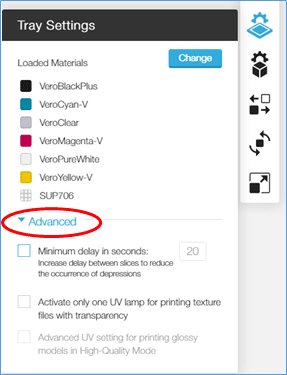 A checkbox has been added under the Advanced section of Tray Settings to control the UV lamps for J-series printers. If you are having overexposure issues in your prints, speak to your reseller or Stratasys technical support to see if this setting may help.
When printing with Pantone colors on your J-series printer, only some of the colors require VeroBlackPlus. Previously, the entire Pantone color picker would be disabled if you did not have it loaded, and now only the specific colors are disabled. Pantone still requires all three Vivid Vero materials and VeroPureWhite.
Mark Abshire
Application Engineer, Additive Manufacturing
Computer Aided Technology, LLC