HELP! Which SOLIDWORKS Simulation do I need?
Since SOLIDWORKS has a few Simulation based promotions, we thought now would be a great time to explain how SOLIDWORKS Simulation can help solve your product development challenges. Our 3DVision Technologies Team is hosting a great Webcast to discuss a number of powerful simulation tools within the SOLIDWORKS suite of products.
Robert Warren, CAE specialist with 15 years of industry experience, will demonstrate the capabilities of the SOLIDWORKS Simulation Suite so you can determine which package best fits your needs.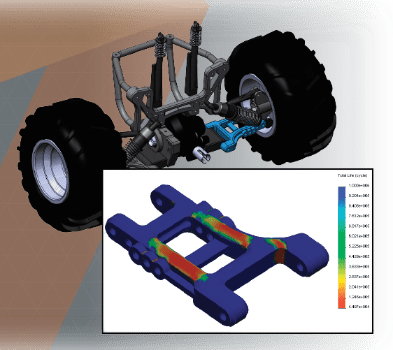 Event Information:
Thursday, June 8,2017
1pm – 2pm Central Time
>>Register for this Webcast
Topics Covered Include:
First Pass Analysis
Fatigue
Natural Frequencies
Design Optimization
Large Deformation
Linear and Non-linear Materials
If you are doing product testing by hand or not at all, you probably want to register for this webcast. As you move from your first design iterations pass fail to your final design, see how SOLIDWORKS can help you improve this process and take products to market with supreme confidence that they will perform as expected. SOLIDWORKS Simulation has helped clients reduce physical prototypes and field failures, while reducing the design time to bring products to market.
Join 3DVision Technologies and Computer Aided Technology (CATI) for this webcast. Registration for this event is handled by 3DVision Technologies. When using the event registration links, you will be redirected to their registration system
Enjoy the presentation!
Jim TeDesco
Director, Marketing
Computer Aided Technology