Hobart Serves Up Innovation
As the leader in the food service and food retail equipment industry Hobart offers the latest technical innovation and operational excellence with help from SOLIDWORKS.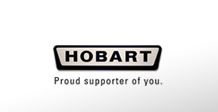 For more than 100 years, Hobart's vision is to become the most admired provider of valued solutions, enhancing the evolving world of eating experiences. With its staff across the US and overseas, they design and manufacture thousands of products around the world. Hobart offers their customers a wide variety of equipment including dish washers, scales, wrappers, ovens, griddles, refrigerators, mixers, and deli slicers and more. Their customers range from large super market and national restaurant chains to small independent grocers and diners.
The Complex Made Simple
After becoming frustrated with their previous CAD package's cost, complexity, and customer service they made the major decision to look for a new 3D CAD Software. SOLIDWORKS was the clear solution. A personalized presentation and cost savings analysis from 3DVision Technologies lead to Hobart's decision to invest in SOLIDWORKS Premium, SOLIDWORKS Simulation Premium, and SOLIDWORKS Composer.
With help from 3DVision Technologies they have taken full advantage of their SOLIDWORKS solutions. SOLIDWORKS user friendly features and SOLIDWORKS training has allowed them to configure and set up everything without the help of a consultant, allowing them to make changes to their system in real time and save money.
When a design engineer does need help the level of technical support makes all the difference. Before, Hobart users were reluctant to call their technical support so they spent large amounts of time trying to figure it out themselves or taking it to management.
"My user's just hated calling into tech support, it came from overseas and often they would end up coming to me for help."
Dan Humbert – Network Administrator III at ITW Food Equipment Group
Hobart is now a frequent user of the local 3DVision Technologies technically support. This has led to many design engineers getting hours back in their day.
"3DVision tech support has been awesome every time I've called they've been able to help me if not immediately, within 24 hours. I've continued to encourage my users to call into tech support."
Dan Humbert – Network Administrator III at ITW Food Equipment Group
Trusted Partner
Hobart's vision is to continue to be the leading innovator of food equipment, systems and services. They are always looking for ways to become better, faster, and smarter often attending SOLIDWORKS World, user groups, and launch events. They believe SOLIDWORKS will continue to grow with them and 3DVision Technologies will continue to be a trusted partner.
"It seems like SOLIDWORKS is really doing a lot of development with the software, listening to what the customers are looking for, and really expanding the feature base of the software."