SOLIDWORKS: How to Customize SOLIDWORKS
How to Customize SOLIDWORKS
This blog article will discuss and show:
Where to find all the customization tabs
Where to set keyboard shortcuts
Give a few customizing tips
How to customize your command manager/toolbar
Let's begin!
Where to Find all the Customization Tab
*Please note that you need to have a SOLIDWORKS document open for all methods.
There are four different ways to get to your customization tabs:
Go to Tools > Customize
Right click on either the command managers empty space or at the bottom of your open part/assemble/drawing, this will bring up a menu where you will see the Customize option.
Push your "S" key on your keyboard, this will bring up a shortcut toolbar where you can then right click and select Customize.
Right click a Command Manager tab and select "Customize CommandManager". Note: you all the tabs appear and at the far right there is a tab that says "New Tab", you can add a new tab and customize it.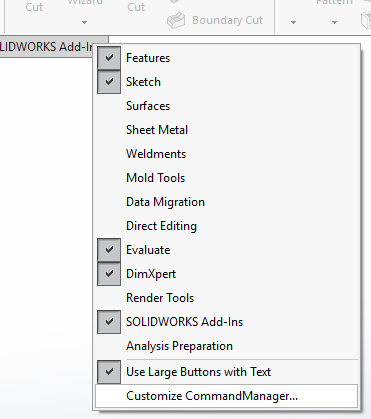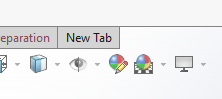 Once your Customize options have popped up in SOLIDWORKS you will see seven tabs; Toolbars, Shortcut Bars, Menus, Keyboard, Mouse Gestures, and Customization.
The first tab, Toolbars, lists all your available toolbars you can enable. In this tab, you can also change your icon size from small to medium or large.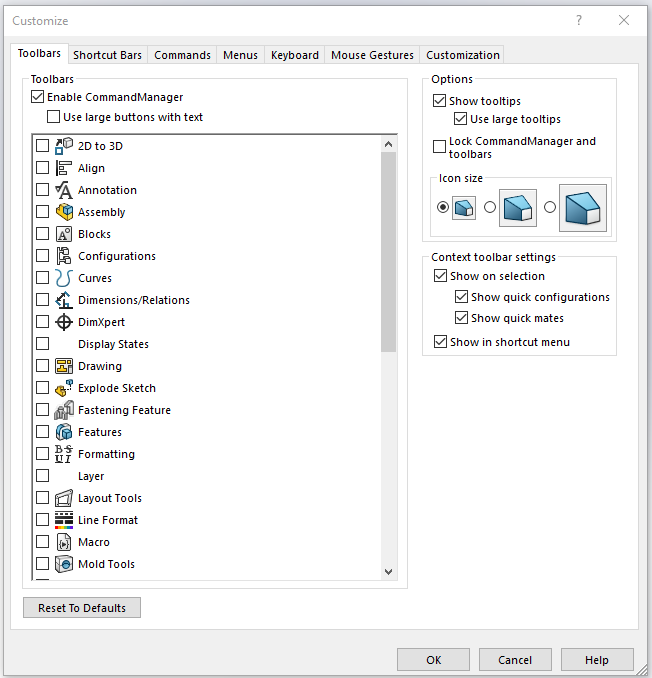 The second tab, Shortcut Bars, has a lengthy list of all your existing toolbars.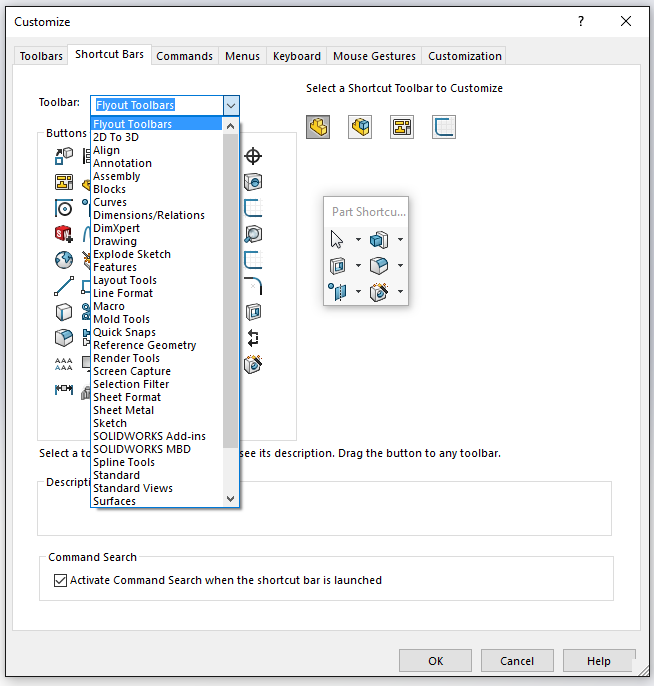 The third tab, Commands, lists the same toolbars as the Shortcut Bars tab. In both the Shortcut Bars tab and the Commands tab you can left click and drag any of the buttons listed in any toolbar/category to any other.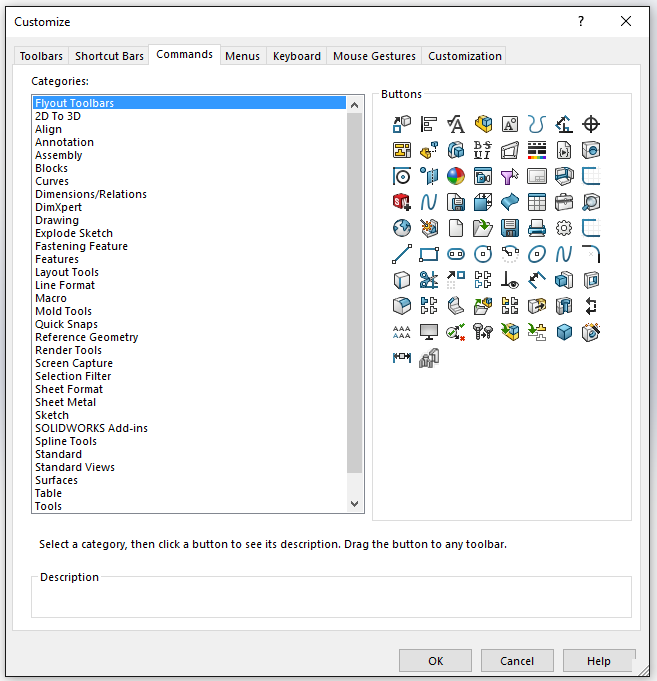 The fourth tab, Menus, Lists each menu available in the basic SOLIDWORKS seat. You can move the position of each menu, change where each item is located within each menu, and name a command.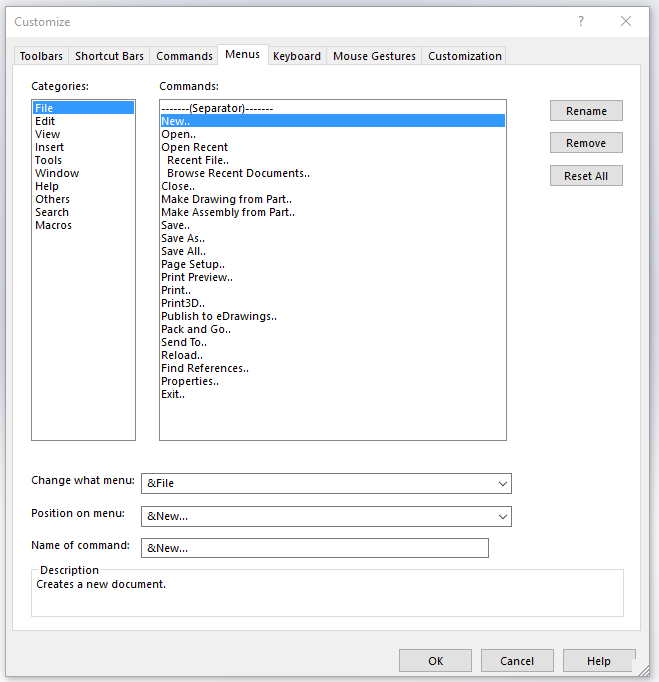 The fifth tab, Keyboard, allows you to customize your keyboard shortcuts, print the list of shortcuts, and modify the list to create new shortcuts or get rid of old ones.
This tab is Where to set keyboard shortcuts.
If you wanted to modify an existing shortcut and add it to a different one, such as making "M" shortcut for the Measure tool, you need to first delete it from the existing Move/Copy shortcut. Then you add that "M" to the Shortcut dialog box next to the Measure command. If for instance you wanted it to be a "Shift M" you need to hold the shift key and push "M" while you have your cursor in the shortcut dialog box in the same row as the command wanted.
Also, please note that there is a print button toward the top right of the tab. This will print a list of only existing shortcuts and their associated commands.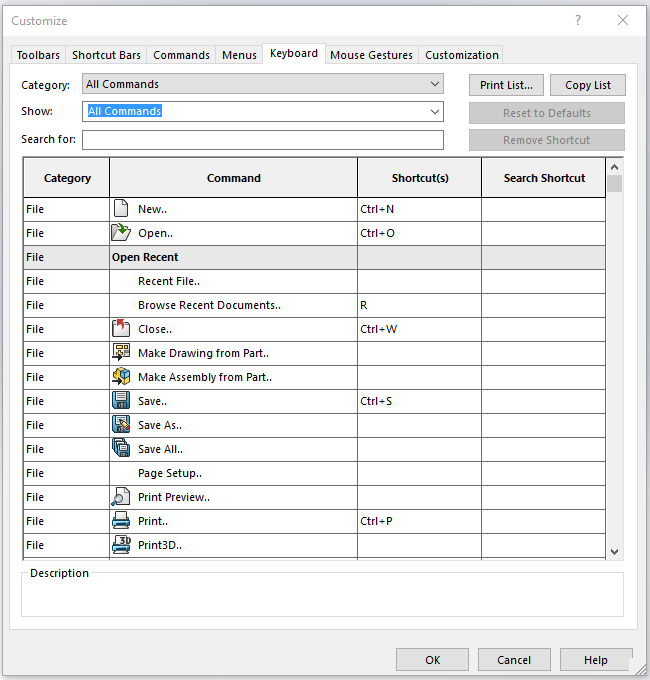 In the sixth tab, Mouse Gestures, you can modify the right click and drag shortcut menu just as you would with the keyboard shortcuts. Just remember that there is a different Mouse Gesture menu for every place you are in. Below is an example of the menu when in a sketch.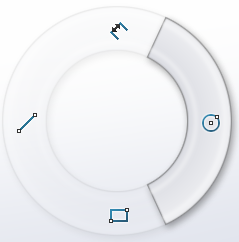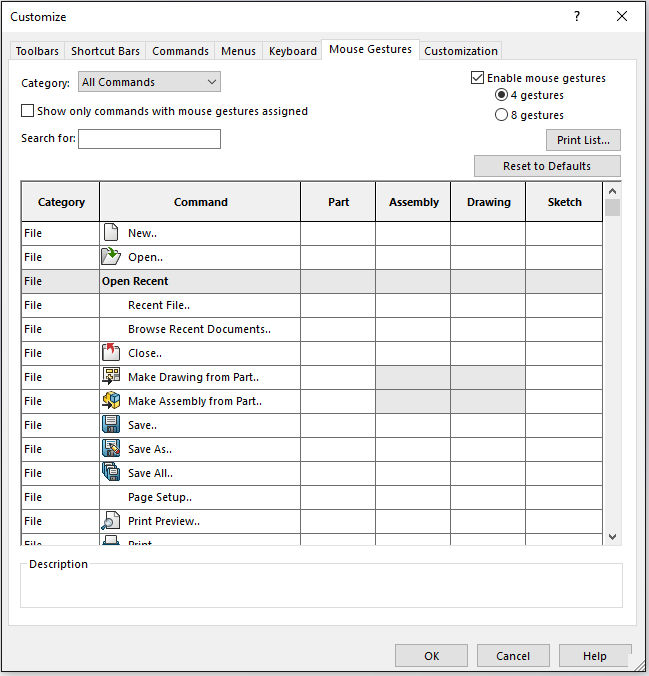 The seventh tab, Customization, allows you to reset to the default selections for your shortcuts and your menus.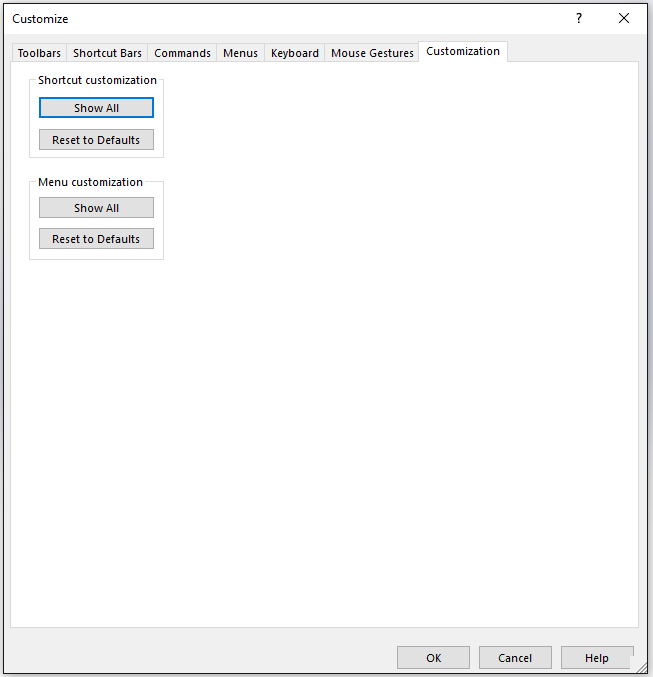 Tips and Tricks
You can quickly search for commands from the search bar in the top right of your SOLIDWORKS window. The search must be set to the commands search option in the pull-down menu. This command search does three things: takes you straight into the property manager of whatever command you are searching for, shows you where to find the command if you click the eyeball icon (glasses icon if previous to 2017), and you can drag commands from that search option onto your CommandManager.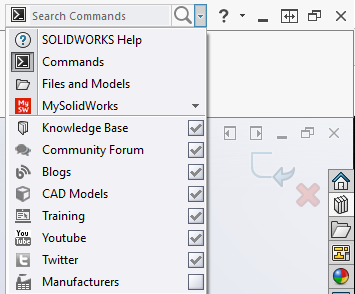 The eyeball icon

next to your search result will move your mouse to the toolbar or menu in which it is located and then point at it with a large red arrow as shown in the example below. So, do not waste your time searching for a command manually when you can have the Search Commands open it directly or show you where to find it.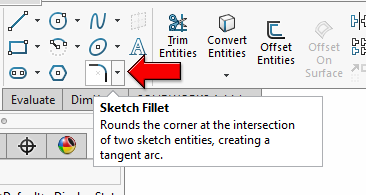 If you left click and drag a command from that search onto your CommandManager tab, you can easily remove it by holding down you ALT key and left click dragging it off the command manager. You will see a red x once you drag it off the CommandManager which tells you it is removing it.
Now that you know where to find your customization options and some tips, have fun customizing your SOLIDWORKS interface!
Courtney Roemer
Application Engineer
Computer Aided Technology