IMPROVING LARGE ASSEMBLY PERFORMANCE - Part 3, SOLIDWORKS Settings
In my last blog post, I talked about part modeling tips for improving large assembly performance. In that part 2 of my Improving Large Assembly Performance series, I talked about fully defining sketches, grouping features sensibly, simplifying imported geometry, minimizing unnecessary detail, and minimizing the use of complex geometry. In part 3 of my series, I will focus on SOLIDWORKS settings for Improving performance.
SOLIDWORKS has a number of settings that allow us to get as much out of our performance as possible. For assemblies, the following recommendations will improve the time needed to "paint" the display during updates and also improve your ability to zoom, pan, and rotate assemblies. Many of these are automatically set for you when you turn on Large Assembly Mode.
USE PERFORMANCE SETTINGS – Under Tools, Options, System Options, Performance, there are settings that are directly related to improving performance.

Clear the checkbox next to 'Verification on Rebuild (Enable Advanced Body Checking)' in order to shorten rebuild times. Verification on Rebuild Controls the level of error checking when you create or modify features. For most applications, the default setting (cleared) is adequate and results in a faster rebuild of the model.
Place a check next to 'Load Components Lightweight'. Doing so loads a subset of information of that component into SOLIDWORKS and allows for a much faster load time. Lightweight components are then resolved once you expand the part tree or by selecting 'Set to Resolved' from the short cut menu.
Uncheck 'Use Shaded Preview'. This option maintains the shaded preview while you rotate, pan, zoom, and set standard views, and it will affect performance.
Slide the 'Level of Detail' slider to 'Off' or 'Less'. This option sets the detail level during dynamic view operations.
Check the box next to 'Enhanced Graphics Performance'. With the right graphics card, this option drastically improves the graphical performance. This option affects rotate, pan, and zoom for parts and assemblies, and the display of drawings that have shaded or draft quality views. Contact CATI support if you have any questions on graphics cards.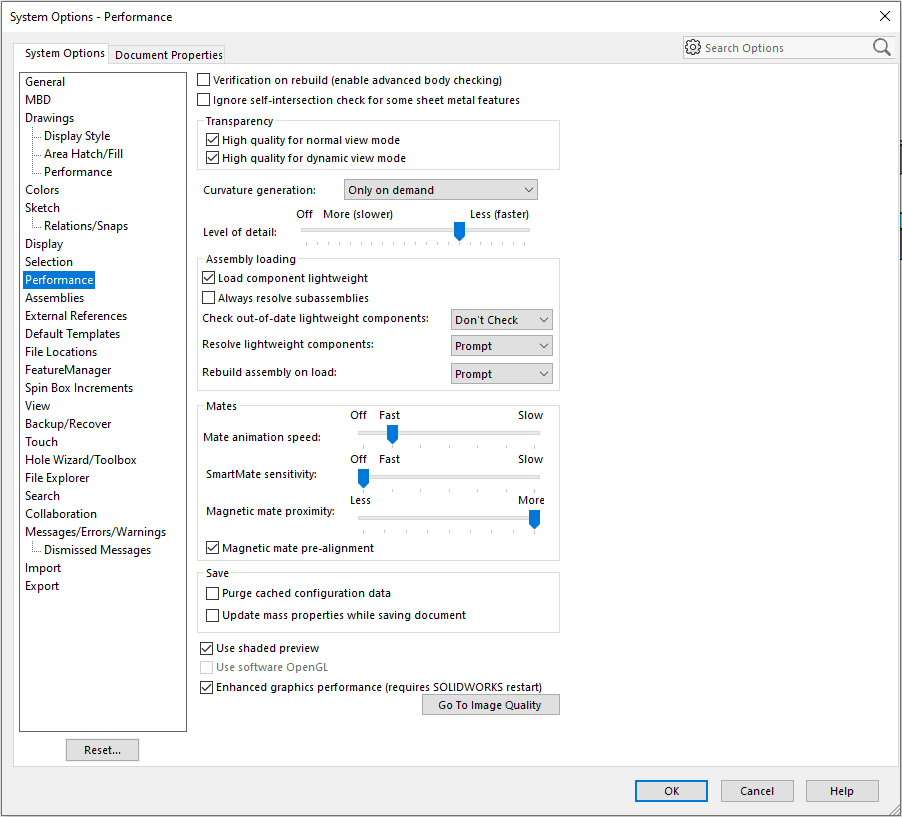 SUSPEND AUTOMATIC REBUILD – The 'Suspend Automatic Rebuild' option is available in Tools, Options, System Options, Assemblies. It applies only to in-context features. With the option enabled, in-context parts will show a rebuild light instead of automatically rebuilding, allowing you to make multiple changes and then updating just once. Similarly, the system option 'Do not rebuild when switching to assembly window' (Large assembly settings option) lets you skip the rebuilding of a large assembly after editing a component in a separate window.
LOWER IMAGE QUALITY – In SolidWorks, you can adjust the quality options for the image display. You can change this setting by going to Tools, Options, Document Properties, Image Quality and then slide the 'Shaded and Draft Quality HLR/HLV Resolution' slider towards 'Low'. You can do the same thing with 'Wireframe and High Quality HLR/HLV Resolution'. For part files, clear the checkbox next to 'Save Tessellation with Part Document'. This option saves display information, and, when cleared, file size is reduced. Note: the model will not be displayed when the file is opened in view-only mode, the SolidWorks Viewer, or eDrawings. The display data will have to be regenerated when the file is opened again in SolidWorks.
CHANGE DISPLAY SETTINGS – Under Tools, Options, System Options, Display, there are settings that are directly related to the display of our geometry. By disabling some of these settings, we can improve performance.

Uncheck 'Highlight all edges of features selected in graphics view'.
Uncheck 'Dynamic highlight from graphics view'.
Set Anti-aliasing to 'None' (but only if graphics card does not support it).
Uncheck 'Dynamic highlight'. This display option is found under 'Tools, Options, System Options, FeatureManager'.
Use Shaded mode instead of Shaded with edges. HLR Edges are 'expensive' (See picture below). This option is found on the View toolbar.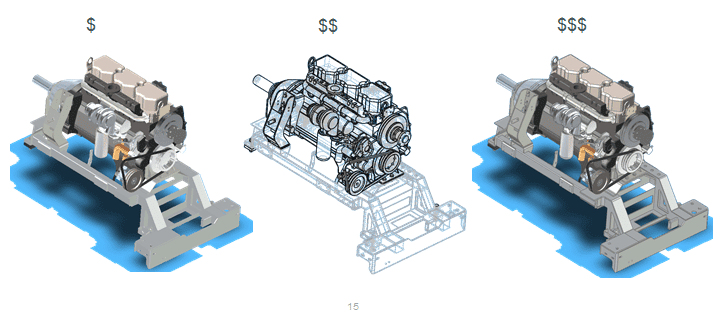 USE PLAIN BACKGROUND APPEARANCE – Under Tools, Options, System Options, Colors, place a dot next to 'Plain'
DISABLE REALVIEW GRAPHICS – RealView gives models a realistic and dynamic representation in real time all without the need to render. If your graphics card is RealView-compatible, RealView is enabled by default. To help with performance, turn off this functionality. In the 'View' toolbar at the top of the graphics area, click on 'View Settings' and turn off 'RealView Graphics'. To further improve performance, turn off Shadows in Shaded Mode, Ambient Occlusion, and Perspective mode.
DISABLE OPTION 'SAVE AUTO-RECOVER INFO EVERY' – This option Activates auto-recover and defines the number of minutes that elapse before an auto-recover file is created for an open document. If crashing is not an issue, OR, you are using a data management tool, then uncheck this option to prevent SolidWorks from pausing to save every so often. Backup/Recover settings are located under Tools, Options, System Options, Backup/Recover
DISABLE NEWS FEEDS – Clear 'Show Latest Technical Alerts and News in Welcome Dialog' under Tools, Options, System Options, General.
DISABLE FILE SEARCH AND DISSECTION – SolidWorks has some automatic search and dissection tools for locating and breaking down our components (See Help to learn more about Dissection). When working with large assemblies, these tasks just take up resources. So, under Tools, Options, System Options, Search, clear the checkbox next to 'Search While Typing', clear the checkbox next to 'Include 3D Content Central Results', place a dot next to 'Index only when computer is idle', and clear the checkbox next to 'Schedule dissection daily to automatically dissect files in search paths'.
TURN OFF ADD-INS – From Tools, Add-ins, uncheck any tools you currently are not using.
So, if you are having issues with large assembly performance, try these SOLIDWORKS settings. You may not use all of them, but any that you can take advantage of, the better your performance. And then stay tuned for my next post, part 4 of my 'Improving Large Assembly Performance' series.
Regards.
Ken LaVictor
Sr. Applications Engineer
Computer Aided Technology