Stratasys Insight 11.1 Enhancements
Each new Insight software release contains new features, reliability improvements, and part quality improvements. This update contains fewer enhancements than previous releases, however, the enhancements we get are definitely very exciting. Most importantly, we see a new machine added to the list of supported printers as well as the addition of a new material. Keep reading for the enhancements!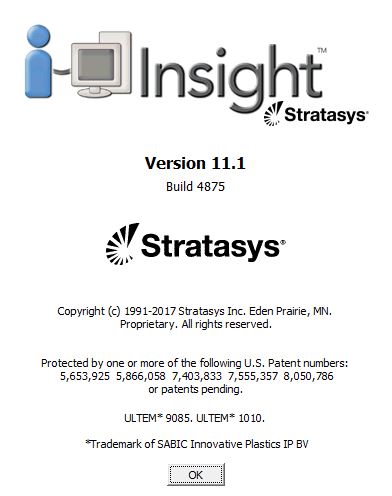 Stratasys F370 Printer – Added the new Stratasys F370 printer which brings high performance and multiple materials to the office printing environment. The F123 series was revealed at SOLIDWORKS World 2017 and started shipping in March. The F123 series is the first major shakeup to the FDM product portfolio in a long time. Click Here

for a quick overview of the machine line. Let us know if you'd like to see this machine in action. We have the F370 in our Cincinnati, Ohio office and our Novi, Michigan office. We're also happy to announce the addition of the F170 to our printer lineup in our Cleveland, Ohio Office.

Nylon 12 CF model material – Added carbon filled Nylon 12 model material paired with SR-110 support material for the Fortus 450mc. FDM Nylon 12 CF contains chopped carbon fibers that produce high strength and stiffness to weight ratio parts for demanding requirements within functional prototyping and tooling applications. As with most new materials, I expect this to hit other machines in the future, specifically the Fortus 900mc. No announcement has made yet on its availability on the 900. Click Here

for the Nylon 12 CF spec sheet. We hope to have our Fortus 450mc upgraded with Nylon 12 CF soon. Let us know if you'd like to hear more about this awesome new material or to schedule a demonstration once the machine has been upgraded.
Do you have any ideas or suggestions for future enhancements? Let me know in the comments below!