Insight – Advanced Software for FDM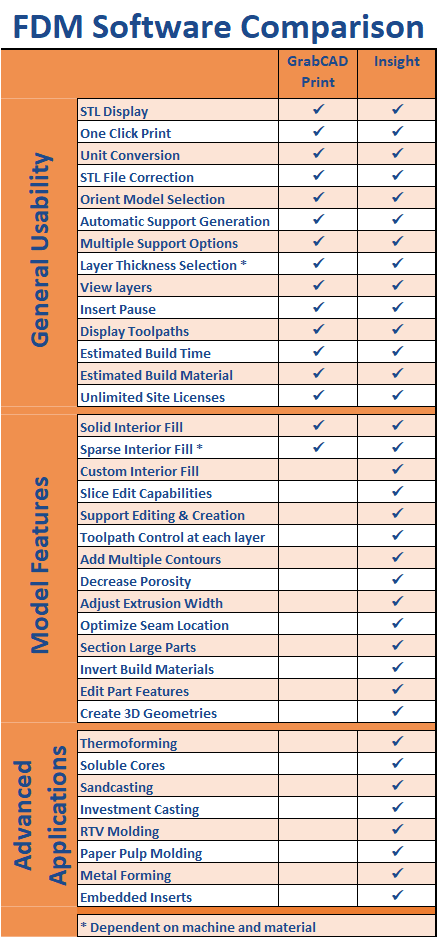 Stratasys FDM (Fused Deposition Modeling) software has become quite simple to use with the introduction of GrabCAD Print. GrabCAD Print makes it easy with a few selections to produce an exceptional 3D model of your CAD drawing. GrabCAD Print settings are intentionally minimal and conservative for the novice user to achieve 100% success.
But what if you need something special? For example, a sparse interior with a thick outer shell for strength? This is where the advanced Insight software is useful. Insight gives you a much larger set of parameters that can be adjusted or edited. For the example above, we could use the advanced Insight parameters to build the model with a sparse interior and add multiple contours or parameters to build a 1/8 inch (3mm) wall thickness on the outside of the part. This will reduce material usage as well as build time while maintaining strength.
Insight's power is the ability to give the user control of each sliced layer; from editing or creating specialized supports, customizing the extrusion toolpath and even modifying or adding geometry at each individual layer.
Computer Aided Technology offers a 2 to 2-1/2 day class on Insight with Stratasys trained instructors. Please contact your CATI sales representative for more information and scheduling.
Please note that the advanced Insight software is only available on the Stratasys F370 and greater equipment.
Mark Abshire
Sr. Application Engineer, Additive Manufacturing
Computer Aided Technology, LLC